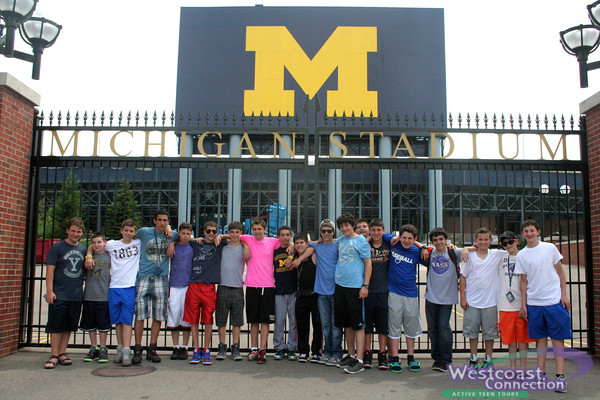 Good Morning US Exporer Parents,
Greetings from maize and blue country!
For the past two days, we lived like college students at the University of Michigan. Right after pulling into Ann Arbor, trip members had the opportunity to explore this awesome university town. There were an exorbitant number of places to choose from on State Street to eat lunch including the popular Blimpy Burger and Maize & Blue. Valerie, Julia S, Julia G had a delicious lunch at Amers, a local sandwich joint. After seeing the city of Ann Arbor it was time for all of the trip members to experience the next aspect of college life: residence! We stayed in brand new beautiful suites in the North Quadrangle. After lunch, Daniel L, David T, and Ethan displayed their shooting abilities and hit up the basketball courts at a nearby park while others had some time to chill and relax at the dorms. For dinner on our first night, our group had a taste of true university life by eating on campus. There was a huge assortment to choose from – the flatbread pizza was extremely popular! After a tasty dinner, we were off to the Ann Arbor Ice Cube for some ice skating! Everyone was extremely excited for this opportunity to skate where the USA hockey team trains. David F, Jon F, and Aiden F showed off their incredible skills and raced back and forth across the ice. This was only the second time skating for Mike and Jacob, but by the end of the night you would have thought they have been skating for years! We all had a blast ice skating and the trip members loved watching their trip leaders end up on the ice!
Our second day in Ann Arbor, we celebrated Independence Day! We began by eating breakfast at the university dining facilities. Lots of kids wanted to try the waffles imprinted with the Michigan "M" logo. We then started off the day canoeing at Gallup Canoe Park. We all had a great time paddling, splashing, and singing together as we canoed around the lake. Arielle conquered her fear and had a great time on the boat! Later on in the day, we stopped off at Michigan Stadium, the home of the Michigan Wolverines football team. Everyone took advantage of this photo-op outside the biggest college football stadium in America. For dinner, we all ate at a university favorite – Pizza House. Matt A, Ross, and Jacob ordered chipatis, the Ann Arbor specialty of a salad stuffed inside a massive pita. We then headed out to work off this delicious dinner by playing Whirlyball. Whirlyball is a combination of bumper cars, European handball, and basketball. This unique sport only has a few locations within North America and it was a big hit! Lainie and Jeremy especially had a blast playing the sport.
After we returned to the dorms, we celebrated Independence Day as a group with a delicious sweet program. Trip members split up into four different groups and had to create a symbol of what they think represents America…through candy! Max and Eric's group made a St. Louis arch out of marshmallows. Matt Z and Zach's group created a representation of the White House. Jared and Sydney D's group created the Obama family living in the White House. Lastly, Rebecca and Sabrina's group created Lady Liberty out of twizzlers and starbursts.  We definitely enjoyed celebrating July 4th and had a great time in Ann Arbor.
That's all for now – off to the Windy City!
 Lauren, Larissa, Phil, Jessica, Ryan