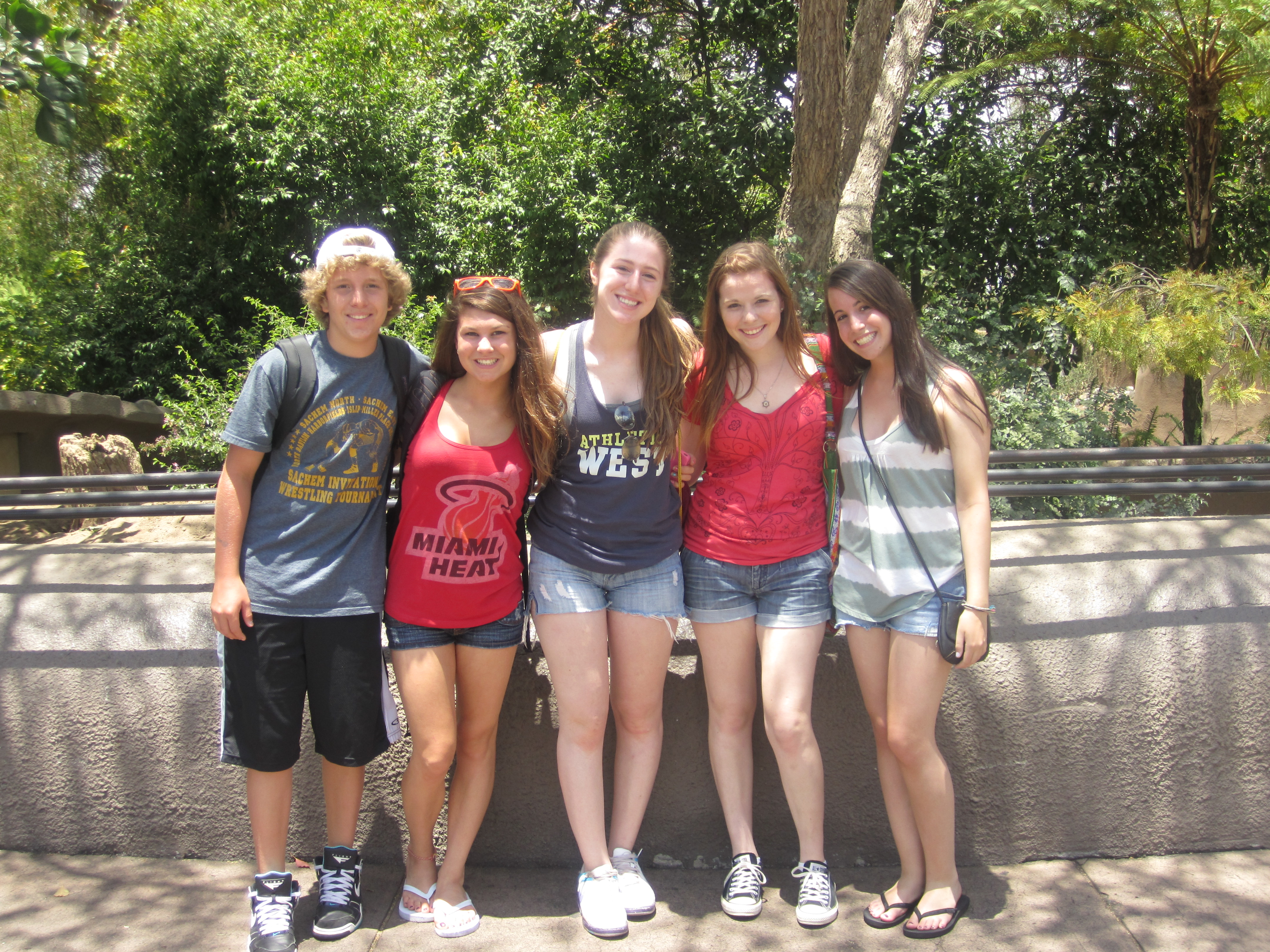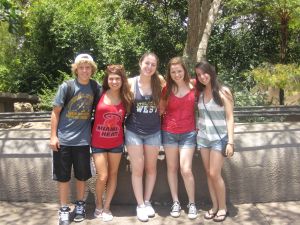 Dear Parents and Families,
Greetings from Los Angeles! Our final couple days in San Diego were packed, as we went to the famous San Diego Zoo, played competitive Laser Tag and wrapped up with a final day at the Habitat build site followed by dinner at a restaurant called Islands. The San Diego Zoo was awesome and a good time was had by all. Lindsay and Sydney got their faces painted while Ally got our trip mascot's face painted! Each day a person on the trip gets the mascot and has to add something to it representing that day. That night we headed to play some games of Laser Tag. The trip members got really into it and we divided up in to two teams, the yellow team and the blue team. It was close but the yellow team prevailed, with very high scores from Tucker and Aaron.
The next day was both our final day in San Diego and our final day at the Habitat build site. By the time we left the whole outside of the house and a lot of the bedrooms inside were primed and ready to be painted. It was a huge accomplishment and everyone was proud by the work that they put into contributing to this house.
It was then off to LA! We stopped for lunch at the famous and beautiful San Clemente Pier. After that we continued on our way and arrived at UCLA! Our living situation here is amazing. Each dorm room has its own bathroom and they make our beds every day. We have tried to explain to the group that this is not how college REALLY is, but it is definitely nice to be spoiled right now. Once settled in, we went out to Westwood Village, which is walking distance from campus and explored this quaint village. The trip members were definitely excited about that!
We then had our first day of service at the Orange County Rescue mission. For the first two hours we helped pick out weeds. In just two hours you could see what a huge difference that we made. The next part of the day was spent setting up a sundae station in the cafeteria for the residents and their kids. Michaela, Michelle and Katherine were great ice cream scoopers! Everyone pitched in helping with the spoons, the cones, the bowls and of course all of the wonderful toppings. It was an awesome experience. Everyone was so thankful for what we did and did not stop telling us for the remainder of the day. It is true that a little deed can go a long way.
Saturday was spent relaxing and exploring the UCLA campus. After a relaxing morning we headed to one of the many outdoors pools that the campus has. We spent the day there and then went to an awesome buffet called Souplantation for a delicious dinner. When we got back from dinner we did some evening programming in the dorms. One of the games we played was called, "Hunny I Love You." The point of the game is for the person in the middle to get the people in the circle to laugh by approaching them one at a time and saying, "Hunny I love you, would you smile for me?" The other person has to respond without laughing and say, "Hunny I love you but I just can't smile for you." Niki and Valerie were able to keep stone cold faces and would not laugh during the game, while Josh couldn't keep but laughing every time he was approached. The game was very fun to play!
Sunday was a moving day for our group and of course Lauren's birthday! Happy Birthday Lauren! We had a private tour of the Museum of Tolerance. We got to listen to a Holocaust survivor speak as well as former White Supremacist skinhead. We also saw some amazing and inspiring exhibits. I think everyone was moved by the experience. We then headed to Santa Monica Pier, which is definitely a sight to see in California. There are some amazing views and we got to get an even better one when we took a group ride on the Ferris Wheel. We then came back to the dorms and celebrated Lauren's birthday, which somehow ended in all of the trip members having cake on their faces!!
It is now on to our final week! We cannot believe in just one week we will be saying our goodbyes and headed for home. But until then we have a fun and action packed week ahead!
That is all for now!
The Westcoast Blogger