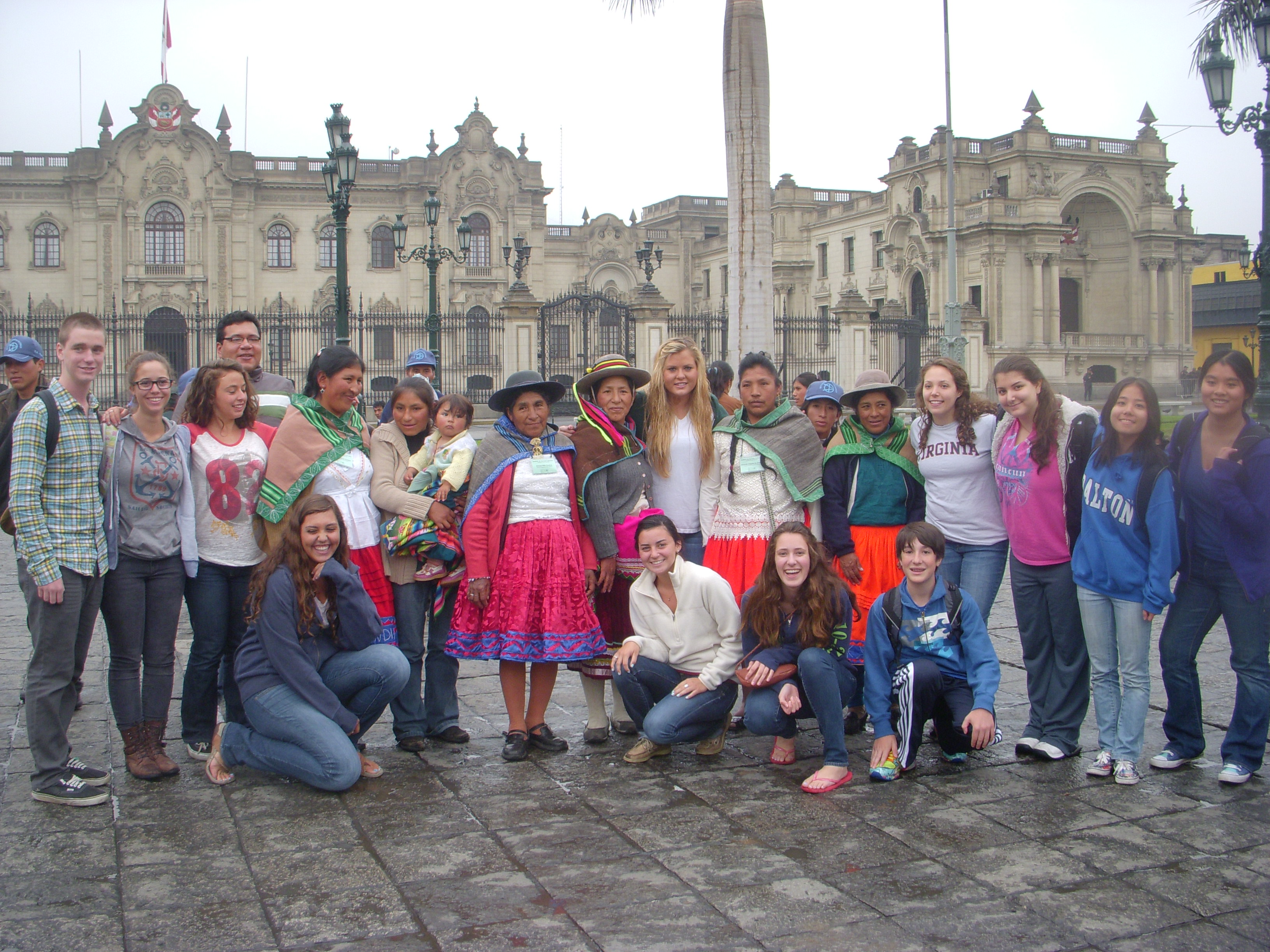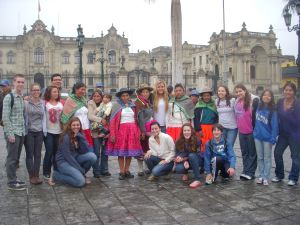 Peru Community Service checks in from Lima.
Hola Family and Friends,
We just wanted to write a quick note before TEAM AWESOME travels to the jungle.
Trip members arrived last night smiling and eager for our adventure to begin and woke up this morning excited to play our "minute to win it" challenge.  The task at hand- to place a cookie on our forehead and, moving only facial muscles, slide the cookie down your face and into your mouth.  Next up, the group participated in "balloon pop".  It was a challenge that involved popping a balloon tied to your friend's ankle.  Allison D's competitive side came out as she dominated the competition and was crowned the last lady standing.
In the afternoon, our bus driver Jose and tour guide for the day Mili took us on a tour of Lima's rich and compelling archaeological heritage sites.  We first drove to Plaza de Armas where we marveled at the remaining Inca buildings, and the beautiful Spanish buildings.  Max and his mascot (which is now our trip's mascot – Curious George) found the fountain of Plaza de Armas stunning.  They happily posed for pictures to capture the memory.  On our way to the Franciscan church and monastery, Maddie and Michelle took pictures with the local policia and were even permitted to wear their helmets.  Allison B was very excited to enter the church because of its rich history.
On our way to dinner, we walked along the beautiful green coast and perhaps it was the walk or our thirst for excitement but we were all up for a bit of adventure as we tasted local delicacies at dinner.  Yuri, Lia, Claudia, and Zach ate "Anticucho de Corazon", you'll have to ask them if they would agree to the term "delicacy" or not! A local Peruvian drink that is made with purple corn, natural sugar, and lime juice, is known as Chicha, and Lexi, Allison S and Julia dove right in.  Our Peruvian guide celebrated our adventurousness with a famous Peruvian cheer, "ARRIBA, ABAJO, ALCENTRO, ADENTRO!"
We look forward to today's travels, and hope each one of you are having the summer of a lifetime, like we are.
The Westcoast Blogger