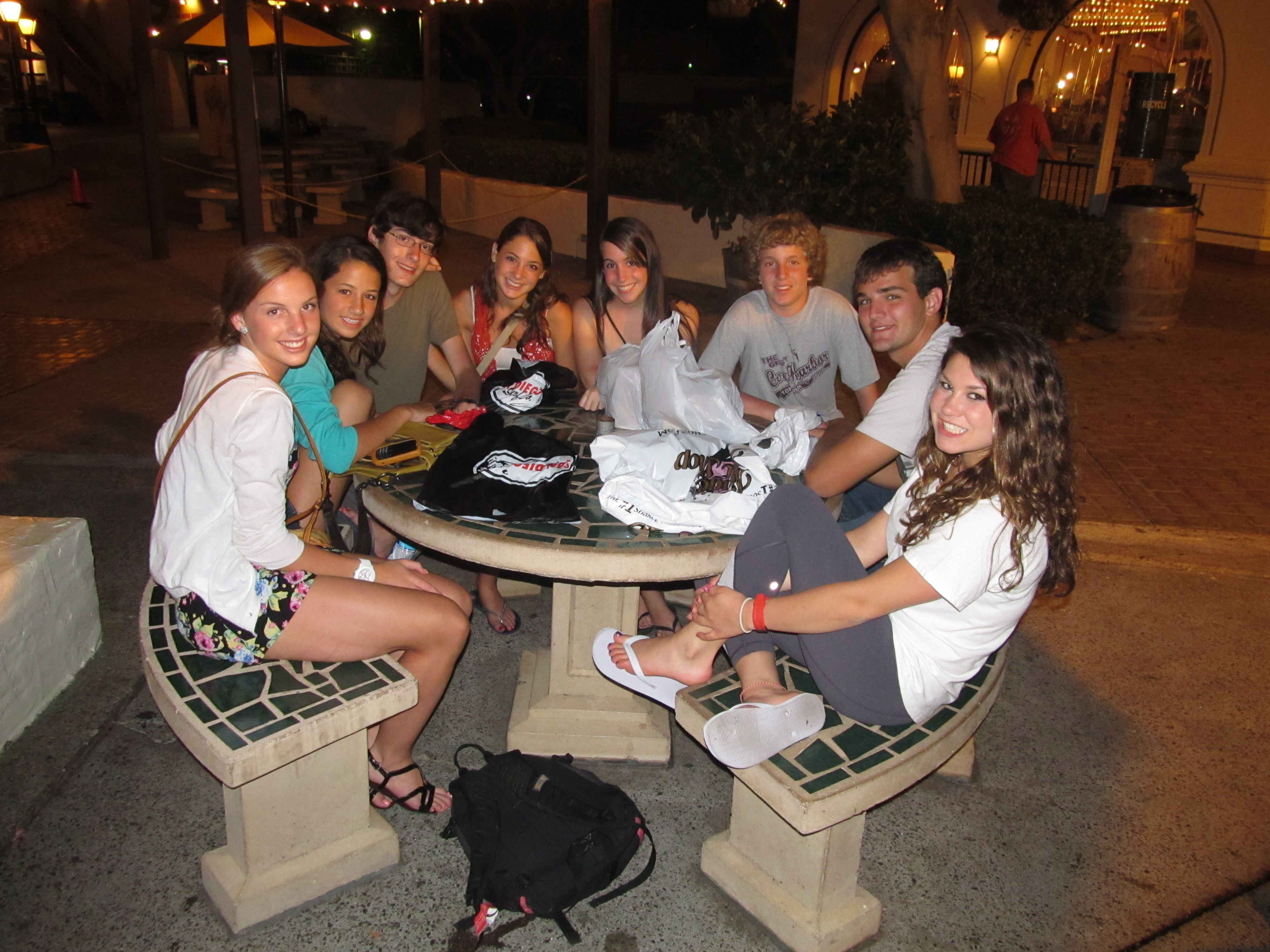 Dear Parents and Families,
Greetings again from California! On Friday, after our first full day at Habitat for Humanity, we headed for some indoor ice-skating. It was definitely eventful! Tucker put on ice skates for the first time and Niki, although hesitant at first, got on the ice with him! Aaron persistently tried to stay on his feet and never gave up. The group had a good time. We were back at Habitat the next morning for another full day doing our part to help build homes. This time the task was a little different. Our whole group became primer painters for the day. We split into groups to paint different sections of the house. We learned the importance of painting corners before actually painting the walls. Need your house painted? No need to hire anyone, our students are now professionals! Lauren, Aaron and Lindsay were working on other parts of the house, while Tucker and Michelle worked on painting the ceilings of various rooms. Josh, Michaela and Katherine were using the caulking guns like professionals. Sydney and Ally painted an entire kitchen and bathroom. Valerie and Niki moved from inside to outside, painting large portions of the house exterior as well. What made the day so special was that we were working alongside future homeowners of the houses we helped to build. This was a great experience!
After a day of painting, we headed into Old Town for some amazing authentic Mexican food. When dinner was finished we had so much walking around the cute little Mexican neighborhood! The night finished off with some ice cream at Cold Stone.
It was then on to SURFING!! All of the trip members were so excited and for good reason – it was definitely a favorite day for many! We put on wet suits and were given lessons. After learning all the parts of a surfboard and how to stand, we took our boards into the water for some wave riding action. Michaela and Katherine got off to a quick start, riding the waves into the beach. Valerie had some funny moments in the water, which was quite humorous for the rest of the group. Surfing was a hard workout and we quickly figured out how all of the surfers manage to stay in such great shape. Tired but happy, we traded our wet suits and surfboards for some R&R on the lovely beaches of San Diego. That night we stayed in and had a hilarious and competitive game of charades. Sydney overcame her fear of performing with some great acting skills and Lauren could not keep a straight face while trying to act. Michelle and Lindsay helped lead their team to victory by coming up with some tricky clues. Josh was able to get the clue "Four score and seven years ago" with little clues to work with. It was impressive!
After a fulfilling and busy first week we were  happy to have the chance to head back to the beach the next day. It was definitely a beautiful day! Following the beach we had a fun and adventurous night at Belmont Park, a cool amusement park. Everyone really enjoyed themselves! Ally, who said that amusement parks had such great food, enjoyed a huge cotton candy which she was nice enough to share with the group.  It was another fun day!
Only a couple more nights in San Diego and then we head to LA!!!
The time sure is flying by!
The Westcoast Blogger