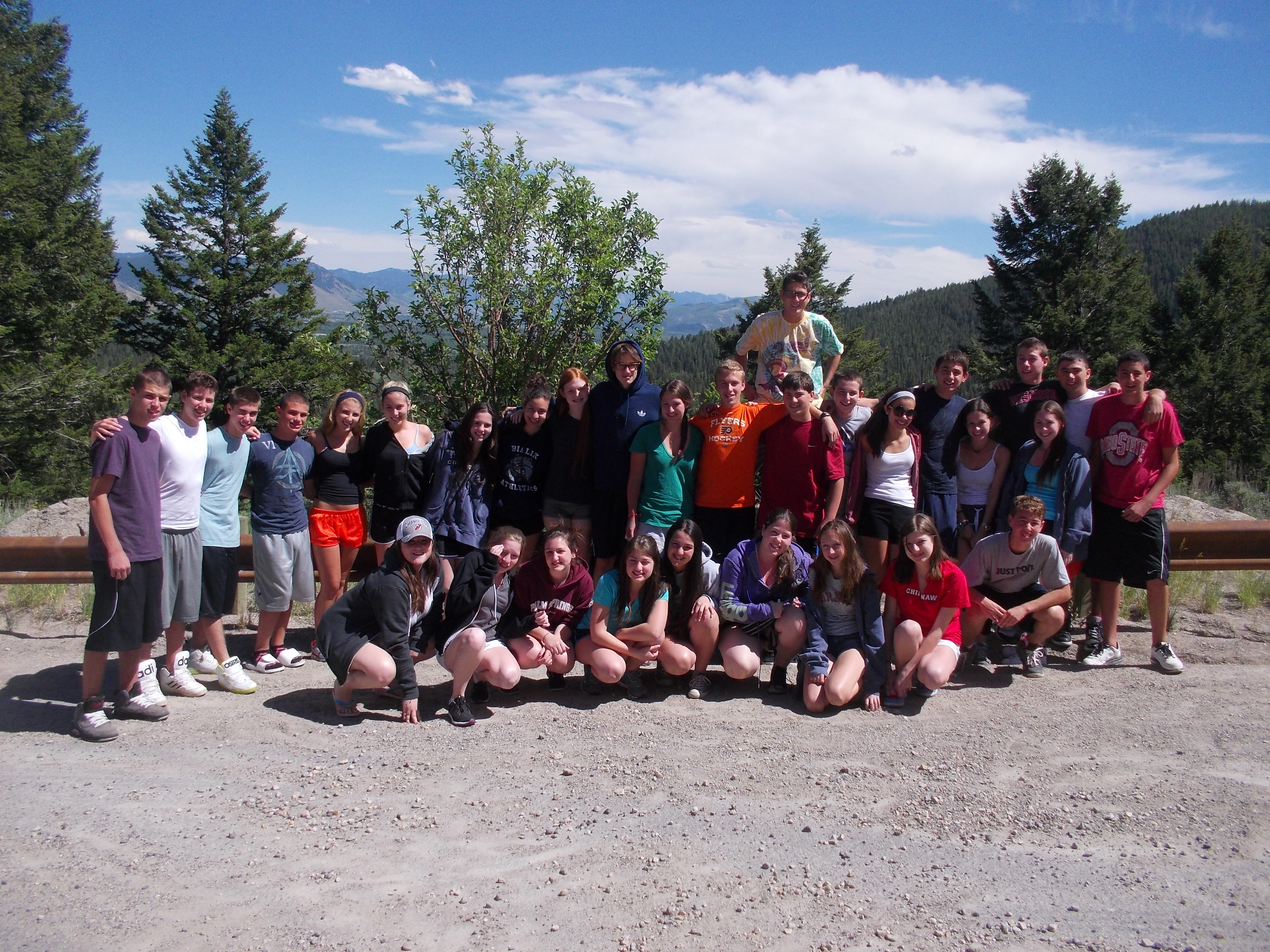 Dear Parents,
Wow! What a whirlwind it has been out in the wild wild west. We've had an awesome first four days together. We met as a group in beautiful Salt Lake City, Utah and played icebreaker games right in the airport. You should have seen the looks on the other people gathering their bags.
As we arrived at our first campsite the group was amazed by who our neighbors were (not anyone famous, although who knows, maybe famous in Utah) – we had the amusement park and the petting zoo)! Once we unloaded, Emma and Alex S. rocked the tent demonstration and the rest of the trip members went on to build their own tents. It was Rebecca, Arielle, and Sabina who ended up setting up the highest tent, you go girls! For the first dinner of the trip Joey and Danielle B. were master chefs grilling the hotdogs and hamburgers, which were absolutely delicious. At the amusement park Marielle, Alex L, Adam Se and Brandon let out their adventurous side and rode the biggest coasters in the park. It was a great first day!
Day 2 started off with the morning song, a Hall and Oates classic. Lexie and Shayne busied themselves in memorizing the second morning song "wheels on the big rig" and sang it loud and proud. At the alpine coaster Rachel and Jessie zoomed down at top speed with all smiles. The day continued with celebrations for Victor's 15th birthday full of bowling and birthday cake. Julia and Jessica bowled with style scoring strikes and spares throughout the game. However it was our trusty bus driver, Joe, who bowled the highest score with a whopping 200 points!
Goodbye Utah … Hello Wyoming (which included a scenic drive through the glorious potato state of Idaho). At the recreational centre Danny, Alec and Griffin showed their moves on the basketball court as the rest of the trip members cheered them on. Then it was onto our first indoor stay in the fabulous condos at the Snow King Resort. The accoms were more than anyone could hope for and everyone got a good nights' rest for tomorrow's rafting adventure.
White water rafting was a blast as Matt got majorly soaked from the big splashes, while Isabel, Samantha, Danielle N. and Stephanie had a great time during free swimming. Lunch time in the town of Jackson Hole, Wyoming was a real treat. While Remi, Seth, Robbie, Adam Si and Jason were enjoying their meals at the Saddle Rock Saloon Restaurant, they were serenaded by the singing cowboy waiters. It was quite a show!
After spending the rest of the day in wonderful Wyoming we are now headed off to Yellowstone, Montana and Calgary YEEHAW!
The Westcoast Blogger