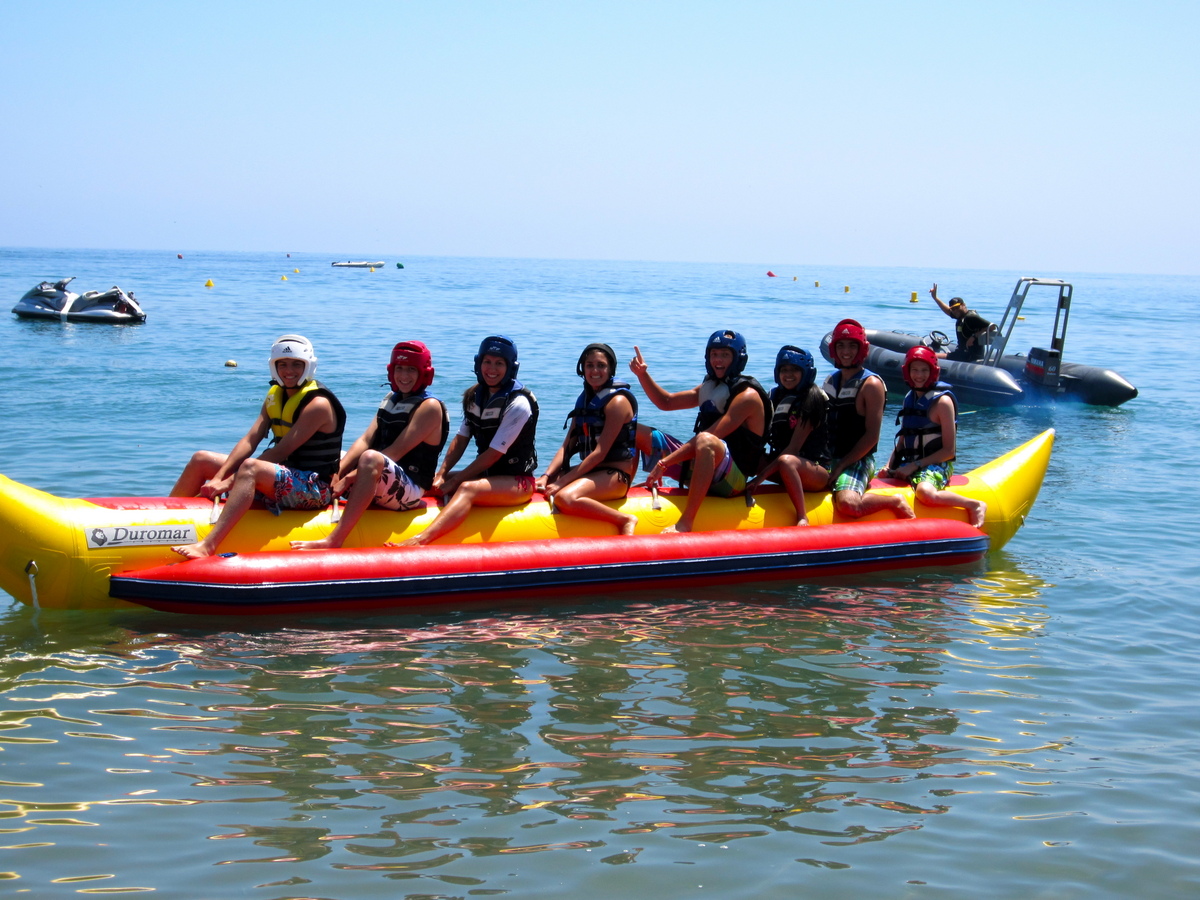 Era muy difícil marcharnos de las playas bonitas de Marbella, pero Granada tenía muchas experiencias y lugares esperándonos. Pasamos nuestra primera mañana explorando la parte baja de la ciudad, donde comimos un almuerzo medio-oriental de falafel y shawarma en la Plaza Nueva. También fuimos de compras allí.  El Corte Inglés tenía camisetas rebajadas de Real Madrid, entonces Ilana, Grace, Sam, Jordan, Rachel, y Zoe compraronuno para recordar los recuerdos que hemos hecho. Aprendimos la palabra rebajas. Por la tarde caminamos hasta la parte más alta de la cuidad. La caminada fue difícil pero la vista de la Alhambra y el resto de la ciudad era espectacular.
It was tough to leave the beautiful beaches of Marbella behind, but Granada had plenty of great new sites in store. We spent our first morning exploring the lower part of city, eating a Middle Eastern lunch of falafel and shawarma in Plaza Nueva and doing a little shopping. El Corte Inglés had Real Madrid soccer jerseys on sale, so Ilana, Grace, Sam, Jordan, Rachel, and Zoe all got one as a keepsake to remember the memories we have made. We have learned to look for the Spanish word for sales, rebajas! In the afternoon we hiked up to the top of the city. While the walk up to the top was arduous, the view of the Alhambra and the rest of the city once we got there was spectacular!
Empezamos nuestro próximo día temprano visitando a la Alhambra, que Eddie (que nuestro guía Lourdes siempre llamó Eric) nos hizo descubrir que significaba el palacio rojo en Árabe. La arquitectura de la Alhambra representa una mezcla de los estilos greco-romano y árabe, pero pasamos la mayoría de la mañana caminando por la parte árabe, la parte mayor. Afortunadamente, nuestro tour comenzó temprano, porque hacía muchísimo calor en Granada. Además del mármol y yeso de los cuartos del palacio, y las varias fuentes de agua incorporadas en el Alhambra, quedamos bastante cómodos. Sabiamos que hiba a ser una noche divertida, después de almorzar en la Plaza Nueva, regresamos al hotel para descalentarnos, nadar y relejar.
The next day began bright and early with a guided tour of the gemstone of Granada, the Alhambra, which Eddie (who our friendly guide Lourdes could not stop calling Eric) helped us discover meant Red Palace in Arabic. The Alhambra displays a unique combination of Moorish and traditional Spanish-Roman architecture, but we spent the majority of our tour exploring the older, Moorish architecture. Thanks to the early morning start, the marble and porcelain lining of the palace quarters, and the many water sources incorporated into the palace and gardens, we were able to brave the blistering heat. We had a late night ahead, so after a quick lunch, we returned to the hotel to swim, cool off and relax.
La cena esa noche fue muy étnica—disfrutamos de la comida libanesa en la Restaurante Sultan. Después del aperitivo de humus y pita, y los platos principales de arroz con pollo y couscous con cordero, el restaurante nos dio una sorpresa— ¡surgió del fondo una bailarina del vientre! Sarah S., Brittney, Eva, Amanda, Samantha, y Ali corrieron al centro de la acción mientras comimos el postre. Parecía tan divertido que pronto Taylor, Dylan, Kia y Zoe se juntaron a las chicas.
In the evening, we dined on middle eastern cuisine at the Sultan's Restaurant. Following our meal of hummus and pita, chicken, lamb, rice, and couscous, a surprise guest emerged from the back room—a belly dancer!Sarah S., Brittney, Eva, Amanda, Samantha, and Ali were quick to join the exotic dancer and entertain us while we ate dessert and sipped on a delicious after-dinner tea. It looked like too much fun to sit out, and soon Taylor,Dylan, Kia, Zoe, and others joined in.
Finalmente llegamos a la Cueva la Rocio, donde disfrutamos del Flamenco por la segunda vez. Pero este espectáculo fue diferente que el primero—en la cueva habia luces brillantes, tambores, y varias cantadores y bailadores. También colgado en la pared del fondo una foto de la primera doña, Michelle Obama, en la misma cueva! Para la canción final del espectáculo, los bailadores llevaron miembros del publico al centro para bailar con ellos. Ali, Brittney, y Sabrina nos impresionaron mucho. Todos podían ver que los chicos de Westcoast/360° realmente saben bailar el Flamenco!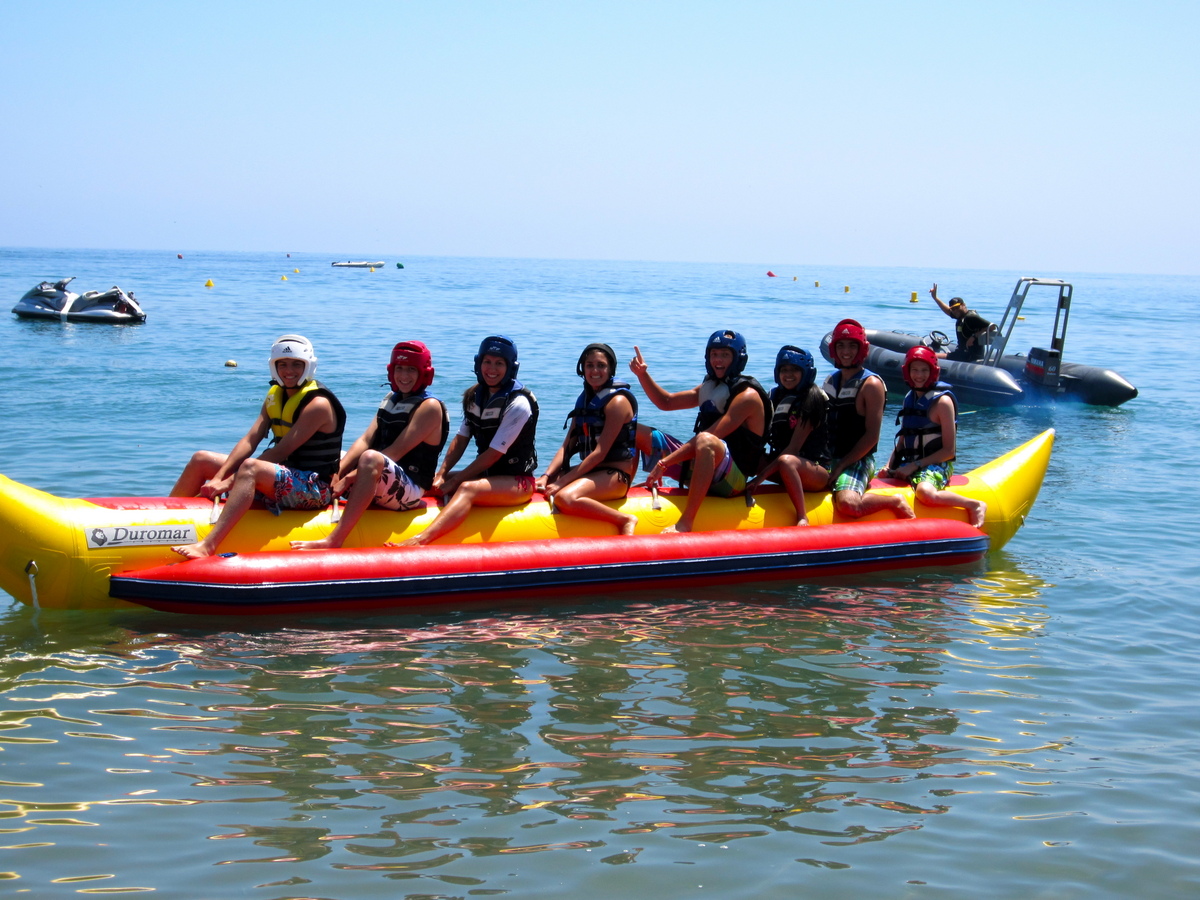 At the Gypsy caves (Cueva la Rocio) we experienced Flamenco for the second time, but this show was unique for its flashing lights, drums, clapping, singers, and various dancers. Adorning the far wall was a framed picture of First Lady Michelle Obama enjoying the exact same show! In the final act of the show, the dancers brought up members of the audience to dance alongside them. Ali, Brittney, and Sabrina impressed the audience with how well Westcoast/360° does Flamenco!
¡De repente, era muy tarde! Teniamos que levantarnos temprano para hacer el viaje al norte de España, asi que regresamos al hotel, limpiamos los cuartos y dormimos un poco. Pero estábamos llenos de anticipación para la próxima parada, Barcelona.
Suddenly it was very late, and we had to wake up the next morning to make the long bus ride north. We returned to the hotel, packed, and caught some rest while bursting with anticipation for our next stop, Barcelona!
¡Gracias a Sam y Eddie por su ayuda en traducir partes del blog!
Special Thanks to Sam Krevlin and Eddie Rosenblum for translating parts of this blog.
The Westcoast Blogger