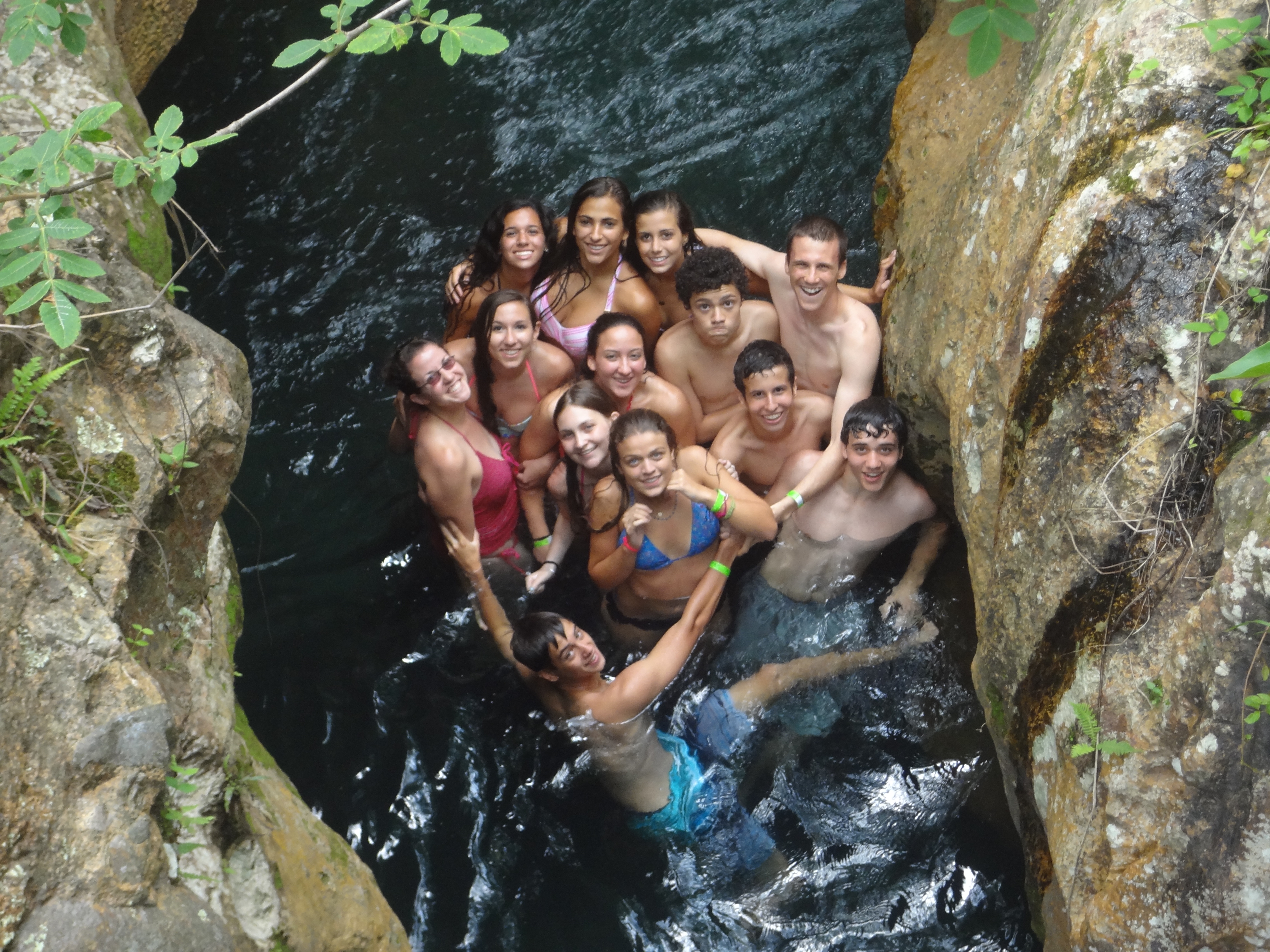 ¡Hola de nuevo a todas las familias! Aquí está nuestro último blog de Costa Rica, ya que el domingo vamos a estar de camino a casa después de celebrar muchos momentos divertidos y nostálgicos. Sus hijos son impresionantes – que sin duda han contribuido a hacer el verano un capítulo significado de las vidas suyas.
Hi again to all families! Here is our last blog from Costa Rica, since by Sunday, we'll be on our way home after celebrating many funny and nostalgic moments. Your kids are awesome – they definitely have contributed a lot so far to making their summer count.
Nuestro segundo día de servicio en la guardería en Flamingo estaba llena de resultados, ya que nos dio totalmente una nueva mirada al centro con nuevos colores por todas partes. Lauren, Kate, Jalen y Julia P. fueron encargados del techo, poniendo en práctica los consejos y técnicas que nuestro líder voluntario Carlos les dio. El trabajo de pintura fina fue realizado por Amelia, Julia N., Pedro y Andrés, entre otros. Por encima de todo, estamos orgullosos de todo el grupo porque puso esfuerzos en sus tareas, y por ofrecernos sus opiniones después de la experiencia de servicio a la comunidad.
Our second day of service in the Flamingo day care center was full of results, as we gave a new look to the center with a fresh set of colors all over. Lauren, Kate, Jalen, and Julia P. took charge of the ceiling, putting into practice the tips and techniques our volunteer leader Carlos gave them. The finishing paint work was done by Amelia, Julia N., Pedro, and Andre, among others. Above all, we are proud of the entire group for being devoted to their tasks, and also for offering us their thoughts on the community service experience later on. Everyone got a lot out of it!
La palabra playa era importante para nosotros esta semana. Debido a que nuestro hotel estaba a pocos minutos de la playa, líder del viaje JP invitó a los miembros del viaje a unirse con él en la playa por el jogging de la mañana. Erica, Jalen, Kate, y Kara ganaron contra sus despertadores y disfrutaron de la belleza del momento- ¡buen trabajo a ellos! Celebramos un día de fiesta de las clases una tarde en la playa y luego en la piscina del hotel, nadamos, y juguemos algunos juegos acuáticos. Amelia pensó varias veces que había peces nadando a su alrededor, mientras que Jalen dio al grupo una gran risa cuando él estaba medio enterrado en la arena por sus compañeros de viaje. Más tarde el mismo día, el grupo pidió un tiempo de noche para caminar de regreso a la playa, disfrutando de la luz de la luna- realmente tomando ventaja de cada momento!
The word playa was important to us this week. As our hotel was just a few minutes away from the beach, trip leader JP encouraged trip members to join him on morning beach runs. Erica, Jalen, Kate, and trip director Kara won over their alarm clocks and enjoyed the peaceful early-day training – good job! We celebrated a holiday from classes with a whole afternoon at the beach and then the hotel pool, swimming, playing some aquatic games, and going along with the little waves. Amelia thought several times she had fish swimming around her, while Jalen gave the group a big laugh when he was half-buried in the sand by his fellow trip members. Later the same day, our group requested a night-time walk back to the beach to enjoy the moonlight- really taking advantage of every moment!
El viernes fue el último día en Flamingo, y era uno grande- surfing! Nos dirigimos a la ciudad de surf de Tamarindo y nuestros guías rápidamente nos ayudaron a golpear las olas. Dan cogió una ola en su primer intento, mientras que Kate y Lauren aprendieron rápidamente aunque fue su primera vez. Demi y Erica recogieron algunos trucos y se habrían quedado allí todo el día sin duda! Después de algunas compras de recuerdos y comida deliciosa en la ciudad, nos fuimos al CPI para nuestro último día de clases. Todos los profesores absolutamente elogiaron nuestros estudiantes por su compromiso, el mejoramiento y la positividad, y los miembros del viaje estaban tristes de decir adiós a ellos después de una ceremonia muy bonita donde fueron presentados con certificados de excelencia. ¡Todo el mundo definitivamente disfrutó de  la cena y el helado de celebración esa noche!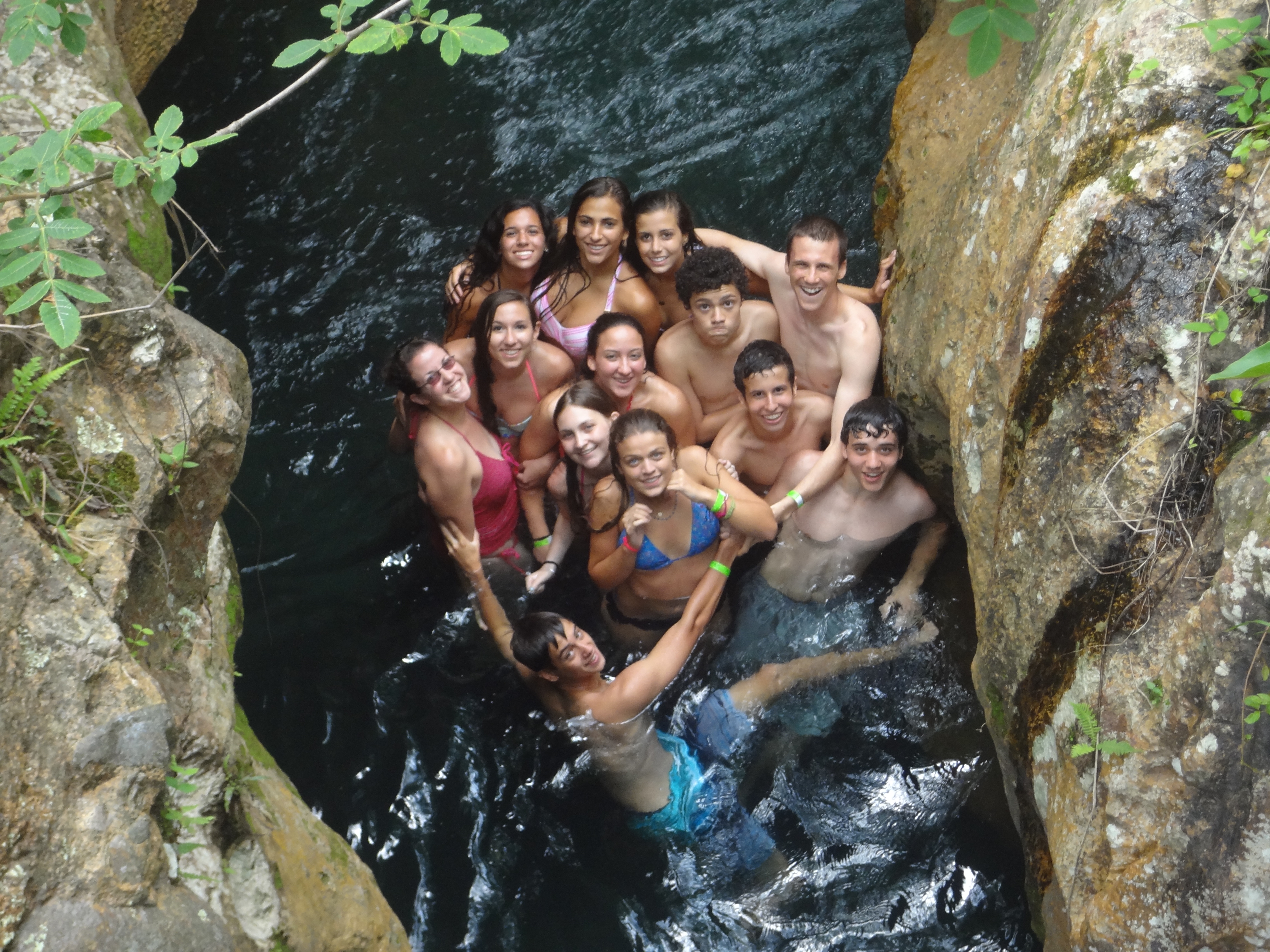 Friday was our last day in Flamingo, and it was a big one- surfing! We headed to the surf town of Tamarindo and our guides quickly helped us hit the waves. Dan caught a wave on his first attempt, while first time surfers Kate and Lauren learned quickly. Demi and Erica picked up some tricks and would have easily stayed there all day! After some souvenir shopping and yummy lunch in town, we were off to CPI for our last day of classes. All of the teachers absolutely raved about our students for their commitment, improvement, and positivity, and trip members were sad to say goodbye to them after a very nice ceremony where they were presented with certificates of achievement.  Everyone definitely earned their celebratory dinner and ice cream that night!
El sábado hicimos las maletas para salir de Flamingo para el Parque Nacional Rincón de la Vieja, adónde una corta caminata hasta una cascada nos esperaba. Mientras nadando, nos arreglamos para reunir a todo el grupo de pie en una roca por una foto. El agua suave rodeando a nosotros nos dio un momento puro, de hecho. Después de un buffet delicioso en el hotel, nos gustó el ambiente tranquilo que el complejo nos ofreció, como relajamos en las hamacas antes de tener un buen tiempo en los baños de barro. En la sauna, Pedro, Andre, Dan, y Jalen cantaron canciones para entretener a las niñas en el otro lado de la pared, y luego los miembros del viaje pintaron a ellos mismos con barro antes de sumergirse en un baño caliente durante un poco más de tiempo. Todos, incluyendo a Erica, Julia P., y Amelia, ya dijeron que sera difícil dejar al grupo. Tenemos la intención de disfrutar de nuestra última noche en Costa Rica con un banquete y actividades especiales, y ya estamos planeando una reunion. ¡Hasta pronto!
On Saturday we packed up to leave Flamingo Beach for Rincon de la Vieja National Park, where a short hike to a waterfall awaited us. While swimming, we managed to gather the entire group to stand on one rock for a photo, as smooth, clear water surrounded us- a pure moment, indeed. After a stomach-filling buffet at the hotel, we enjoyed the peaceful environment the resort offered us, relaxing in hammocks before having a good time in the mud baths. In the sauna, Pedro, Andre, Dan, and Jalen sang songs to entertain the girls on the other side of the wall, and then trip members painted themselves and their friends with mud before soaking in a warm bath for some more bonding time. Everyone, including Erica, Julia P., and Amelia, already revealed that they're sad to leave. We plan to savor our last night together in Costa Rica with a special banquet and activities, and are already planning a reunion! Hasta pronto, we'll say.
Para firmar nuestro último blog, pensamos que sería mejor dejar que sus hijos le dicen acerca de su viaje- aquí hay algunos testimonios escritos en español de algunos de los miembros del viaje durante su último día de clases en el CPI. Ellos y ellas revelan sus experiencias más emocionantes y pensamientos sobre nuestra aventura en Costa Rica, y estamos seguros que tendrán aún más a decir cuando llegan a casa.
To sign off our last blog, we thought we'd let your kids tell you about their trip- here are a few testimonials written in Spanish by some of the trip members during their last day of classes at CPI. They reveal their most exciting experiences and thoughts upon the end of our adventure in Costa Rica, and we're sure they'll have even more to tell you when they get home!
—
¡Hola! Me llamo Julia y soy de Nueva Jersey. Mi tiempo en Costa Rica ha sido excelente y cambió mi vida. Las aguas rapidas y el canopy fueron mis actividades favoritas. Mis nuevos amigos son fabulosos, y los echaré mucho de menos. También, me encanta la comida aqui en Costa Rica y cuando regrese a casa quiero que mis padres tengan arroz y frijoles todos los días. Estoy sorprendida que me gusta hablar español con los chaperones y especialmente en escuela.También, me encanta el servicio comunitario que hacemos aqui. Tenemos que pintar casas en comunidades muy pobres y cuidamos a los niños. Es un placer de hacer este servicio. Siempre recordaré mi tiempo aqui con muy buenas memorias. ¡Pura Vida! –Julia P.
Hi! My name is Julia and I'm from New Jersey. My time in Costa Rica has been excellent and has changed my life. Whitewater rafting and the canopy tour were my favorite activities. My new friends are fabulous, and I'll miss them a lot. Also, I love the food here in Costa Rica and when I get home, I want my parents to have rice and beans every day. I'm surprised that I really like speaking Spanish with the staff and especially in school. Also, I love the service that we did here. We had to paint houses in poor communities and take care of kids. It was a pleasure to do this service. I will always remember my time here with good memories.  ¡Pura Vida! –Julia P.
Me llamo Andre. En mi viaje a Costa Rica, mi grupo y yo hicimos muchas cosas diferentes, nos divertimos mucho y tuvimos muchas aventuras juntos. El canopy y las aguas rápidas fueron una grande aventura, pero lo que me gustó más fue el surf porque yo pienso que el surf es un deporte muy interesante y el mejor es que usted está siempre en el mar nadando. Los servicios comunitarios fueron interesantes, y ayudamos a construir casas y también a pintarlas. Nosotros también conocimos Ticos y Ticas de las comunidades que ayudamos. Durante los días del servicio, escuchamos a fondo las historias de familias que vinieron de Nicaragua a Costa Rica para tener una vida mejor. En este viaje, mi grupo también fue a la escuela para mejorar el español. En las clases, hablamos mucho en español, una cosa que me ayudó mucho, y también jugamos muchos juegos, hacienda las clases muy divertidas. Gracias. –Andre
My name is Andre. On my trip to Costa Rica, my group and I did many different things, had a lot of fun, and had many adventures together. The ziplining and the whitewater rafting were grand adventures, but I liked the surfing best because I think it's an interesting sport, and I love swimming in the ocean. The community service was interesting, and we helped to construct and paint houses. We also met ticos and ticas from the communities we helped. During the service days, we heard background history on the families who came from Nicaragua to Costa Rica to have a better life. On this trip, my group also went to school to improve our Spanish. In the classes we spoke lots of Spanish, something that helped me a lot, and we also played many games, making the classes really fun. Thanks! –Andre
Me llamo Pedro. En mi viaje para Costa Rica, fuimos a las rápidas, al volcán, a las aguas termales y zipline. Aprendimos español en la escuela  y me diverti mucho. Jugué futbol en la playa, canté con Dan y Andre "Ai se te pego" de Michel Telo, y ví a Jalen dar luz para su nuevo hijo Pablo. Aprendí nuevas palabras "slang" de Costa Rica, como "vara", "suave", y "mae". Hice nuevos amigos en Costa Rica, como Jose William, nuestro conductor. Me diverti mucho con ellos en el viaje. En Flamingo, surfamos y hicimos servicios como pintar una guardaria. Jugamos juegos con los niños. En San Jose, pintamos casas, trabajamos en una guardaria y hicimos construcción, que fue muy dificil. También aprendí la historia de La Carpio y como tiene muchas personas de Nicaragua vive en Costa Rica. Estoy triste de me despedir de este país tan bonito. ¡El viaje fue muy tuanis! –Pedro
My name is Pedro. On my trip to Costa Rica, we went whitewater rafting and to a volcano, thermal baths, and a zipline. We learned Spanish in school and I had a lot of fun. I played soccer on the beach, sang "Ai se te pego" by Michel Telo with Dan and Andre, and watched Jalen "give birth" to his new coconut son Pablo. I learned many new Costa Rican slang words, like "vara", "suave", and "mae". I made new friends, like our driver Jose William. I had a lot of fun with them on the trip. In Flamingo, we surfed and did service like painting a day care center. In San Jose, we painted houses, worked at a day care, and did construction, which was really hard. I also learned the history of La Carpio and how many people from Nicaragua came to Costa Rica. I am sad to say goodbye to this beautiful country. The trip was so tuanis- cool! –Pedro
¡Hola! Me llamo Kate. Soy de Nuevo Canaan, Connecticut. Este viaje es mi primera vez en Costa Rica, y yo estaba muy emocionada a empezar. El primer día, fuimos a las aguas rápidas. Durante las semanas pasadas, fuimos al canopy, a las aguas termales y a la playa para nadar y para surfear. Ha sido muy divertido. Hemos hablado mucho en español y estoy aprendiendo mucho. En nuestras clases, jugamos muchos juegos y estamos siempre riendo. También, hicimos muchos servicios para la comunidad. Hicimos cosas como pintar casas, jugar con niños, y construcción. Me siento bien sobre lo que he hecho. Mi parte favorite del viaje es el grupo y los chaperones; hay cuatros chicos y seis otras chicas. Ellos son muy simpáticos, cómicos, y divertidos. Voy a echar de meno a ellos cuando salga. ¡Pura Vida! –Kate
Hi! My name is Kate. I'm from New Haven, Connecticut. This trip was my first time in Costa Rica, and I was really excited to get started. The first day, we went whitewater rafting. During the last two weeks, we went ziplining, to thermal baths, and to the beach to swim and surf, which was all really fun. We spoke lots of Spanish and I am learning a lot. In our classes, we play lots of games and are always laughing. We also did community service. We did things like painting houses, playing with kids, and construction. I feel good about what I did. My favorite part of the trip is the group and the staff; there are four boys and six other girls. They are all really nice, funny, and fun. I'm going to miss them when I leave.  ¡Pura Vida! –Kate
 ¡Hola! Me llamo Lauren y soy de Nuevo Canaan, Connecticut. Mi experiencia en Costa Rica ha sido magnifica y es algo que nunca voy a olvidar. Nuestro viaje consiste de muchas actividades, deportes, servicios, clases y más. Pero mis favorites fueron bucear, las aguas termales, surfear, y los rápidos. En clase aprendí mucho "vocabulario" como "vara", "tuanis", "suave", "vejigos" y más costarriqueñismes. También jugué Scrabble y pictionary dónde fueron competiciones entre el club "somos hombres", y José, el perro. En los servicios nosotros pintamos mucho y los niños nos ataron en la escuela. Cada día nosotros comimos arroz, pollo, frijoles (ew) y piña, que es la comida típica de Costa Rica. Pero también paramos a supermercados para meriendas como pretzels, teddy grams y caramelos. En total, esta fue una grande experiencia llena de diversión y bromas. Echaré de menos todo el grupo incluyendo José Willy y los mejores chaperones en el mundo: JP y Kara. Paz! BRB! DL…¡Pura Vida! –Lauren
Hi! My name is Lauren and I'm from New Canaan, Connecticut. My experience in Costa Rica has been magnificent and is something that I will never forget. Our trip consisted of many activities, sports, service, classes, and more. My favorites were snorkeling, thermal baths, surfing, and whitewater rafting. In class I learned a lot of "vocabulary" like "vara", "tuanis", "suave", "vejigos" and more costarriqueñismes. I also played Scrabble and pictionary where there were competitions between the club "we are men," and Jose, the dog. At service we painted a lot and played with the kids at school. The most interesting night was when there was a crab in my bathroom and JP had to get rid of it. Every day we ate rice, chicken, beans (ew), and pineapple, which are the most typical Costa Rican foods. But we also stopped at supermarkets for snacks like pretzels, teddy grams, and candy. In sum, this has been a great experience full of fun and jokes. I will miss the entire group, including our driver Jose Willy and the best trip leaders in the world, JP and Kara.  Paz! BRB! DL…¡Pura Vida! –Lauren
Many thanks for sharing your children with us this summer- we had a wonderful time and we know they did, too! Hasta luego!
The Westcoast Blogger
If a Westcoast Connection adventure sounds like something you'd like to be a part of, explore our 14-day Costa Rica student travel tour!