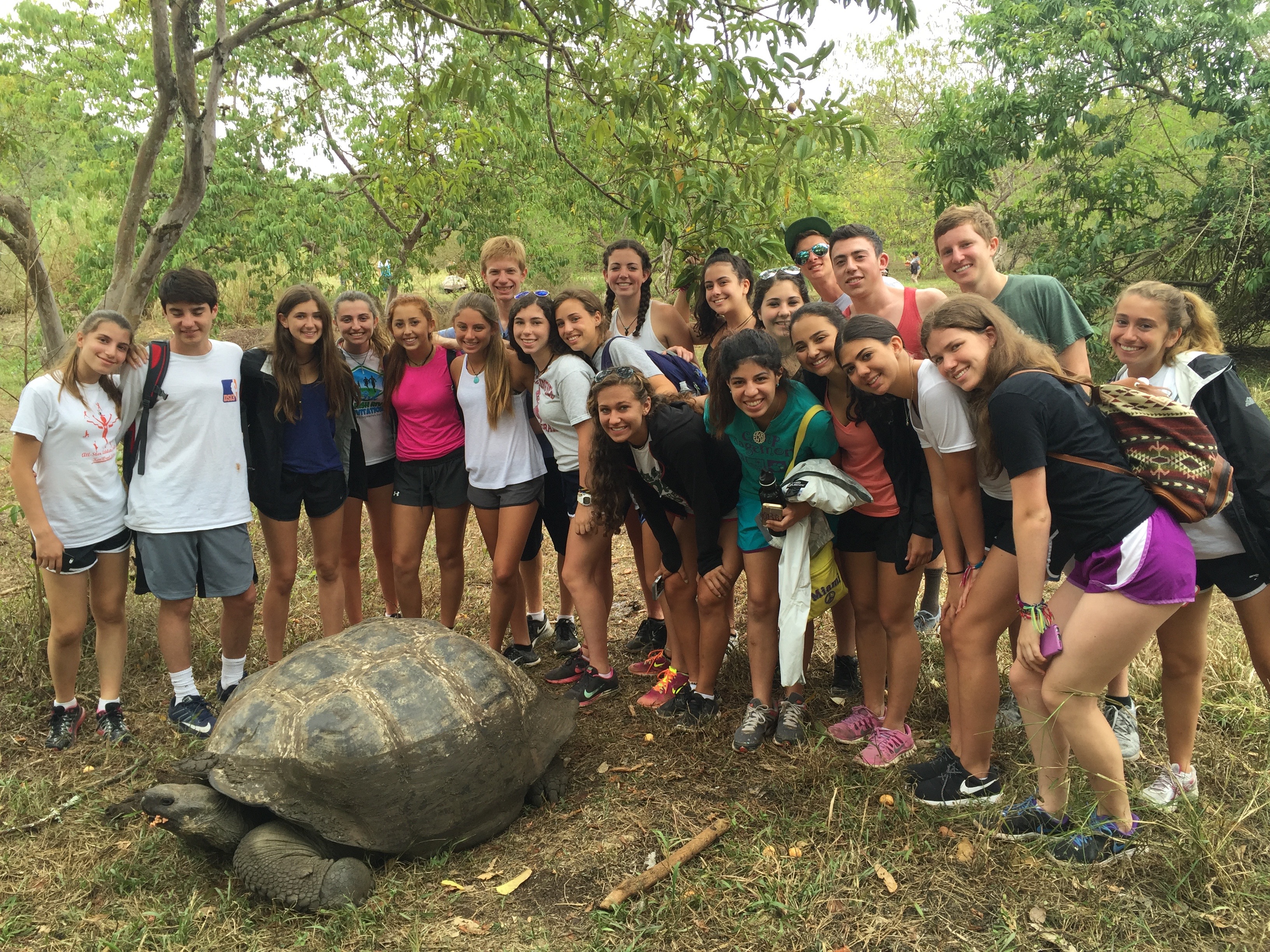 Hola familia y amigos,
When last we left you we were heading back to the Quito.  We were happy to return to our home away from home at the Hotel Embassy, and we had the opportunity to practice our haggling skills, as we journeyed into the highlands to visit a traditional Ecuadorian market in Otavalo.  Along the way we passed some breathing taking sites, including the titan Imbabura, a now dormant volcano, and his mate, Mama Cotacachi.  For lunch we were treated to a delicious meal and dancing at the Comuna Illuman, where we got to try qui (guinea pig!) and take a stab at some of the traditional Quechua dances.  To cap off a great day, we had a delicious dinner of giant skewers, and headed to a nearby park for game time, where Jordan and Zach really showed off their frisbee skills.   
The next leg of our adventure began the following morning, as we made our way to the beautiful San Cristobal Island in the Galapagos.  We were greeted by sunshine and our new Galapagos guides, Jose and Javier.  After a lunch of fresh fish and delicious juices, it was a short drive to Cerro Tijeretas, a local lagoon known for it's frigate birds, which was the perfect location for our first snorkel experience of the trip.  Many of us went snorkeling for the first time, and we even saw our first giant sea turtles!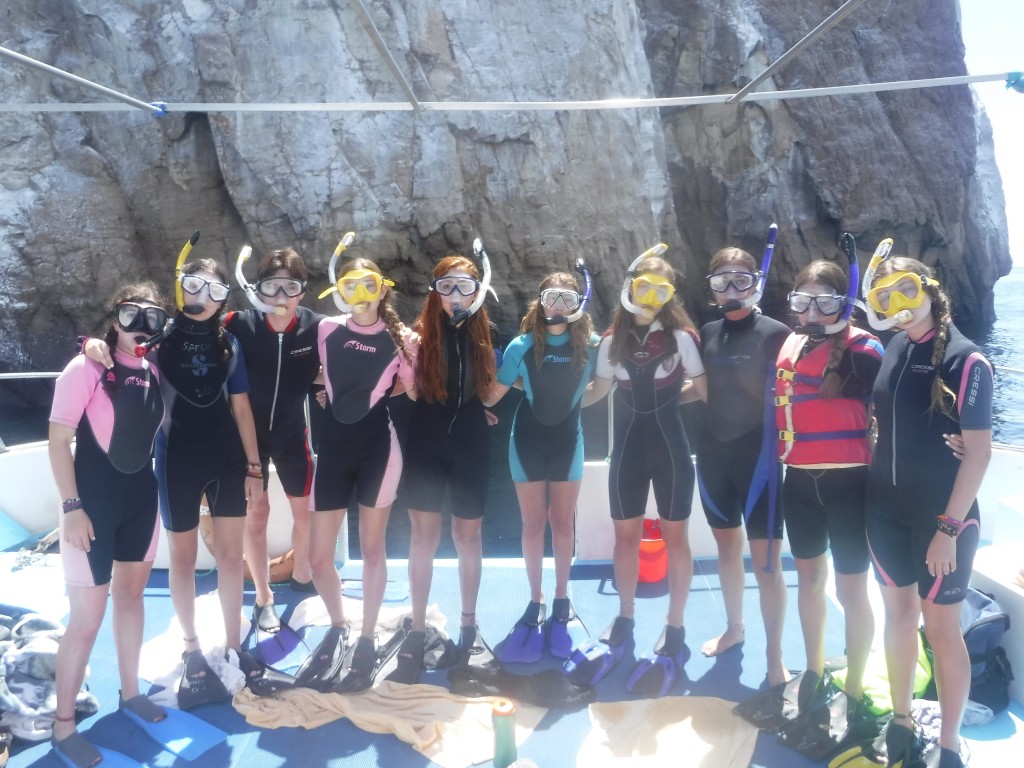 Our community service project in San Cristobal brought us to a local high school, Colegio Tecnico Ignacio Hermandez, where we assisted the school with sanding and painting classrooms.  We also had the opportunity to show off our fútbol skills during a game with the teens at the school, though it quickly became clear we need a bit more practice 😉 After a hard earned lunch at our favorite local spot, Descanso del Marinero, we grabbed our snorkel gear and were off to La Loberia, a sea lion nursery.  The group not only enjoyed relaxing on the beach and swimming with the sea lions, but we also had the opportunity to see at least 10 giant sea turtles, sting rays, and the infamous blue footed boobies!  A short beach walk also brought us to an area filled with several sunbathing marine iguanas.  We capped the night off with some friendly color war competitions, culminating with 3 trip members, blindfolded, searching for socks, guided only by their teammates voices.  It was here Ava proved to us her competitive side, as she stole the show in the sock competition.  
Friday began what would be called by many as our favorite trip day yet.  We departed on our boats for a second view of Cerro Brujo, where many of us saw giant pelicans and blue footed boobies up close.  We made our way to our secluded, off the beaten path beaches at Lobos Island, where the sand glistened white and the water was the most beautiful shade of aqua most of us have ever seen.  Alongside our friendly sea lion neighbors, we enjoyed some much needed R&R before heading back on board for lunch, as we made our way to Kicker's Rock.  Kicker's rock, a giant volcanic mass that rises 500 feet out of the Pacific, is home to spotted eagle rays and Hammerhead sharks.  Most of us were lucky enough to see these giant sea creatures as we navigated the small channel that is cut out with in the rock, and it was here Beth and Claire spotted their first shark!  We all enjoyed snorkeling with the coral and abundance of fishes, as many of us faced our fears and swam through the waters of Kicker's Rock.  The energy was high as we returned to the isla, and that evening at dinner Zack feasted on not one, but two lobsters!  This evening we continued our color war, and Olivia, Claire, JZ, Callie, Zack, Amanda, and Cameron earned their team a win during the photo scavenger hunt.  
The following morning we packed up and said goodbye to San Cristobal, as we made our way across the pacific to Isla Santa Cruz.  Our relaxing boat ride was interrupted by a beautiful pod of 30+ playful dolphins, an unusual occurrence according to our guides.  What a great way to start the final few days of our trip!  We spent the afternoon exploring Santa Cruz, and at the Charles Darwin Center, we learned a bit more about how volcanoes formed the islands and the current conservation projects taking place here.  Rancho Primicias, our final community service project, is a reforestation area where we were able to help bring native trees back into the land, as well as view the giant tortugas, some upwards of 150 years old!  We also toured the nearby lava tunnels, formed by several volcanic eruptions.  In only a few short hours, we will kayak the beautiful Tortuga Bay.
It's hard to believe in less than 24 hours we will begin our long journey home.  This trip has been once in a lifetime for all of us, and we will never forget the beauty we have experienced and the impact we have made on our community service partners, and them on us.  Each of us has grown in a special way over the past 23 days, and this would not have been possible without the support and love from one another.  To E1, you are a special bunch, and we wish you only the best in all your future adventures.  Keep on smiling and laughing, we love you!
Mucho Amor,
The Westcoast Blogger
P.S. The Galapagos are beautiful and a bit off the beaten path, which has been great, though the downside is the Wi-Fi isn't so strong.  Expect more awesome photos to come after the trip!
If this sounds like an adventure you'd like to be a part of, explore our Westcoast Connection 18-day and 25-day Ecuador and Galapagos tour options.
Save
Save