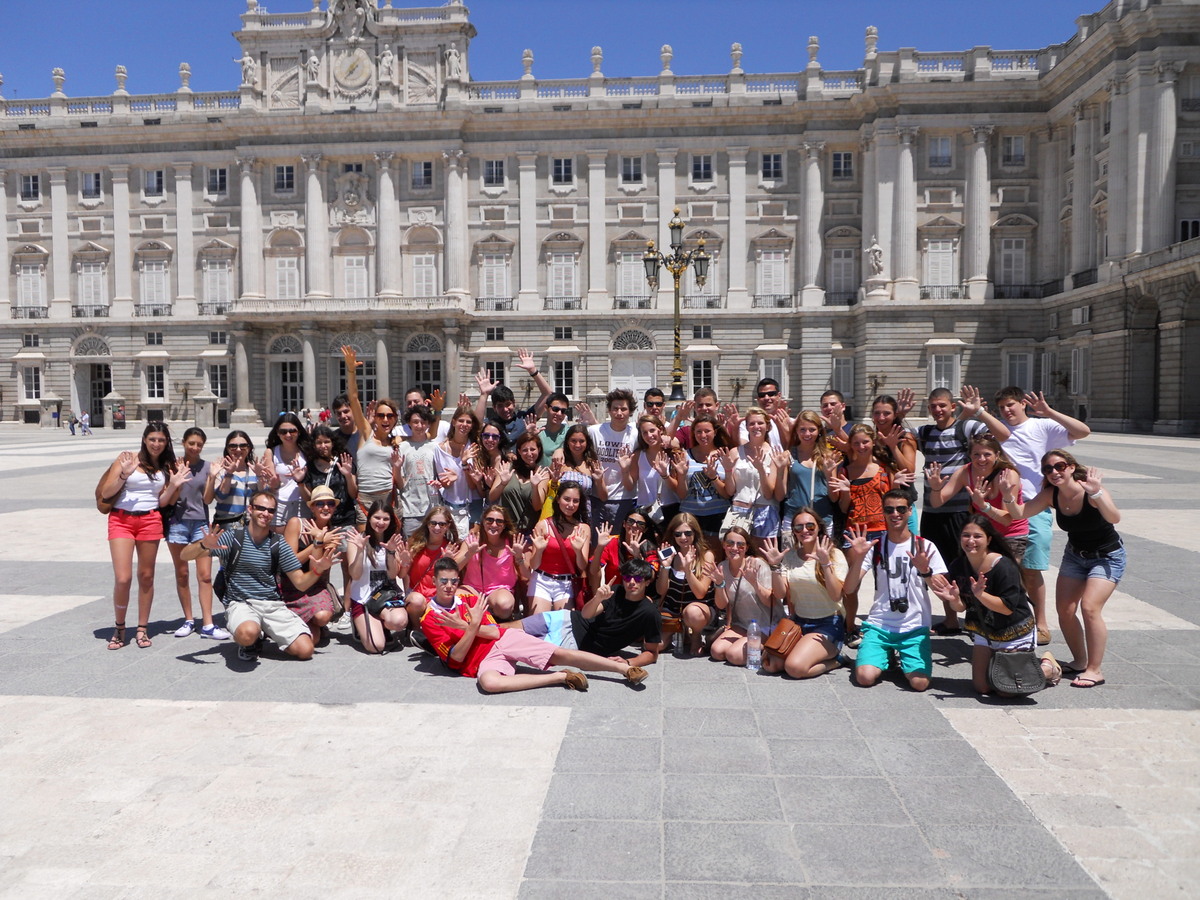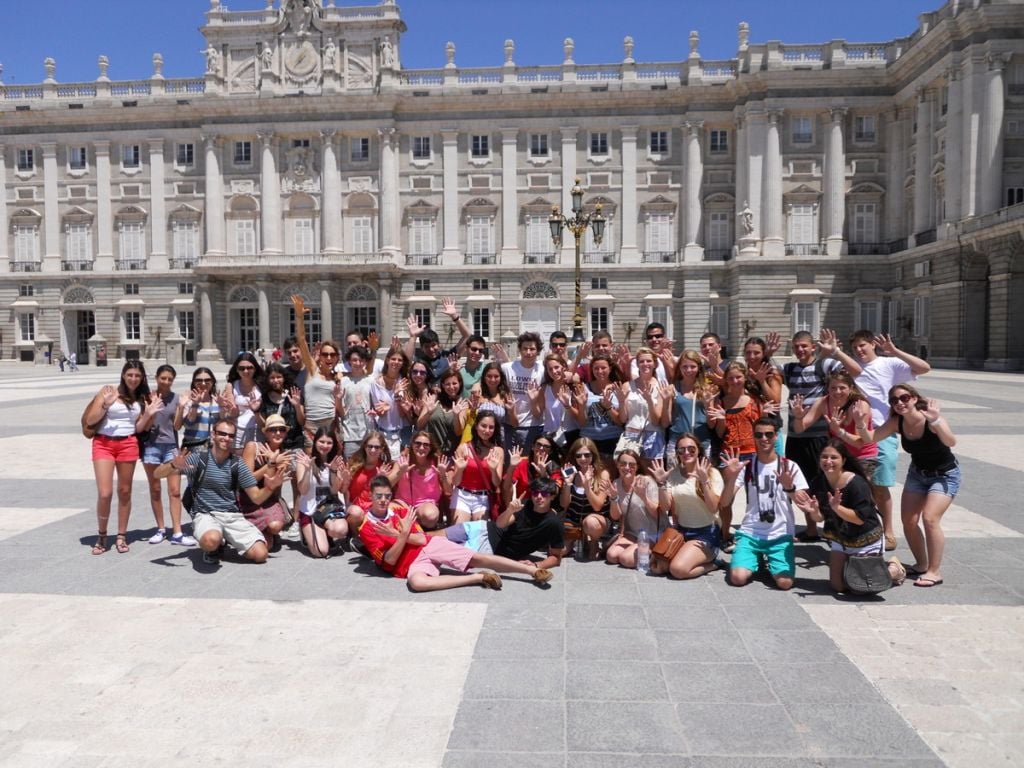 Our amigos and amigas check in from Espana! The Spain Language Program is full-tilt ahead.
¡Bienvenidos! Hemos tenido un tiempo maravilloso en España y estamos aprendiendo mucho sobre las vidas de las españolas.
¡Bienveniods! We have been having the time of our lives gallivanting around Spain! We have been participating in amazing adventures and learning so much about the invigorating lives of Spaniards!
Antes de les decimos sobre nuestro viaje, queremos dar gracias a todos nuestros Reyes y Reinas del Día. Todas las mañanas, los estudiantes nos decían hechos y cosas importantes sobre España. ¡Muchíssimas gracias a Alexis, Caroline, Alex O., Andie, Brooke M., y Britt por un buen trabajo!
Before we get into all of the details, we'd like to thank all of our Reyes y Reinas del día for keeping us up to date on all the need to knows of Spanish life. ¡Muchíssimas gracias a Alexis, Caroline, Alex O., Andie, Brooke M., y Britt for jobs well done!
Después de llegar a Hotel Opera, los estudiantes tuvieron experiencias con la cultura mientras que comiendo a la Puerta de Sol.  ¡Es oficial, nos encantan la comida española! A Danielle le encanta alguna tortilla española y ahora Catherine pedirá solamente en español!
After arriving at the Hotel Opera, the students got their first experience of Spanish culture while hanging out and eating at La Puerta del Sol. It's official, we all have a newfound love for Spanish food! Danielle loved her some Tortilla Española as well as croquetas and manchego cheese. We even overheard Catherine saying that now she will only order food in Spanish for the rest of her life. ¡Qué fantastico!
Durante el día segundo, Equipo Penguino (Caroline, Abby, Sam Beck, Daniel, Jake K., Charlotte D., Sydney, y Savannah) crearon algunas formaciones fantásticas con sus cuerpos mientras estaba diciendo la palabra del día "VALE". A la Palacio Real, los estudiantes bailaron en el Patio y incorporaron el "Westcoast/360 Move". Ellos, especialmente Sydney, les encantaban el Palacio y toda la historia y arte en su ambiente. Para la cena, los miembros y sus lideres, comieron en la Plaza Mayor donde Equipo Cacahuete (Andrew, Rachel C., Bradley, Jason S., Britt, Sammy, Brooke M., y Madison) establecieron vínculo  porque todos les encantan comidas interesantes y diferentes.
On Day 2, Equipo Penguino (Caroline, Abby, Sam Beck, Daniel, Jake K., Charlotte D., Sydney, and Savannah) created some fantastic formations with their bodies while using the word of the day 'VALE'. At the Palacio Real, the students broke it down with the "Westcoast/360 Move" in the courtyard after touring the historically filled and elaborately decorated Royal Palace. The students, especially Sydney, enjoyed all of the artwork and details within her surroundings. After a fun filled day, the students and their amazing staff split into teams and dined with one another at the elegant restaurants located in the famous Plaza Mayor. There was some serious bonding done by all members of our trip, with Equipo Cacahuete  (Andrew, Brooke M., Britt, Madison, Rachel C., Jason S., Bradley, and Sammy) leading the pack connecting over their love of fabulous foods.
Durante el día tercero, nuestros miembros experimientan las colinas de Toledo donde preparamos por el "Euro Cup" entre Espana y Italia. Toledo era una ciudad muy hermosa con muchos hechos interesantes. Después nuestro viaje a Toledo, regresamos a Hotel Opera y miramos el partido intenso con caras felices porque nuestro equipo ganó 4-0.
As Day 3 came and went, our trip members experienced some once in a lifetime opportunities. Marissa, Rachel Carp, and Sammy thoroughly trounced their leaders on a early morning run through Madrid where they got to view the city from an entirely new perspective. As the day progressed, we made our way to the hills of triumphant Toledo where we all got pumped for the Euro Cup in our Red and Yellow. Jake M. and Zach A showed true team spirit by wearing their Spanish flags wrapped around their shoulders with pride. Upon returning to a vibrant and bustling Madrid, nuestro viaje gathered in the hotel salon to cheer on Spain, who ultimately showed Italy whose boss at soccer!
El lunes, decidimos cambiar nuestra rutina y asistimos la escuela Enforax. Los estudiantes eran excelentes y impresionaban sus profesores nuevos. Siguiendo escuela, viajamos a Xanadu donde esquiamos por tres horas en una montaña interior. ¡Zach A., Arielle, Andie, y Sam Beck tenía un tiempo fantástico! Otras como Lexie, Danielle, y Sydney hicieron bolas de nievas dentro de un iglú.
On Monday, Our routine changed up a bit by trying during our first day of school in Spain. Evan and Zach C. (as well as all of our trip members!) did an amazing job showing off their Spanish skills to their new teachers. After impressing the Enforex School, we found ourselves in snowsuits and gloves, skiing the indoor mountain of Xanadu. Arielle, Andie, and Sam Beck, had a great time riding the slopes and taking on the moguls and jumps! Others, like Lexie, Danielle, and Sydney, made some snowballs and snow angels inside their own private igloo at the bottom of the mountain!
It has been quite an adventure so far for these trip members. It's truly amazing what one can learn about themselves and life in just four days of living in the wonderful city of Madrid. Even though we are closing out our very first blog entry of the summer, we cannot wait to post again, because even at this moment, we are experiencing the great country of Spain in a new light!
¡Estamos teniendo una aventura increíble y estamos emocionados para los días en el futuro! ¡Hasta luego!
¡Hasta pronto y les extrañamos!
The Westcoast Blogger