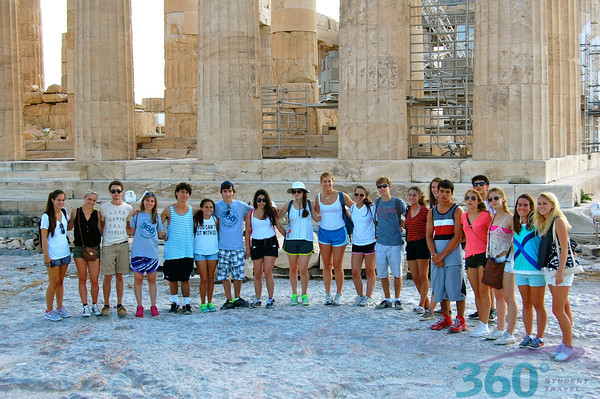 Dear parents,
Welcome to the new Greek Island tour members! We started in Athens, hiking to the Acropolis and seeing the view from the city.
The next morning we boarded a ferry to our first island, Naxos. When we got there we spent time lounging by the pool, exploring the town and the port. Kathryn and Serena found the fish spa and were laughing at the tiny fish nibbling on their feet. The beach sunset was beautiful and night ended with karaoke! Danielle, Sarah and Lauren sang Britney Spears and Abba for everyone.
Scuba diving was definitely a highlight of our time in Naxos. Trip members donned wetsuits and scuba gear for their beginner session. The depth got to 15 feet and under water divers touched sponges and sea cucumbers while fish swam all around. Time was spent relaxing at the beach too. Emily, Gab, Casey, Jack, Jake and Alex built a sandcastle in the sun.
Our third day in Naxos started with an authentic Greek cooking class. Everyone pitched in to cook stuffed peppers and tomatoes, a traditional Greek dish. Jenny, Christy and Ellen enjoyed being a part of cooking and everyone loved how the meal turned out. We also met a baby there named Giorgos, after meeting at least 5 of them throughout the trip. Interestingly enough, it seems like most of the Greek men we've met are named Giorgos, or George in English.
That afternoon we started a Naxos people hunt. We challenged trip members to find locals and tourists who can name countries, touch octopi and sing Frank Sinatra. The winning team featured Lauren, Serena, Jack and Matt for finding over 20 people! That evening was our sunset bike ride through the island. We ended the night with an open air movie underneath the stars!
The cliffs of Santorini were awaiting us the next day. We watched the sunset at the Caldera during dinner, taking in the magnificent view and we explored the small town of Fira at night. The next day we ferried to the volcano facing the island and swam in the nearby hot springs. Marielle and Sasha took underwater photos in the warm water. We visited the town of Oia later on, where Jennifer, Alex and Dan danced to live music by a Greek band.
Another trip favorite was sea kayaking to a local beach, where we snorkeled and snacked on the rocks. In addition to kayaking, many trip members decided to use one of the several hotel pools that day. Our final stop in Santorini was the archaeological site Akrotiri, one of the oldest in Greece.
Our days in the islands are ending soon, but our skin will remain tanned for weeks to come!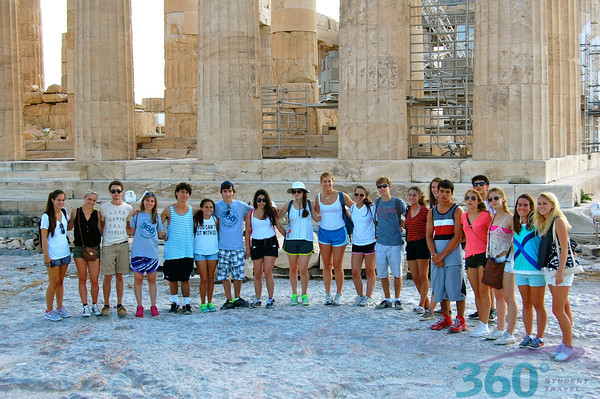 The Westcoast Blogger
Save
Save
Do you want to join us on this adventure? Check out our Greece trips for students that includes visiting the Acropolis, Santorini & more.