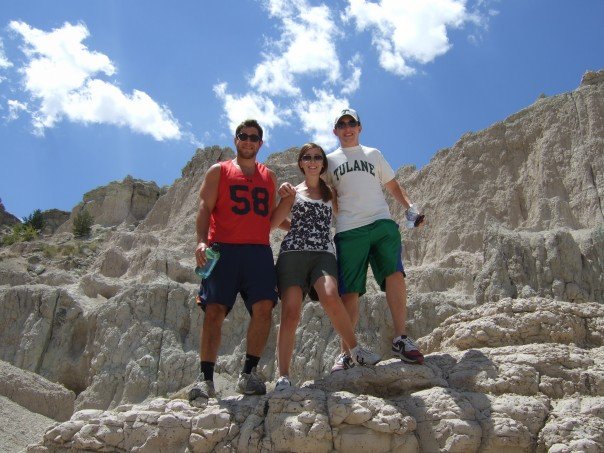 The U.S. Explorer checks in from Michigan:
Dear Parents,
Our first stop in Ann Arbor, also known as A2, was State Street. This college hangout is known for great restaurants and cute stores. It was also the perfect place to grab a UMich hoodie. Kyle was most excited to pick up gear in preparation for his acceptance (knock on wood!) in a few short years.
For lunch, many of us went to Tios, a Mexican restaurant featured on Man vs. Food that is known for its 5 lb. Nacho Challenge. Of those who attempt to devour the 5 lbs. of fully loaded nachos in 45 minutes, only 10% succeed. Jason, Grant, Jonah F.and Gary shared this dish – and didn't leave a crumb. Amanda decided to conquer the challenge as well. Along with the other staff, Abby, Mabil, Julia, Chase, Lyndsay and Deliliah cheered her on.
After we checked into the dorms, we got a taste of the college life eating in the University cafeteria. Don't all college students scream and yell "Yee Haw," "Ho Down,"  "Hay Barn," and "Get a long little doggie" in a big circle? Brandon, Emily, Alexa, Justin, Aaron, Jason, Haley, Rikey and Lee made it to the finals of Yee Haw at which the game became extremely intense. Lee and Justin, the final two, determined the winner with a ninja competition.
In the evening, we battled it out at Whirlyball. For those of you unfamiliar with Whirlyball, imagine playing lacrosse combined with basketball while driving a bumper car. Prior to the tournament, we watched a clip with the rules to prepare us for the challenge. All of our competitive sides were brought out as we struggled to bring the wiffel ball up and down the court. Haley said that she never played Whirlyball before but it "changed her life!" Nikki also said it was her first time and it was awesome! Although Sami  drove in circles for the first few minutes (as did many of us), she quickly got the hang of it ! Justin and Grant were the commentators during the games and they constantly cracked hilarious jokes. Sammy and Zach R. played pool in between brackets.
During our nightly "Roses and Thorns," Julia's shared that her rose was winning her first game of whirly ball. Immediately after, Izzy was asked to demonstrate her amazing impression of the tour guide from the Niagara  Falls jet boat ride.
The following day, we had a  relaxing morning canoeing! Mabil, Abby and Julia made it all the way to the end of livery, to a scenic bridge. Noah, Brandon and Zach R. were second to make it to the end although they claim it was never a race! Jason Matt, Tyler, Seryna and Natalie said their favorite part of canoeing was the splash battle although Jared claims singing Row, Row, Row Your Boat in round was much more entertaining. Lindsey and Delilah win the award for making the most circles in a canoe while Chase and Rickey win the award for getting the most soaked.
Everyone was really excited to go skating. The Canadians rushed to get on the ice. Those who were not as familiar with skating never gave up! Jamie, Evan A and Rickey were determined to skate and their improvement was visibly noticeable at the end of the night! Every time they fell, they smiled and got right back up! What troopers!  It was Haley's first time skating, she said it was scary at first but she still had a really great time.
Zach G. danced while skating and Evan S. helped others out on the ice. Jonah I. demonstrated his cool moves by literally sliding to join a picture. Tyler did some cool tricks. Emily (previous figure skater) was happy to finally skate again. Jamie said that her rose was being with all her friends today.
We are off to Chicago! Hope you're having as much fun as we are (although we know that isn't possible)!
The Westcoast Blogger