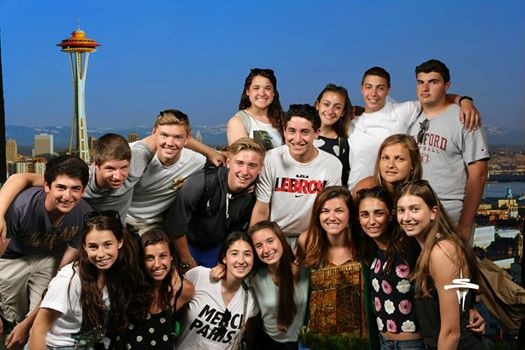 To say the least, Alaska has been an incredible experience for all of us. From white water river rafting, kayaking, to community service work at The Boys and Girls Club, and our wacky drives filled with laughter, signing, and dancing, this awe-inspiring state has truly set the tone for our Hawaii-Alaska adventure!
Our final day in America's last frontier was spent celebrating Independence Day! July Fourth began with a visit to The Alaska Wildlife Center where Dori, Maddie, Emily, and trip director Ally enjoyed taking 'selfles' with animals in the background. The center was replete with buffalo and elk, housing also brown bears and a single-winged bald eagle! That afternoon, we made way for downtown Anchorage to visit the fair where the July fourth festivities were taking place. The weather was immaculate yet again and Matt, Jess, Stevie, and Alex quickly made their way to the ice cream truck to cool down during a hot Alaskan summer day. Jordan, Alex, and Evan also had a blast as they walked about the fair and snapped pictures of the games. In the evening, we made our way back to the University of Alaska campus where we would spend our final night in Alaska. It was interesting returning to our old dorms at the campus since it was there, one week ago, that we began our trip, only by this time we had all bonded and were much closer. The following morning we headed out to breakfast and made our way to the airport to take our last breath of Alaskan fresh air before boarding onto our plane to Seattle, Washington.
We touched down in Seattle that evening, settled into our rooms at the hotel, and got some much needed rest for our following action-packed day!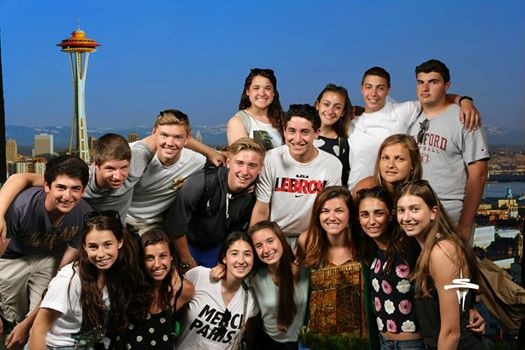 Our fun filled day in Seattle began accordingly at Pike's Place Market. Trip leader Jon followed Noah, Cael, Evy, and Ashley in an attempt to capture the perfect picture. Indeed, the colorful walls of the acclaimed 'gum wall' provided the ideal background for that sought out snap! Other sights included the first ever Starbucks, the fish market and exuberant fish tossers, and the myriad of gift shops and produce stands. After our stroll at Pike's Place farmer's market, our next stop for the day was the Experience Music Project museum. Eric, Matt, Alex, and Cael jammed out in one of the studios at the museum, but it was Alex who stole the spotlight with his rendition of 'Smoke on the Water'. The third floor of the museum was filled with interactive musical instruments, vocal booths, mixing consoles, and a deejay setup. It's no surprise that this is where our group spent a large part of their time! After the Experience Music Project, we headed to Seattle's famous Space Needle. Trip leader Jon may had felt a bit nervous due to his fear of heights, but any anxiety that was felt was quickly distilled by the warmth and comforting nature of our trip members.
Our day in Seattle concluded with none other than a classic game of 'Whirly Ball'. For those of you who don't know, 'Whirly Ball' is a combination of bumper cars, lacrosse, and basketball (see pictures for visual). Stevie and Jess couldn't help themselves and kept bumping into each other, and though Lourdes may have initially had a hard time getting accustomed to the driving, she was off to the races in no time! Eric and Emily shone that night, accounting for probably more than three quarters of each teams' points! Whirley Ball was definitely a novel experience for the vast majority of us and turned out to be an extremely fun and exciting experience!
After a jam packed day of sightseeing and activities in Seattle, it was off to the hotel room where we would depart the following morning for Whistler, British Columbia, Canada!
The Westcoast Blogger