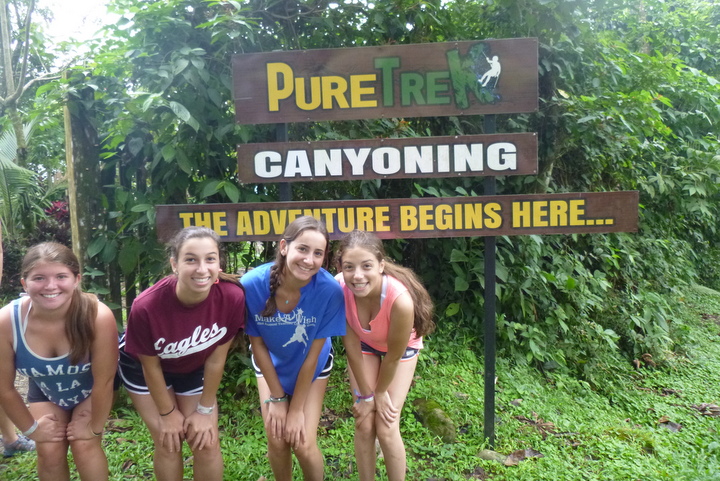 Hola Costa Rica Community Service followers!
The last time we met we didn't think it could get any better than the Baldi Hot Springs… and man were we wrong! The word "canyoning" has been mentioned several times on this trip, but we didn't fully understand what it meant until day 13. At this point, we all knew how to jump into a harness and how to affix our GoPros, but no one was quite ready for the 180′ foot rappel down a waterfall! Don't believe us? Ask Emma B who at first hesitated and then zipped down like a pro! There were a total of 5 "drops" with every single TM rappelling. Because we were in the safe hands of Pure Trek, everyone felt super secure and confident in traversing the high jungle lines.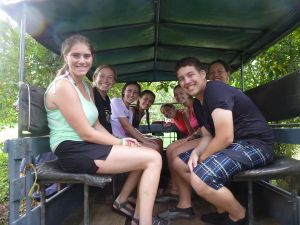 Later that night our group had permission to play futbol on a real Costa Rican (Arenal) field after watching two local teams compete. Even though it started raining before we played, our two team captains (Sam and Logan) led an unbelievable, slippery, match that ended in a tie. It was such a unique experience that is still something we all continue to talk about days after it happened.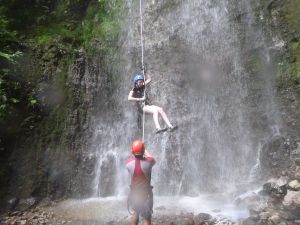 On day 14, we met an inspiring woman named Gail from the Costa Rican Humanitarian Foundation who talked about the details of our two different kinds of service for the next five days. So far in La Carpio, we painted faces with kids, painted house fronts and played street futbol. We also took a tour of the city to see how crazy different the economical diversity is throughout the neighborhoods (it was quite an eye opening sight). The sequel to this begins tomorrow when we all go to a CRHF Sports Camp. So far the experience with the kids has been truly rewarding as they keep asking us to come back. Hopefully we get to see them and even swim with them at the camp tomorrow!
The Westcoast Blogger