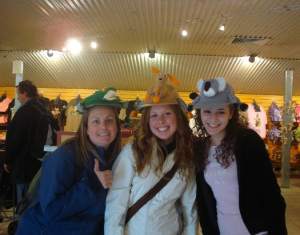 It comes from a land down under (any Men at Work fans get the reference?) …
The Westcoast Blogger
G'day mates and greetings from the land down under!
We finally made it to Brisbane after many hours on the airplane, but as soon as we landed we were all ready to start our day. We went right to the hotel to put our bags away to play a lot of "get to know you" games and to learn more about one another. Elizabeth, Allie, Samantha and Justine were probably the best at this, as within minutes of meeting one another, they had almost each and every tour member's name down pat. After our lunch time pizza party, we went to our rooms to change, shower and to go out to explore the town of Brisbane before going out for dinner.
Zach, Jenna, Sophie, Nick, and Shannon loved their first authentic Australian meal and would not stop talking about how excited they were to try other Australian food. It was then off to bed after a long day, and to get ready for tomorrow's adventure to Fraser Island and the Australian zoo.
Today was spent at the world renowned Australian zoo. Hannah, Steve, and Kyle could not wait to get their pictures taken while holding a koala bear to show off to their friends and family back home. Cira, Sophie, and David were in awe of the kangaroos hoping around all over the place and Jordan, Camille, and Emma were captivated by the crocodile show which was given by none other then the Irwin family themselves (Terri, Bindi and Robert). Libby, Aly, Rebecca and Elizabeth were extra privileged to have actually met Bindi Irwin herself and to snap a photo with her. We then traveled by catamaran to Fraser Island, had dinner and took in all the beauties of the breathtaking Kingfisher Bay Resort. Daniel was such a gentlemen to have helped load and unload all of the tour members' bags onto the catamaran.
Our guided 4X4 bus tour took us all over Fraser Island today. We got to see everything from a ship wreck, to dingoes, to the spectacular Lake Mackenzie where Robert, Corey, and Emily went swimming in.  Our evening activity was a nocturnal walk to see all the wildlife that comes out after sunset. Brandon, Guglielmo, and Jake were shocked and surprised to see such animals as squirrel gliders, many trap door spiders, and stingrays and a lucky turtle sighting while Evan got some amazing pictures.  We all are having the summer of a lifetime thus far and cannot wait for surfers paradise tomorrow morning.
Stay tuned for more from the Australian Outback!