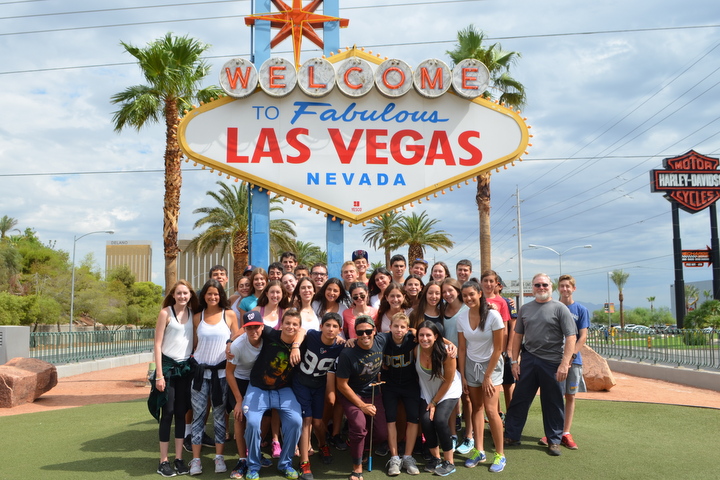 Hi again!
Whoever said you needed to be 21 to have fun in Las Vegas obviously never went on the Adventurer!
We arrived in this oasis in the desert and immediately went to the happening pool. Some of us enjoyed the lazy river and wave pool, while others, including Natasha and Dana soaked up the desert sun and enjoyed the people watching. That evening, we enjoyed an Italian feast at Buca di Bepo, with a delicious 3 course meal, with 2 different salads, a few different pastas, a chicken dish and the most delicious eggplant parmesan we have ever had. Oliver and Jacob left with very full bellies. We walked through the Bellagio and saw the amazing garden and flower themed ceilings and made our way to the light/water show. We found a nice spot for all 38 of us and watched the magical show. We couldn't believe they run every 15 minutes – what a production.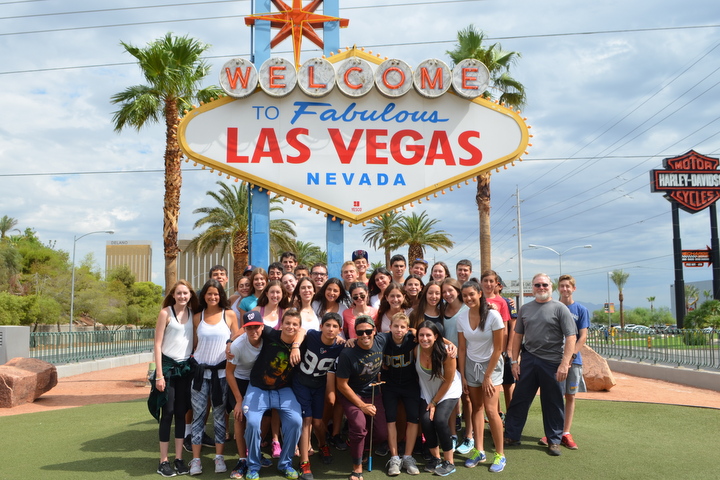 The following day we went to the Stratosphere and made our way all the way up to the 112th floor to ride the "Big Shot". We're sure you were able to hear Kerri and Jill screaming all the way from home, while Zach kept his cool and enjoyed the view from way up there. We then had lunch at Caesar's Palace (rumor has it a few of the boys used the famous "Hangover" quote and asked if the real Caesar lived there – we won't name names). Ryan B, Alyssa, Sydney and Ryan M. were spotted having yet another Italian dining experience by the "Trevi fountain." Bailey, Sydnee and Jill G. found some of the best gelato they have ever had. That evening, we had some free time to walk around New York New York and some of us were convinced we were right in Times Square. Afterwards, we rode the exhilarating rollercoaster. Maya C. and Josh conquered their fears and ended up having a blast!
We had a great time in Vegas, but after a big city we were excited to go back to our camping roots and have our last camping stop. We hiked both Bryce and the Grand Canyon and we can't decide which was more beautiful. According to Bill, our bus driver and life mentor, it is really a personal choice but he thinks Bryce might take the cake. Check out our pictures and let us know what you think! We enjoyed our campsite just outside the Grand Canyon, where we really bonded – sharing our favorite moments of the trip around the campfire. We can now definitely say we are all experts of taking up and putting down tents very quickly.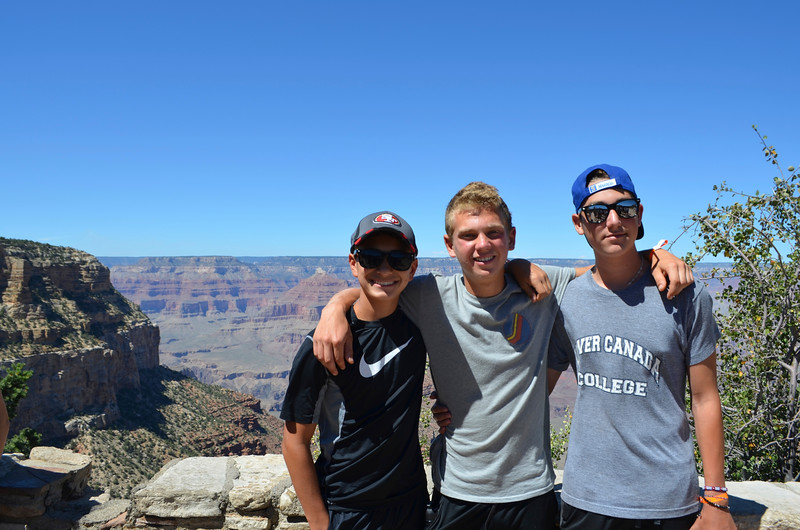 We then made our way to our last stop – Scottsdale. We arrived at our beautiful resort and enjoyed some time by the pool, basketball and tennis courts. That evening, we went to Dave and Busters, where we all got a little competitive. Max E was spotted beating all kinds of scores on the basketball nets, while Jeremy collected all the tickets he could to win the biggest prize. We ended up winning a few more stuffed animals to add to Bill's collection. The next day, we enjoyed a relaxing day around the resort, reminiscing on the trip and sharing some stories and remembering way back when we were in other places, like Calgary and Banff. We even FaceTimed our friends Dylan and Jordan who left us in Vegas to pursue their hockey careers (can't wait to see you guys in the NHL!). That evening, we had our final hoorah – a beautiful banquet with our new friend, DJ Jake. We danced, Andrew really showed off his moves and we even did the "horah" and gave Derek a fake Bar Mitzvah.
We can't believe how fast the summer has flown by; we wouldn't have wanted to spend it any other way, with anyone else. After 22 nights of camping, a bunch of fajita nights, listening to "Take A Walk" every morning, endless dance parties (mostly Lindsay, Mikayla and Rachel making fools of themselves), we are proud to say that we are all truly Adveturers!
The Westcoast Blogger