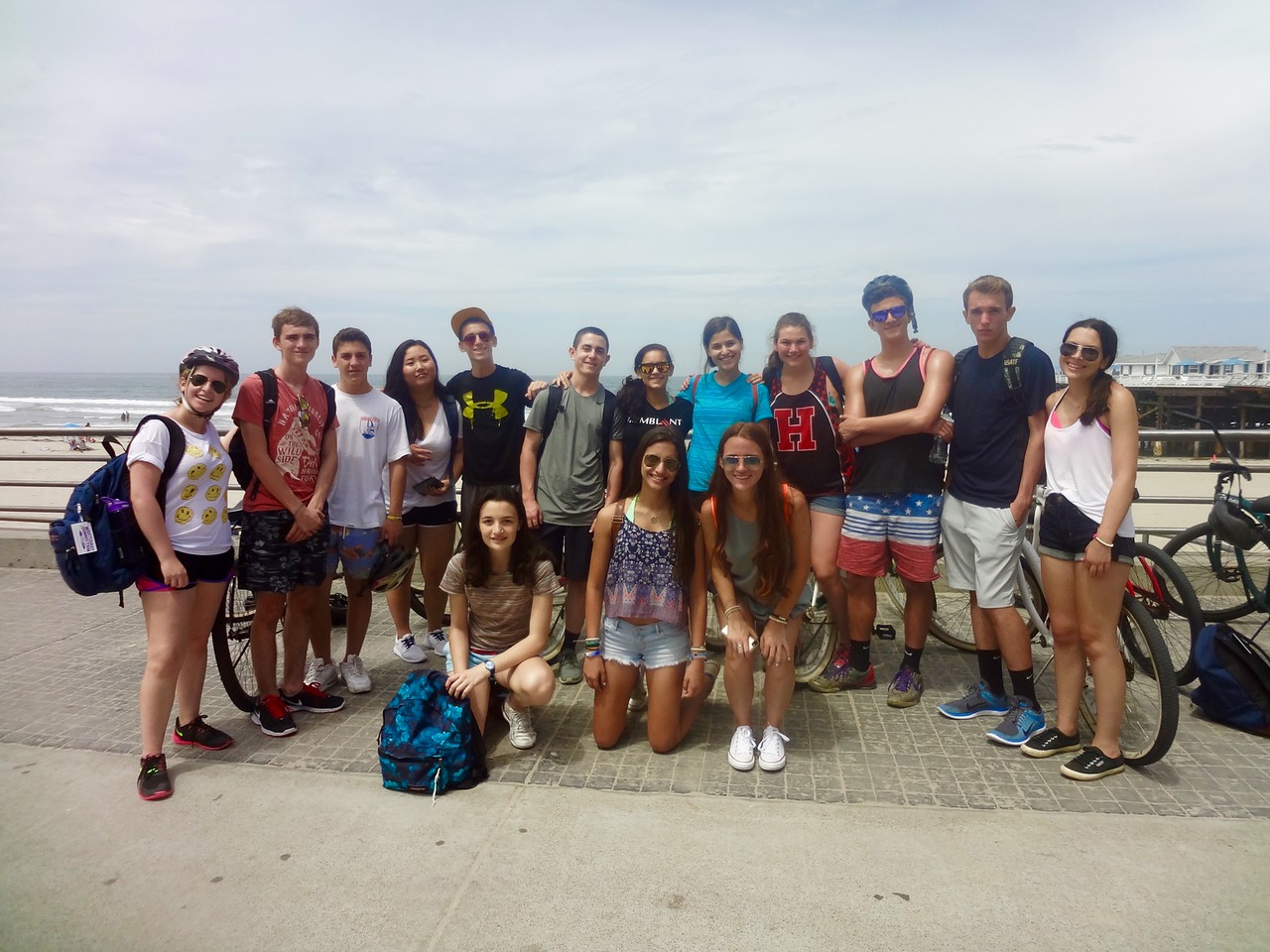 Captain's Log: July 4th, 2015

Ahoy family and friends!
It's hard to believe that we are already a week into the trip, but what a week it's been! Both our Canadian and American trip members got to celebrate their national holidays, we revealed our theme and started some friendly competition, and all hands were on deck for the start of our community service projects.Our first volunteer project was Habitat for Humanity, a non-profit organization that helps lower income families build affordable housing for themselves. One of the defining features of the program is that the soon-to-be owners have to put in 'sweat equity' by contributing a certain number of hours to the project. Our team spent 2 days volunteering at two different work sites – one project was cleaning up housing lots after a build, while the other project included painting, distributing mulch and making the final touches on a group of homes set to be moved into next week. While we were not able to personally meet any of the families moving into the lots we were working on, we did hear some stories that gave the experience a personal touch, including learning about a family of 5 who has been given a chance to own a house instead of renting a small one-bedroom apartment. Some of the team also managed to sign their names on the unfinished floor at one of the houses, as a way of knowing that even though we didn't meet the new homeowners, we will forever be a part of their new life.
After a few days of good physical work, we changed course on Wednesday to work with the Boys and Girls Club, an organization that offers programming for kids aged 5-18, with the goal of providing them with a safe place to learn and grow to become productive, caring and responsible citizens. At one center, our trip members were each assigned to a specific age group of kids, and followed them throughout their day, participating with the kids in a mix of activities. The other Boys and Girl's club had a planned field trip to the beach, and our trip members were each paired with a kindergarten student to play with for the day.
These service days were hugely successful and we were very proud of our trip members. Whether it was Brooke, Connor and Lauren L helping to build a shelving unit, Dempsey leading a baseball game with the third graders or Jonah managing to communicate and make a meaningful connection with his uni lingual Spanish buddy, the trip members were giving it their all and made an impact in the community. After each day, we also had a chance to sit down as a group and reflect on the experience.
After a few days of hard work, our crew is in the middle of having a few days to get back to seeing the surrounding area. Friday gave us a chance to relax on the beach, and Saturday we spent the July 4th holiday taking surf lessons and then watching the Big Boom fireworks show over the San Diego bay. The surfing seems to have been a highlight of the trip so far for many of the trip members (Monica has already called home to look into surfing schools in her area!). Despite the vast majority never having surfed before, almost everyone managed to stand up on the board and surf a few waves in to shore! Our Italian trip member, Ludovica, looked like a natural on the water, as did first timers Maddy B and Isaac! Jason went straight past hanging ten and practiced flexing as he rode waves in!
In between our service and activities we also managed to squeeze in some fun programming for the group as well. Our team competition has started, and our nautical theme was announced: The crabs, pirates, swimmers, sailors and harpoons have already kicked off some rivalries with a spirited game of Celebrity Name Charades, a fast paced round of Dutch Auction and a relay race afternoon on the campus track.
Next up for the crew will be a trip to the Zoo, and one more stop at the Boys and Girls Club before we set sail in our vans to L.A.
The Westcoast Blogger