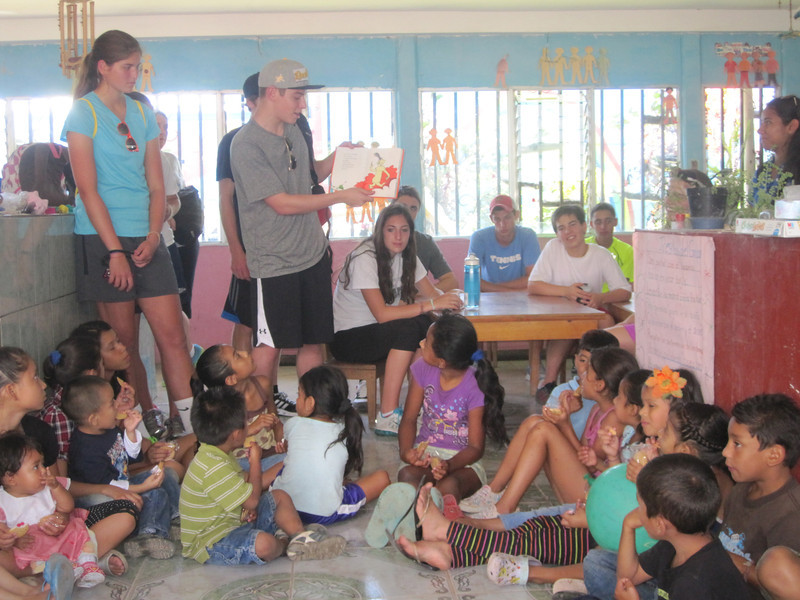 Hola amigos and Pura Vida as they say here in Costa Rica.  Pura Vida means all is good and all is definitely good on our trip!
On Day 5, we had our final day of community service in La Carpio with the Costa Rica Humanitarian Foundation. The children of the nursery really enjoyed having us there, which was clear from all of the interaction that was going on between our Trip Members and the local children. During our lunch break at the foundation, Jake showed some of his muscle by doing 10 pull-ups on the jungle gym where we were making bottle gardens for the children. The children will later take the bottle gardens home as homework projects. In the evening, we had a Latin dance instructor come to teach us some of her moves and everybody really got into it. Matt and Brandon partnered up for one part of the lesson and got to show off their skills – they were really great dancers!  Vendant and Nikki were also very talented dancers. Nikki showed off her talent by doing the dance moves flawlessly, whereas Vedant was a little less typical and showed some elaborate and creative dancing skills! Jenny, who can mimic Shakira perfectly, really proved that 'hips don't lie' when she partnered up with Emma and together made a crazy, dynamic, dancing duo! Overall, it was a blast and everyone was really engaged and enthusiastic!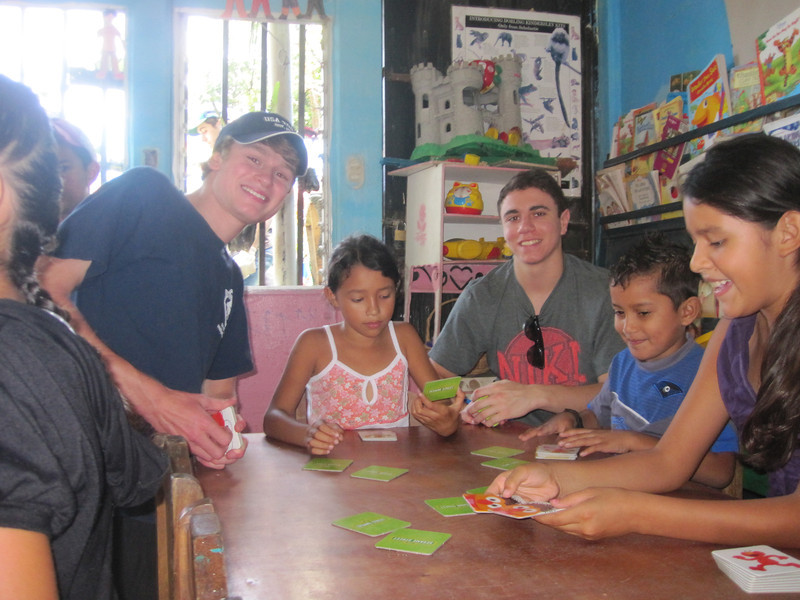 On Day 6, we left San Jose for the first time and headed to Arenal. Will's great taste in party music provided for some great bonding on our bus ride there! At one point, the entire bus was singing together. It was an awesome bonding moment! On the bus ride, Ruthie helped to make some awards for the staff as thanks for the paper plate awards that were given to the trip members after Latin dancing the night before! Some of the other trip members decided to try to relax a little more during the ride. For instance, Parker taught us some really fun card games that kept us occupied during the scenic drive! We even got the opportunity to pull over to see a sloth on our drive and Dani and Hailey managed to snag some amazing pictures of it! Later that night, we headed off to the Baldi Hot Springs. For those of you who don't know, the hot springs are naturally heated pools because of the volcanic soil. It was really cool! They even had slides that the Trip Members got to enjoy during our stay there. Aaron found a hidden sauna area between the rocks that was incredibly refreshing! Afterwards, we had a buffet dinner at the hot springs. Ben particularly loved the delicious assortment and it was really great to see his ear-to-ear grin!
On Day 7, we all celebrated the 4th of July! In the morning we went canyoning, which was similar to waterfall rappelling but this time there were four different obstacles to tackle! Robin got some nice pictures and videos by attaching her camera to her water-suit! All of the guides at the excursion were very friendly and more than willing to answer any and all questions that the Trip Members had. One of the instructors was really impressed by Shane's rappelling skills in particular since he had absolutely no difficulty with any of the obstacles! With a little encouragement from the outfitters and Trip Leaders, Gabi managed to conquer her fear of heights by canyoning down with bravery and ease! Ali was an especially great support system to her trip mates, cheering and encouraging everyone along. At night we celebrated the 4th of July by having a big 'World Cup' soccer tournament. We divided everyone into teams of two people to make it more competitive. Zack and Noah showed some real soccer skill by staying in the game and not getting eliminated! The girls showed some real athleticism too. Alexa stood out throughout the game for being an amazing teammate and scoring lots of goals!
On Day 8, we left Arenal to journey to Flamingo. Brett dominated 'Name that Tune' on our bus ride with amazing skill. We were also lucky enough to catch a glimpse of a monkey in the trees on our beautiful drive! Our next stop will be in Tamarindo Beach so stay tuned!
Hasta Luego!
The Westcoast Blogger