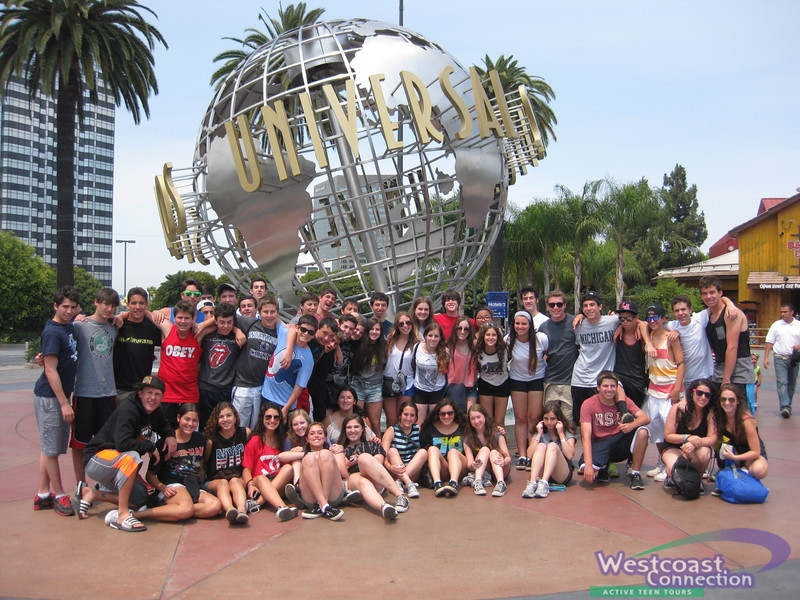 Dear family and friends of the American Voyageur,
The trip is now in full swing as we enter our 10th day on the road! We just spent two magical days camping in Banff National Park where we were surrounded by huge mountains and wildlife (an Elk and tons of chipmunks were hanging out near our campground!). Both nights were spent in front of the campfire where Will F. and Ross B. showed off their impressive fire-making skills.
Let us get you up to date on the days leading up to Banff…..After our stay in Yellowstone, Day 6 commenced with a July 4th themed trip across the border. The bus was decked out in American flags and streamers as we entered Canada early in the afternoon. Interestingly, Canada Day was spent in the U.S. while July 4th took place in Canada, a true testament to the bond between both countries.  The border crossing went smoothly and soon after many of our trip members got their first chance at experiencing college life as we stayed at the University of Calgary. Our night was capped off with some laser quest where Reed (aka Deer) destroyed the field with some skilled shooting!
Day 7 was truly unique. We arrived at the Calgary Olympic Stadium in the morning where we bobsledded. This was followed by an afternoon at the Calgary Stampede, a must-see event for anyone visiting Calgary. With such a talented group we managed to decorate our entire bus with stuffed animal prizes!
Day 8 was likely the most satisfying to date as we hiked up past Lake Louise to the teahouse at Lake Agnes. An approximate 3.5 km (2.2 miles) hike to the top, the view was immensely rewarding (and giant chocolate chip cookies were also eaten as part of our celebration). The hike was followed by canoeing on the turquoise waters of Lake Louise. Completely surrounded by mountains, the canoeing was absolutely awesome, many Trip Members decided it would be more interesting to create a five canoe snake and enjoy the view as a group. Additional bonding took place at the campsite when we played "human scavenger hunt"! Ashley H. displayed some of her moves as she won a round with a one-handed cartwheel! Not to mention Stephen's hilarious impersonation of our very own trip director Alexa.
On Day 9 we visited the Columbia Icefields in Alberta. A sight to behold, special heavy-duty vehicles were used to drive us deep onto the icefields. Once high up, we drank some of the purest fresh-water in the world. In fact, the water is so pure that one could not live off it due to the lack of minerals present in the water. Few animals live in such cold, though we still managed to see long-horned sheep and a ram. The afternoon was spent hanging out in the town of Banff where we enjoyed some dinner and then headed back to the campsite.
It is now day 10 and we have just entered British Columbia, on our way to Kelowna in Okanagan. The view throughout the trip has been awesome all round and we've just passed through Roger's Pass!
We look forward to updating you soon.
The Westcoast Blogger