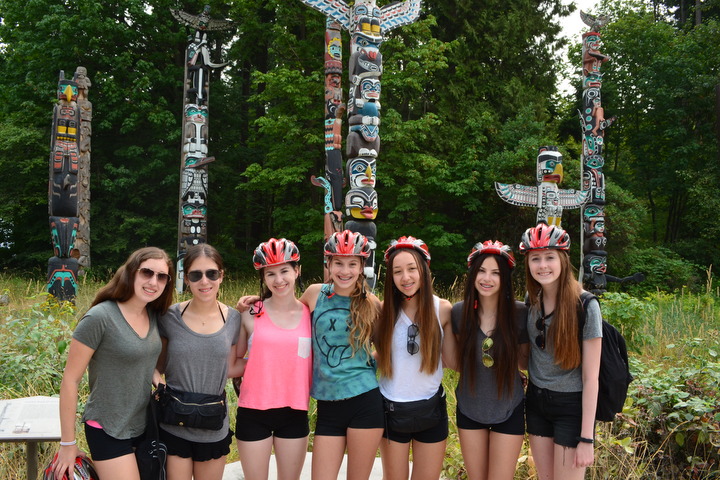 Hi again! A lot has changed since we last spoke – we're in the USA! But, before we get to that, let's give you all the details on our last Canadian stop.
We arrived in Vancouver and got settled in the UBC dorms. We were in a brand new building and loved it. We had some free time, so Jordan, Dylan, Max and others played a few intense rounds of mini sticks, while Dana, Jill G and Jacquie explored the grounds. Later that evening, we did laundry! We were all excited to learn how and happy to say everything came out great (Aren't you proud, mom?). While our laundry was in the machines, thanks to our local Trip Director, Derek, we wasted no time and walked over to Kitsilano beach and got to see the beautiful sunset. The following day, we rented tandem bikes and rode along the seawall. Jamie and Bailey started off nervous but ended up passing us all! We saw the Totem Polls in Stanley Park and were lucky enough to see Vancouver's soccer team, the Whitecaps, practicing in the park. Jason knew all of their names and cheered them on, while Jordan and Dylan tried to get on the news. Derek was actually interviewed – check it out! After an action-packed morning, we enjoyed our afternoon, spending some time on the beach, where Oliver tasted some local berries from a fruit stand, and exploring Robson Street. Ryan M, Ryan B, Alyssa and Sydnee were spotted on in Roots. That evening, we went to the Aquatic Centre, where Andrew dunked in the net in the pool and Dana and Jill G splashed around.
The following day we took a day trip to Whistler! We explored the beautiful village and went horseback riding. We rode along a beautiful trail, with our noble steeds! Natasha's horse was hilarious and wouldn't stop eating, and Jacob (who we have started calling "Chico") rode Bucket, one of the biggest horses, Josh's horse trotted a bit and he looked like a professional. We headed back to the UBC dorms that evening and enjoyed the warm evening. We ate our pizza outside; Adam showed off his soccer skills and kicked Derek's butt, while some of the girls had a dance party. We bumped into another Westcoast trip, and we exchanged the stories and memories we've made thus far.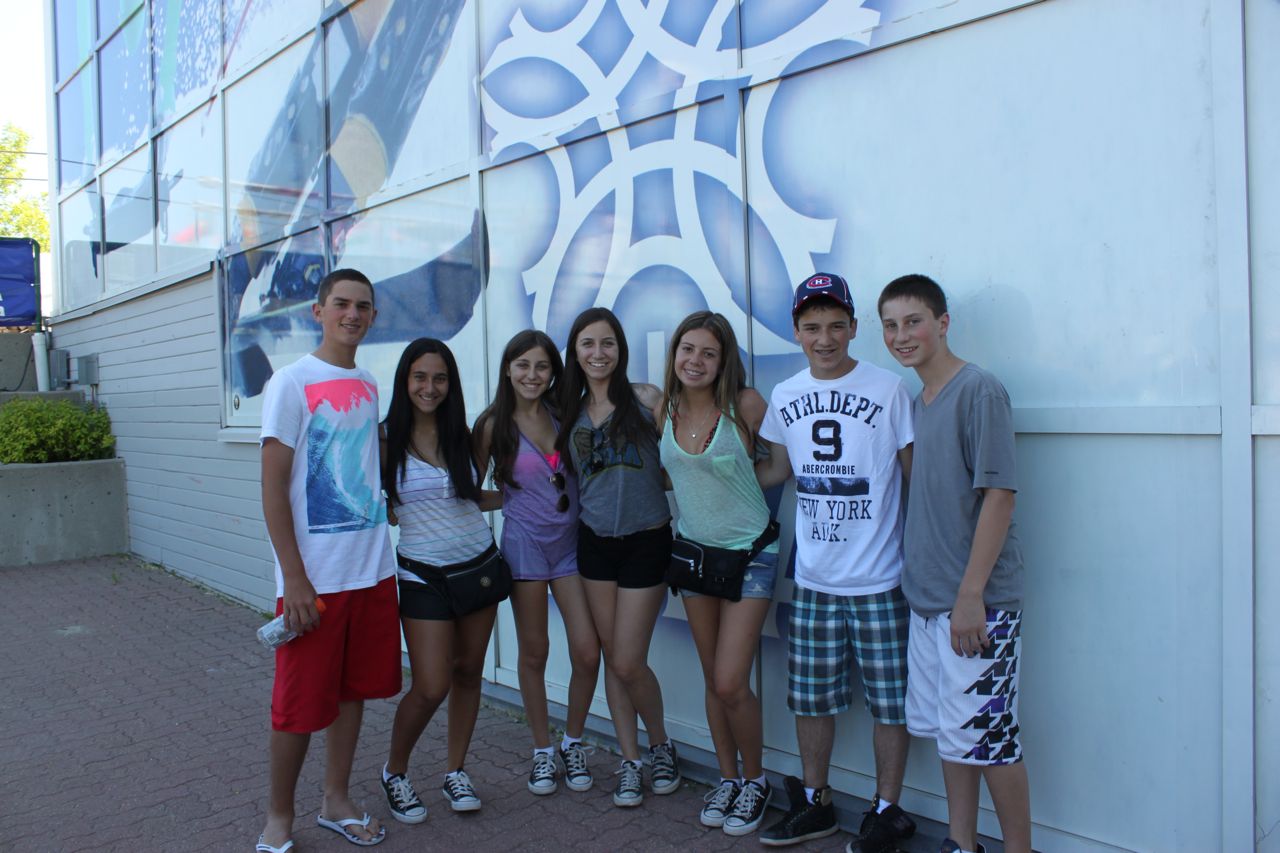 On our last day in Canada, we shopped around the UBC bookstore in the morning. Andrew ran around the bookstore with every color t-shirt, asking everyone's opinion on which one he should get; the final decision was between green and grey – grey won. Also, Kerri has been seen since sporting a new UBC sweatshirt. Afterwards, we had lunch at Granville Island. We saw an interesting street performer, who was recording her own voice and using it as the background music – on the spot! Then, we headed to our first American destination, Seattle!
We arrived in Seattle to our homey campsite, right on the water. We set up the tents, which we are now pros at doing. The following day, we went right into the heart of Seattle – Pike Place Market. Or, as some of us know it, home of the original Starbucks (cue Bailey's HUGE smile). We walked around, taking in the incredible atmosphere. Jill L, Jenna and Jacquie looked at the cool stands, while Adam actually caught a fish! We went to the Experience Music Project in the afternoon, and oogled at the amazing Rock n' roll and science fiction exhibits. Dave was spotted playing the drums in the "Sound Lab", while Taylor and her gang recorded their very own version of "Thrift Shop" (don't tell Macklemore but we think it's better than the original). If that wasn't exciting enough, we finished our afternoon by ascending the incredible Space Needle, where we enjoyed a Birdseye view of Seattle. Noah pointed out to us that just beyond the mountains was Canada, did you see us waving!?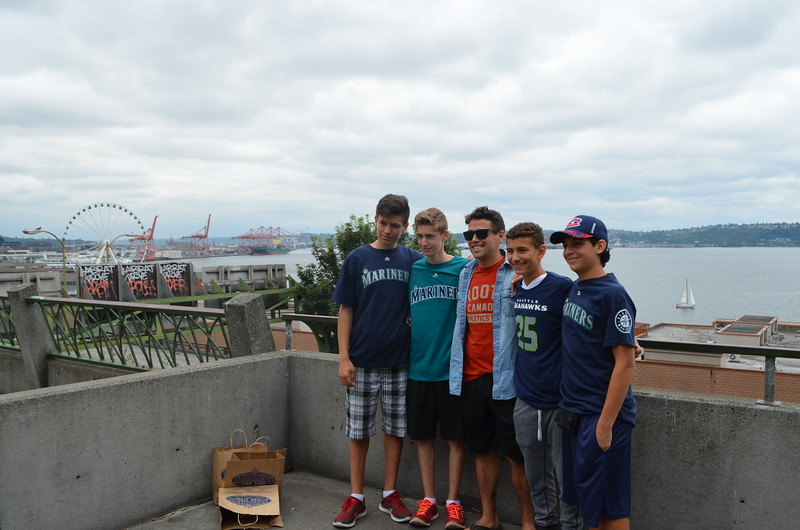 The following day, we went kayaking in the morning. We paddled around and enjoyed the view of the skyline. That afternoon, we took one of the world-famous Ride the Ducks tours! What a funny experience – our groovy drivers, "Clam Chowder" and "ASK NOAH", played funky music and couldn't stop cracking jokes. We were on two separate buses so things got a little competitive, and "NOAH's" bus was caught screaming "BOO YA" every time they passed the other bus. It was super cool when the buses turned into boats and we floated along the water. Some of us, including Jacob and Jason, wondered what it would be like to live on a boathouse. Did we mention our driver had thematic hats and changed every time he talked about something new! We counted 7 hats! Our tour ended with a very lively version of the YMCA dance. What a great way to end our stay in Seattle.
Up next is Mount Hood, and we are stoked! Some of us are shaking in our (skiing) boots in anticipation for our skiing adventure! Can't wait to tell you all about it.
Speak soon!
The Westcoast Blogger
Interest in learning more? Explore our Canadian student travel programs and start planning your next adventure with Westcoast Connection!