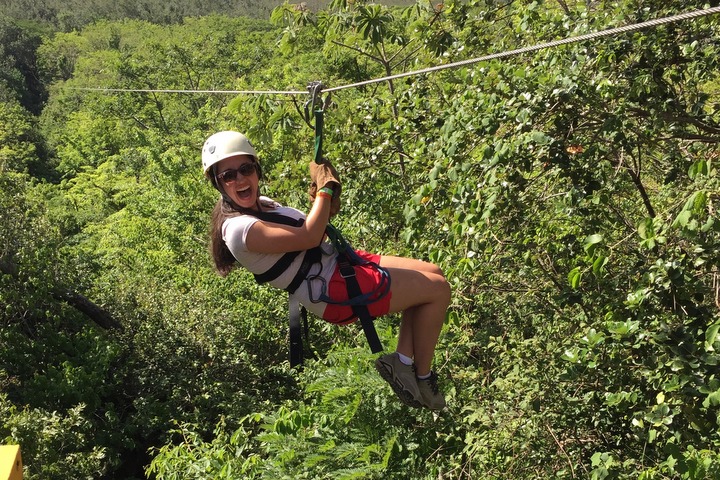 After three days of mud, sweat and even a few tears (of joy), we can safely say that our first community service project in Santa Anna was a success.  On top of the building project, we also had a crew travel down the street with a staff to help out at a neighbourhood childcare centre for the morning.  They played soccer, blew bubbles, made art and learned a bit of Spanish along the way.  Everyone made it back to the build site for the final hour of construction where trip members had the pleasure of being introduced to Julieta, whose family is receiving the house that has been under construction all summer – she was present on our last day of service to receive the symbolic key to her new home.  Everybody gathered around the freshly dug five-foot trench that had been dug to hold the septic tank… trip members were very proud of (and a bit attached to) this 5 feet-deep hole that had been dug through multiple layers of dirt, clay, roots and eventually bedrocks.  The rock put up a good fight, but it was no match for our team of diggers, every one of whom is now fully certified as a living breathing human jackhammer.  Alas, it was finally time for Julieta to speak to the group on what was, for her, a momentous occasion.  As she began to talk, tears came streaming down her face.  Within seconds of Julieta's tears, trip members also started tearing up… it was a special kind of satisfaction from hearing a story that we were now a part of.  She told us that we were not just part of the story, but part of a dream.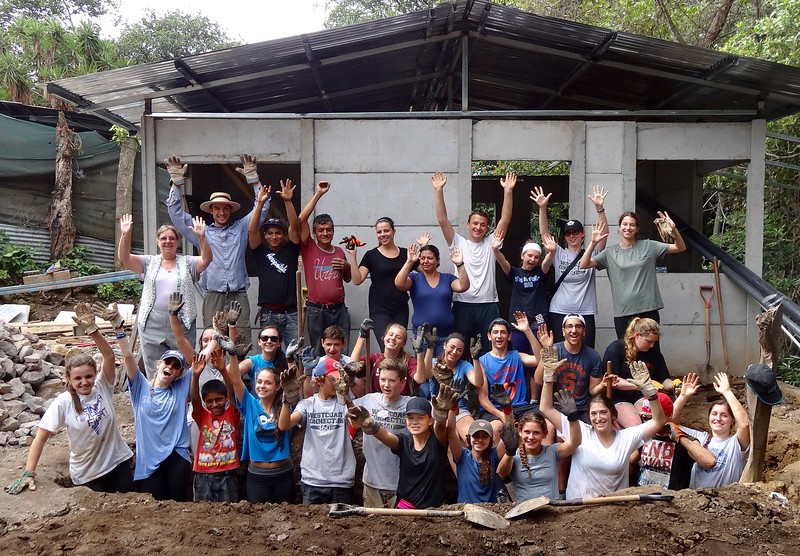 To quote Kayle who spoke on behalf of the crew:  "We are so honored to be invited to the site of what is now your home, to work with you and learn from you… you are an inspiration and we wish you nothing but the very best."  And just when we thought our hearts couldn't get any fuller, Julieta invited each and every one of us (and our families) back to Costa Rica in the years to come, to say hello and to stay in the house that we helped build.
It was time to leave Alajuela behind for a while and set off on a new adventure.  We made it up to Rincon de la Vieja National Park where the temperature increased dramatically along with our immersion into nature.  We were off the bus and straight into harnesses – harnesses that were attached to cables – cables that were attached to trees – trees that were on opposite sides of a giant canyon.  We zip lined from tree to tree feeling like a cross between Laura Croft from Tomb Raider and James Bond from the Bond movies.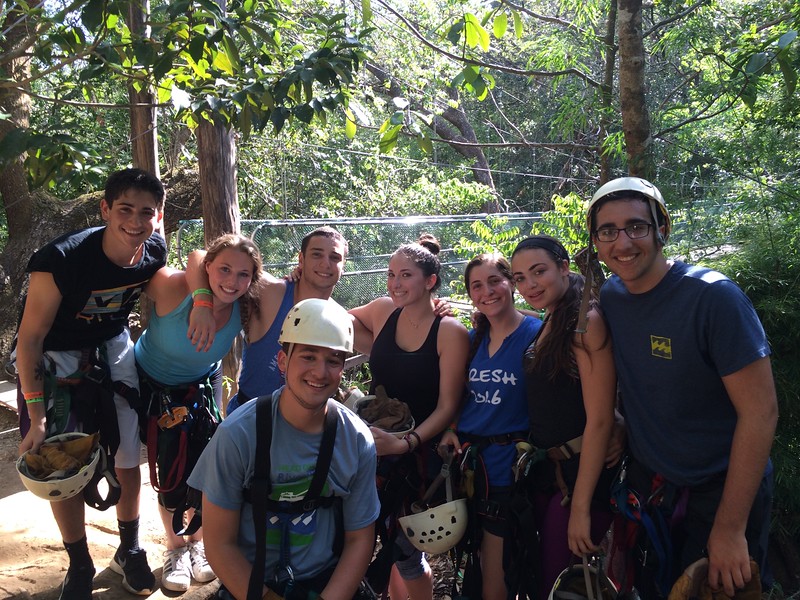 On our second day in Rincon, we got wet.  Once again, it poured sunshine all day, but our itinerary consisted of swimming in rivers, going under waterfalls and bathing in hot springs.  Let's not forget about painting our bodies with volcanic mud. What's volcanic mud, you ask… well it's like regular mud, but it comes from the foot of a volcano. The mud dried to our bodies within minutes of being applied, but for "maximum exfoliation" we needed to shower off and soak in the hot springs. Today was definitely a reward for all the hard work that happened in Santa Anna.
Since trip members aren't exactly part of the "postcard generation", we tried to compromise by inviting them to write a message home to their families on a post-it note.  This is what trip members had to say:
I'm having the best time!  – Josh
Hi mom & dad, I'm having a great time exploring Costa Rica!  Really enjoying myself!  But don't worry, still missing all of you guys and the house.  – Emma
Love and miss you mother!! – Alex B
Happy birthday Mom! – Ben
Costa Rica… best thing EVER! – Ari
Thank you guys for letting me have this experience.  I love you dearly and can't wait to see you again. Best wishes! xoxo  – Alyssa
It was such a great feeling to hand the house over to Julieta. I love the community feel that this program has! – Harrison S
The Westcoast Blogger