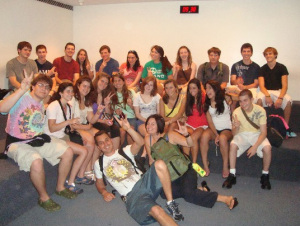 A greeting from Backpack Europe!
The Westcoast Blogger
Bonjour! Well, the summer of a lifetime has just begun and we are having an awesome time. It was great to see flights from all over the USA and Canada come in smoothly
into Paris, with a fantastic group that instantly became friends. By Day 2 many tour members were already saying they felt like they knew each other forever.
Riding the metro lines and the RER trains throughout the city has been a great adventure. Imagine packing a big group of people amongst busy streets and popular tourist attractions without once getting separated – well that has been us! We've mastered the art of pushing into packed cars and drinking more water than most of us thought could be held in our bodies! Every day so far has been very, very hot but with wonderful cooler and clear evenings. Not only has Paris prepared us for basically the Tour de France with our remarkable walking skills all over the city, but we've had fun laughing at each other with all that sweat and sweet smells (it's a good thing we're doing laundry in Switzerland!).
Most tour members have mentioned that the Eiffel Tower has been their favorite attraction to visit so far, but it was especially significant for Polly who rode up to the top since she's afraid of heights. She was really happy she pushed herself for the challenge. Michael even mentioned how he really enjoyed seeing and riding the Tower at night, remembering his old personal nickname he gave to the attraction, the "flingalator."
Keely and Alex mentioned how much they liked visiting the Louvre and Sam absolutely loved visiting the Palace of Versailles especially considering she recently learned about it in school.
Besides going through the great museum guided tours (and boy have we had some interesting and fun tour guides, like Janice who carried around a frog umbrella so we could follow her haha), visiting the major historical attractions, we have all been really enjoying the French cuisine. Daniel R. had a crepe with a hamburger in the middle of it as well as a fried egg on top, Devyn tried escargot, and Jamie with her new friend Whitney along with probably almost everyone else ate a yummy dessert crepe. We'll be sad to see crepes and massive amounts of cheese in our diets go to the wayside, but our other destinations will surely will have more exciting foods to try!
A few tour members enjoyed a morning jogging adventure with one of the tour leaders and Daniel T. really rocked karaoke as he and Bethany walked through the karaoke bar getting the Westcoast crowd into the song. Gary has even been overheard stating French phrases and other members have also been practicing their pronunciation.  By the way, our night cruise on the Siene River really impressed everyone, but Judah and Benny particularly enjoyed sitting at the back of the boat facing the water with the sun setting as the cruise went on.  Benny must admit Canada Day has been his favorite day so far.
Yesterday, we embarked on our first train journey to Luzern and today we have spent the day atop Mt. Pilatus.  More details about both adventures, and more tour members in our next update! 
The Backpackers