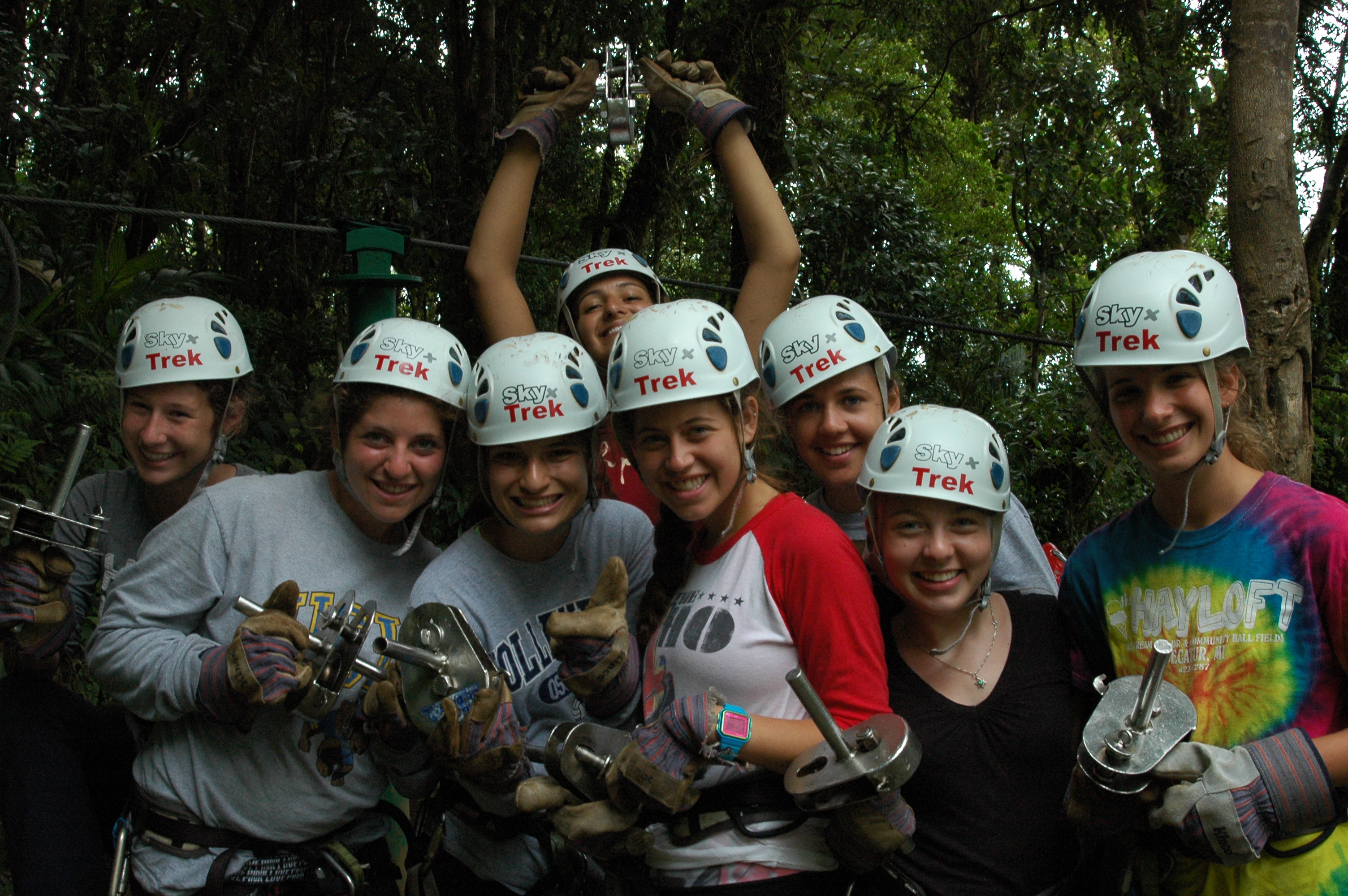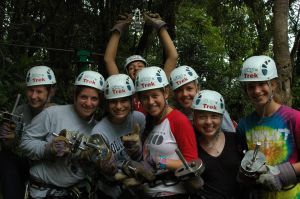 Hola Amigos est Amigas!
Talk about a trip with a view! From a hotel in the clouds to waking up at the foot of the Arenal Volcano, this trip really knows how to keep us in awe!
Day 4 was wonderfully rewarding and wicked fun all at once! To kick off the day, we took a trip to a local organic, fair-trade coffee farm. The girls left no plant unchecked as we cleaned through the baby coffee plants. It's not an easy task but Hannah and Haley were completely unfazed and truly became one with the earth. Butterflies and other local beauties were lurking in the sky as we planted and cleaned.
After our satisfying morning we got ready to fly high. Yes, we went from right down to the ground with coffee to way up on top of the rainforest to zip-line. Although some started off a little nervous about the cable car ride up to the top of the nine unbelievable zip-lines, everyone came to love every second of the ride. Rachael B took a great upside down ride with the professional guides. Erica and Ally found a way to always keep their smiles beaming through every zip-line as we cheered the arriving zip-liners to dock. The girls got a great laugh when their staff member, Mai, got stuck ¾ of the way on the longest zip-line, not to worry though, she got the help she needed, and we ended our zip-line adventure with some hilarious photos.
Nothing completes a day in Costa Rica without a little dancing. Our girls showed us their dance moves as a live Colombian band set the tone with some salsa music. Sarina, Hallie and Paige showed us how it's really done and boy, can they shake it!
Our next day had a relaxing sleep-in morning and then travel to Arenal. The day ended with the Baldi hot springs at night! Rachel W. was a brave soul and went down the water slides and into the hot spring first. What a ride, she said! All followed suit and in no time, we were all laughing all the way down the exciting slides!
Despite our fun, we knew we came to Costa Rica with a mission and the girls were ready and set for some more community service. We moved cement, rocks and sand! We added water and some elbow grease to mix them and created materials for the local house floor we were cementing. Hannah, Erica and Haley wasted no time and got right in. Everyone loved being with the locals and exchanging Spanglish laughs! The environment was very different than what anyone was used to, and definitely helped awaken us to the need for more to contribute to this important cause.
At lunch, Sarina and Rachael B read and played with a young local boy as they taught him English and in return, he taught them some Spanish. After a few good photos, it was time for goodbyes and hugs before heading back to the hotel. The caring nature of each of the girls really came through today!
We've got to jet for now! We're heading out for dinner and then some Karaoke. We are really looking forward to our sports camp tomorrow. We're hosting 30 local children at a camp and getting to spend the day exchanging laughs!
Still living the Pura Vida. Hasta Luego!
The Westcoast Blogger