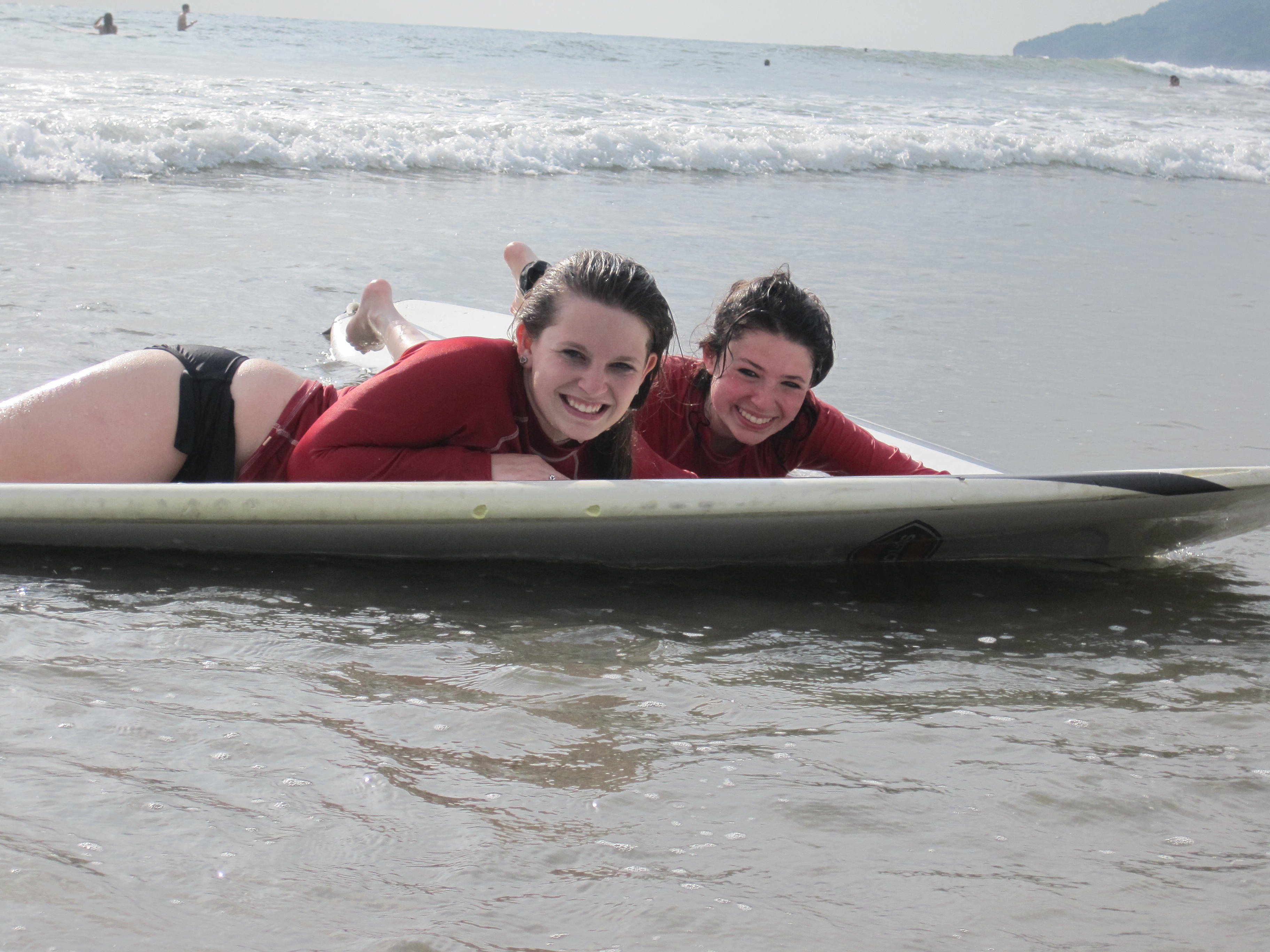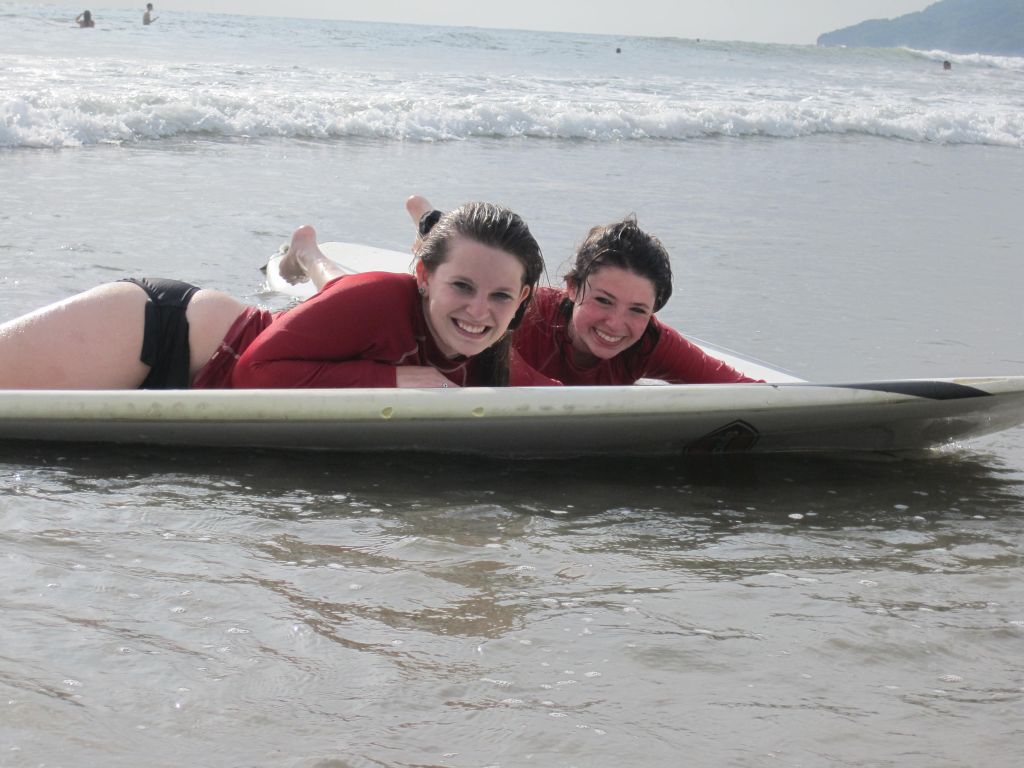 Ola Parents,
Day 5
Our community service on Friday was really inspiring.  We had a chance to swim and play sports with children from La Carpio.  We began the morning by playing a game of soccer with them.  Dan and Zoe played an amazing defense.  We ran, laughed and compared different moves with the children and enjoyed learning from them.  Then it was time for the pool!  Trip members helped the younger ones learn to swim while the older ones splashed around with each other.  Shannon and Jesse did a little salsa review in the pool and the La Carpio kids joined along.  We had a chance to play jump rope, Vanessa played board games with a Tico child and Samantha, Steph and Jordan colored with them as well.  We enjoyed lunch together and WCC was fortunate enough to serve our guests the food.  After we ate, we listened to the children share what they enjoyed about the day.  The children from La Carpio explained in Spanish, "It was so nice to play with you all today.  I feel like I made new friends."  Another child shared, "I enjoyed learning English from you and playing board games."  Our trip members really felt the warmth and inclusion that the children felt. We ended our morning with handing out the bags of donations to the individuals that we worked with that we had prepared the night before.  Each La Carpio child gave one of our participants a giant hug in appreciation for the time they shared and the thoughtful gift.
After a hard day of playing, we stopped at our favorite ice cream shop, Pops, where Jeff, our guide helped us order cones and cups.  Jeff taught us how to say, "Same as yesterday please." (igual que ayer) Since this had been our second visit there.
We ended our night with a fun game of mini-golf!
Day 6
Our drive to Tamarindo was so much fun.  We enjoyed the scenic route and the appearance of a beach!  Once we arrived, we stopped for lunch in town and had some time to do some souvenir shopping.  Then it was time to hit the waves for an afternoon of surfing.
Our guides at Iguana Surf taught us how to enter the water with a surfboard in toe and how to stand up once we caught a wave. Amanda, Jake and Steph were natural surfers who stood up as soon as they hit a good wave!  The rest of us were pretty good too!!
We enjoyed a delicious Italian dinner and then some Gelato at a nearby place.  The staff surprised the trip members with a special evening bonfire with another 360 Community Service trip.   We roasted marshmallows for our S'mores and spread nutella onto a graham cracker.  Everyone did a fantastic job helping one another make a sandwich and it was amazing seeing all the sticky fingers and faces!
Day 7
Our last day of community service was working at a local day care to help paint the kitchen and bathroom.  We first sanded down the walls while listening to some fun music.  Then we worked together to paint the walls white.  Angeline and Kristina's precision was a delight to see as they made sure every spot was covered.  The finished product of the first coat was a huge difference then at the beginning of the day.  Trip members enjoyed seeing the result of their hard work and their sense of accomplishment and pride was very evident.
In the afternoon, we had a chance to relax our tired muscles and chill on the beach.  The trip members spent close to three hours diving into the waves and spending some quality time with one another.
Our last two days were jam packed with adventure!  Our last hotel in Rincon de La Vieja, at Hotel Guachapalin, was truly spectacular.  An eco-resort, filled with endless amounts of wildlife and greenery.  Our zip line adventure was breathtaking.  With seven different zip lines, we had a chance to see the real wildlife of Costa Rica.  Some of the lines were in canyons that were high above a stream.  All our brave trip members participated in all of the obstacles and our guide, Ariel made us laugh the entire way! On the last zip line, we had a chance to go upside down!
In the afternoon, we had an incredible opportunity to go horseback riding with a guide in the woodsy area of Rincon de Le Vieja!  We helped the horses move side to side and even made them go fast and slow.  It was an amazing experience.
In the evening we enjoyed a buffet dinner with a Costa Rican xylophone player.  He was nice enough to allow both Steph and Jessie play a couple of notes and entertain their friends.
On our last day we began with a refreshing hike to a waterfall where we had the chance to swim and take pictures with one another with a variety of trip members' waterproof cameras.  The water temperature was perfect and the scenery was breathtaking.  It was the perfect way to start the day.
Our afternoon was filled with mud baths!  First, we immersed ourselves in the hot springs and then walked over a slightly shaky drawbridge to the other side.  Using paintbrushes we made a circle and helped one another paint the mud on our bodies.  A lot of trip members commented that it tickled and felt so strange.  Zoe had a chance to paint Angeline and Jordan painted Kristina.  We allowed for the paint to dry in the sun, then rinsed off in the river.  We all climbed back into the hot springs for some more relaxation to end our final full day together.
At night we enjoyed giving one another awards that were combined with Last Will and Testament.  Then we watched a slideshow of all the incredible memories from the last ten days.  So many amazing stories and friendships that were made, we hope they last a lifetime!
The Westcoast Blogger