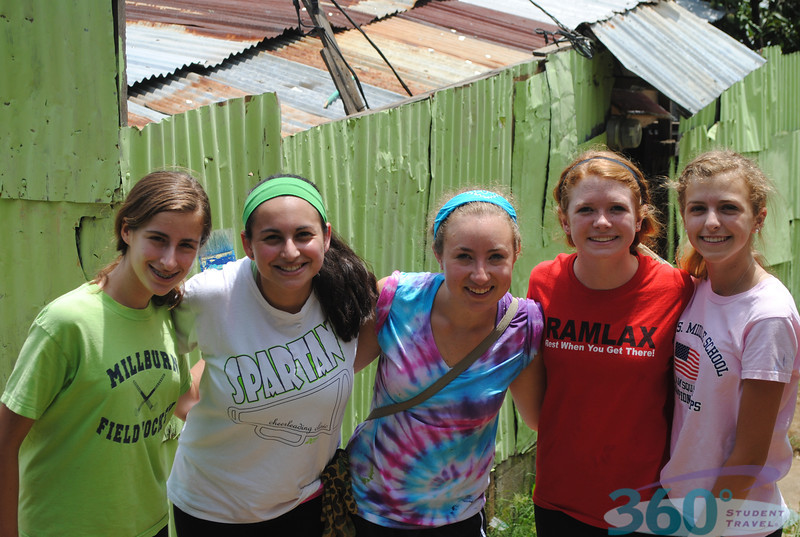 Hello everyone back home!
We have been having such an amazing time here in Costa Rica. Our trip has taken us to so many great sights and it has been incredible to be experiencing all of this with our trip familia!
Two nights ago we sang our hearts out at karaoke. Oh man it was great! Jake got up on stage and sang a Justin Timberlake classic. The number would not have been complete without his backup singers Mike, Dylan and Sam. Next up we had Allie leading the ladies in some dancing queen. Broadway had better watch out as these ladies killed it! The fun didn't stop there as we hopped back on the bus to the hotel and continued on the signing with some bus karaoke. The whole group did a great rendition of Bon Jovi's "Living on a Prayer" as well as "Some nights". Glee had better watch out as some of their next actors could be on this trip 🙂
The next day we had the incredible opportunity to do more service in one of the poorest areas in this country – La Carpio.  Julia, Nell, Lucy, Carly, Shawn and Brittany painted arrows and numbers on all 120 stairs that lead from the river all the way up to a main road. This will help many of the children learn to count and work with numbers. Tova, Tessa and Jake made planters out of empty plastic bottles and then gave them to some of the residents to hang outside their homes. The owners were so happy to get these planters knowing that they will flourish into really beautiful plants. Nicole headed back to a house she had painted the day before and painted the word "bienvenidos" on top of the door which means welcome in Spanish. Sarah F and Caroline painted some homes again today but with the help of some of the local children. They had a great time with the kids and even had a mini paint war with them. Everyone left with great warrior paint faces!
That evening we headed out for dinner and then played a round of mini putt. Hannah and Sarah C. both got a hole in one. We definitely gave the PGA a run for their money by having Mike and Dylan as our team cheerleaders. Devon played her heart out and may have put Tiger Woods to shame with her great golf skills and led her to victory amongst her group.
On Day 5 we journeyed to Tamarindo for the next stage of service and adventure on our program. We spent the afternoon exploring the town and learning to surf – a definite highlight! The entire group got up on their surfboards and road the waves in true surfer style! A great way to mark the half-way point of our trip.
Adios for now!
The Westcoast Blogger