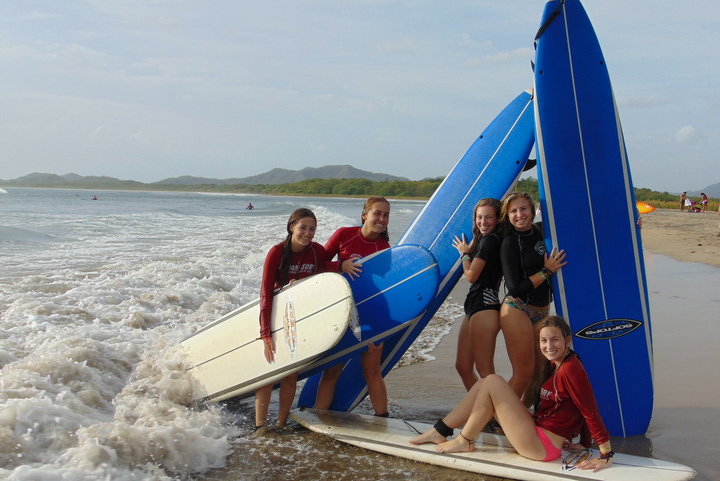 Since our last blog entry we've had many great experiences, seen more of the country and really grown together as a family. The group celebrated the 4th of July in style by decorating the bus in red, white, and blue, as we left Hotel Villa Dolce and set out for Arenal. After a beautiful drive to the green center of the country we got to relax our bodies at the Baldi hot springs. After three days of working hard at service and a long day to get there, the hot springs were just what the doctor ordered.
Have you ever turned around backwards and walked down a waterfall? We have! Canyoning was everything we hoped it to be and more, we repelled down a series of waterfalls through the tropical rainforest (with the largest waterfall being 165 feet high). Everyone supported each other and showed bravery and teamwork. It was wet, it was challenging and it was fun! But the fun didn't stop there, we had a chance to take part in a Costa Rican favorite: soccer! We played on this beautiful pitch in town under the lights. Seeing everyone so involved in the game and unleashing their competitive spirit was great!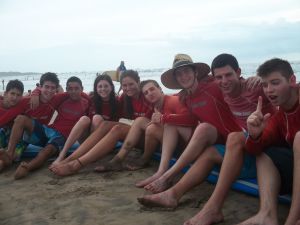 Tamarindo was next and it is known as being one of Costa Rica's premier surfing hangout spots; it was the perfect place to catch waves! Our timing was perfect and the weather was on our side as we took to the water for a few hours spending the last 20 minutes watching the sun start to set over the waves. We had many rad surfer dudes and surfer chicks catching waves and showing off their skills, we would not be surprised if many of us came home with a new hobby.
After hot springs, canyoning, and surfing it was time for our group to get back to service. This time we were helping someone who is known for helping others in her community, and now it is time for her to receive something special, a NEW ROOF! The roof of her home was collapsing and the outside of her home needed some sprucing up. Over two days we painted the whole house and the aluminum sheets that would be placed on her roof (we painted them a beautiful shade of blue). During our debrief session once the project was completed we got to reflect on how this service felt different from what we had already done but that it was really nice to help someone who is known in the community for helping others, even when it means she has to go without the things she needs at times.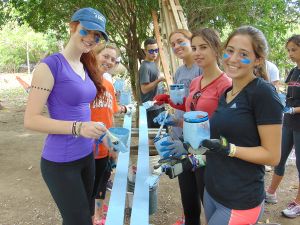 We said farewell to our final days as beach bums with a night-time bonfire on the beach where we learned no matter how you roast a marshmallow it will always taste amazing! The evening around the fire was spent with two other Westcoast groups, where we all bonded over eating s'mores, singing and dancing to the sound of the ukuleles being played and waves crashing on the shore. Many memories were made that night to last a lifetime and we are looking forward to making many more as our journey continues.
The Westcoast Blogger