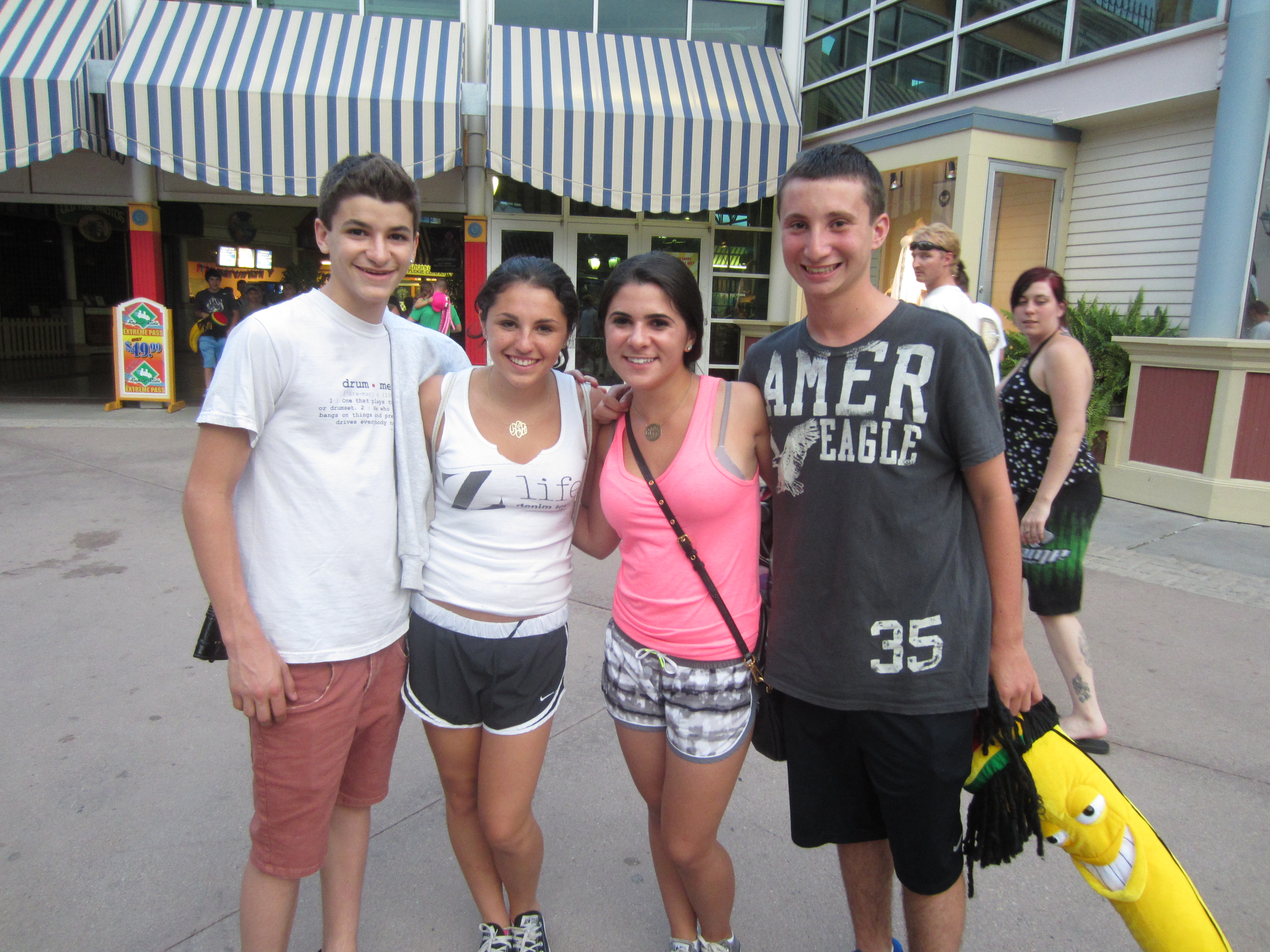 An update from California Extravaganza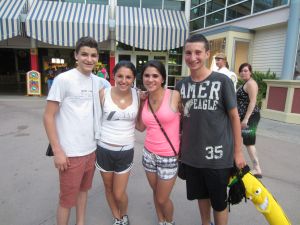 Day 5
We made our way to Salt Lake City this morning, but not without a stop for some class 3 white water rafting! Our guides went through the safety procedures with us and we split up into 5 boats to try the fun. Heading up the "bro" raft were Max B. and Jake, who set the paddle cadence for Sam L., Jesse L., and trip leader Marc. Cayla volunteered to paddle in the "ladies raft," Olivia overcame her fear and stepped up to the plate, and Sami encouraged a splashing match with the other boats.
After rafting, we settled in at our campsite in Salt Lake City. Cole and Jon prepared some delicious pasta for the whole crew for Italian night and Matt A., manned the delicious Alfredo and marinara sauces. Jesse D. and Kyle dominated the "guess the staff" game show after dinner, knowing that trip leader Ashley has an addiction to the show Friends and trip director Shelby can speak Japanese! Our first day in Salt Lake City was a success and the gorgeous weather helped us all sleep soundly in our tents.
Day 6
We were all looking forward to a sleep-in at the campsite, but some of us couldn't help but get up early to start the day off with a workout. Sabrina and Hannah prepared for soccer season with a jog around the campsite while Sam M., and Zach S. did a workout with trip leader Josh. For breakfast we were all treated to some "make your own pancakes" courtesy of head chef Mike. After breakfast, the water park at Lagoon-a-beach was just what we needed to stay cool. Sam K. and Alex conquered liquid lighting, the vertical drop flume, while Ariana and Dani had a blast on the inner tube water slide. During lunch, PJ and trip Leader Estee kept the group stumped with their game of guly-guly, but Ava and Max R. were determined to crack the code and were among the first to figure it out. For dinner, Luke ran the grill to prepare the chicken and steak for Mexican night while Jason was the master of the fajita veggies, flipping and seasoning them to perfection.
That night when we headed back to the park to tackle the dry rides, Andrew and Eli fearlessly attacked the parks scariest roller coaster with a complete 90 degree drop followed by a series of flips and turns. Madi checked an item off her summer bucket list by braving the haunted house and claims she's never screamed so much. Can't wait for Winnemucca tomorrow as we make our way to Lake Tahoe for the Fourth of July!!
Day 7
We were up early and ready to get to Winnemucca so we could have our first laundry day! It was many of our first times doing it on our own and Jordan, Morgan, Alyssa, and Jessica explained how accomplished they felt as they folded the last of their fresh and clean clothes. The pizza party was also a lot of fun, and the sun was shining as we hung out and spent some time together over Shelby's special ice cream treat.
Day 8 – Happy Independence Day and HAPPY BIRTHDAY LEAH!!
Ironically, one of our Canadian trip members turns 15 on the same day that the United States turns 236. Our first stop in California was the ropes course, where we had some excellent team building exercises.
Gail and Liv were the first to attempt the partner tight rope walk between the trees. Rachel proved to be a great support, belaying her friends and cheering them on the whole time. Ryan J., like the firecracker he is, was the first one up the firecracker ladder, managing to keep the steps straight and make it to the top where he could take in the beautiful views of Squaw Valley and Lake Tahoe. Zach K. mastered the rope tube and made it all the way up and down in record time. Zach H. didn't think he could do it, but he conquered his fear of heights and make it all the way across the sky high rope walk. Perhaps the most impressive feat of the day was Corey making it up the 100 foot tree with Alec cheering him on from below!
Back at the campground, Blake, Jamie, and Bobby helped to prepare the delicious stir fry meal, and Cutler was declared the winner of the sing-off competition. As the sun set, each group prepared a skit to perform, and Sydney, Izzy, and Eddie did killer impersonations of our staff, making us all tear up with laughter. Sarah and Matt H. decorated delicious AND beautiful cookies at the Fourth of July cookie social, and we all sang Leah one final happy birthday as we relaxed around the fire pit with our friends.
Can't wait until our day in Lake Tahoe!
Happy Independence Day!
The Westcoast Blogger
Do you want to experience academic life and have fun in California? Join our 21-day or 28-day UCLA summer program for high school students and then finish it with 4 days in San Diego and 2 days in Las Vegas.