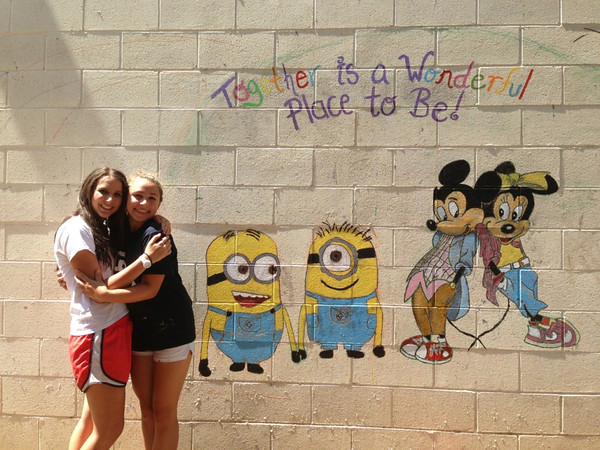 Hello for one final time to our families and friends!
UCLA was our "city within the city" during the end of our stay. The campus is gigantic. Erica, Kiana, Danny and Jake were happy hit the gym.  After an intense cardio workout, Beatrice led an ab workout that left most people who attempted close to tears (pilates hurt) and Aliza put Peter to shame in a "plank competition" (they kept it up for almost two minutes!)
Back at the dorms, Sam was pleased to find that wi-fi was available in all parts of the building, and he worked tirelessly on improving Renee's slow electronics.  Agathe was pleased to find an endless supply of French speaking students wherever she went.
At Venice Beach, the whole group was delighted by the various street performers, amazing shops, and the gorgeous beach. Sandi had the greatest bread pudding she has ever tasted, while Allie S., Danielle, and Allie C. became big fans of "Salt", a teen street performer making his living selling his music along the beach. Maddie spent some quality time with a friendly parakeet, named Sydney, and Kristen was enthralled by the "Bushman", an interesting individual who spends his spare time pretending to be a plant.
That same evening, we caught the hilarious yet not so thought-provoking Grown-ups 2. Gavin and Danny thoroughly enjoyed the experience, while Allie G. and Renee left the theater feeling like their IQ had dropped. What everyone could agree on, though, was that the experience was incredibly relaxing.The next day was spent at the Museum of Tolerance, a famous Holocaust museum that challenged the group to ponder the ideas of stereotypes, assumptions, racism, and differences.  We received a thorough, detailed historic tour, and were blessed to hear a personal story from Mary, a Holocaust survivor. Afterwards, many members, such as Sara, Allie G., Aliza, and Rebekah, made sure to go up to the aging woman and thank her personally for the amazing story she had shared with us all. We all left with a renewed appreciation for our lives.
Over the course of this trip, our group's connections became stronger and new friendships blossomed even in the last few days. The last couple of service days were spent at the Long Beach Boys and Girls Club.  Aliza, Beatrice, Danielle, Sara, Allie G. and Allie S. spent time working with the kids in the art room, the gym, music class, and in the game room. The children immediately took to all of them,  and could not bear the thought of seeing our group leave after 3 days of fun.
In the club's yard, Sam led the charge in what he dubbed "extreme raking", and helped the group clean up the grounds in order to make the space usable for the children. Renee, Sara, Sandi and Rebekah helped out extensively with the clean-up of the garden, removing most of the weeds and garbage from the site while our resident artists, Kristen and Maddie, took initiative and produced a beautiful mural depicting Mickey, Minnie, and some "Despicable Me Minions". Keanne helped them pencil in their heading of the inspiring words "Together Is A Great Place To Be" over the characters.  When the club director saw the mural, he flipped out! He could not believe how great it looked, and he made sure to thank the whole group for the amazing 3 days of service.  All of the employees there were truly touched with the serving hearts of our trip members.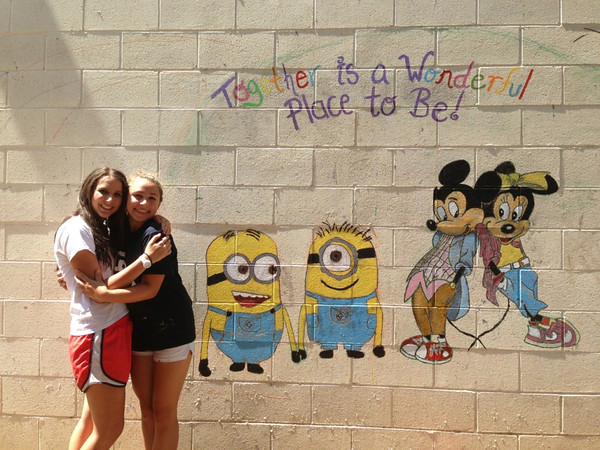 Meanwhile, Jake, Danny, Erica, Kiana, Agathe, and Allie C. designed gorgeous artwork to decorate wooden logs that would eventually be used as stools for the kids. Words cannot do their work justice, and they managed to keep enthusiasm high and smiles bright despite it being a very hot and sunny few days!
Later that night, after getting back to the dorms, Rebekah, Erica, Sara, Kiana, Kristen, Maddie, Allie G., and Alli C. went on a celebrity hunt at the movie premier for the "To Do List".  They ran back into the dorms screaming, "We got a picture with Andy Samberg, Rachel Bilson, and Bill Hader!!!!"  Lots of picture sharing ensued, and it was not the last of our group's celebrity sightings in LA!  Another day, at our Diddy Riese ice cream stop, Beatrice and Sara quickly identified Madison Beer, and the next day at Universal Studios, Sara, Sam, and Gavin ran into Ariana Grande! The smile across Sara's face was ear to ear!
Our final day was spent at Universal Studios, riding the roller coasters, going on an amazing tour of the studio sets used in so many Hollywood movies over the last decade, exploring the City Walk, and ending with a wonderful dinner at Bucca Di Beppo.
Back at the dorms, we faced the sad reality that it was time to say goodbye.  We sat in a circle as Renee led a final group activity that involved tossing a ball of yarn to someone that you appreciated or had shared something special with during the trip. There were a lot of waterworks as the ball was tossed around to every single trip member and leader.  Although just about every person had trouble speaking through the tears, people also told many stories that made us laugh remembering our favorite moments of the trip. "Remember the time we…" or "I'll never forget when…" started many of the tales.
We are not sure what the future has in store for our group, thanks to technology and social networking we'll reminisce about surfing in the sun, singing in the car rides, and rushing through dorm-room halls to meet curfew. A big thank you to each and every trip member for their hard work and dedication during our service.  This trip was a life-changing experience and it is thanks to all of the members that participated. It was such a joy to watch each and every trip member come out of their shells, learn more about themselves during the service days, and form connections that will last for years to come.  We love you and will miss you!  Who knows.. we may just see you next year on another adventure…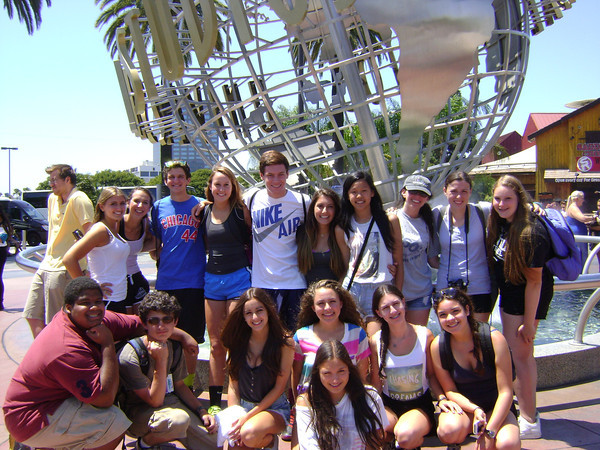 Have we piqued your interest? Explore our 10-day, 21-day or 28-day tours and community service projects for teens in California. Start planning your own adventure with Westcoast Connection. It will be the travel experience of a lifetime!