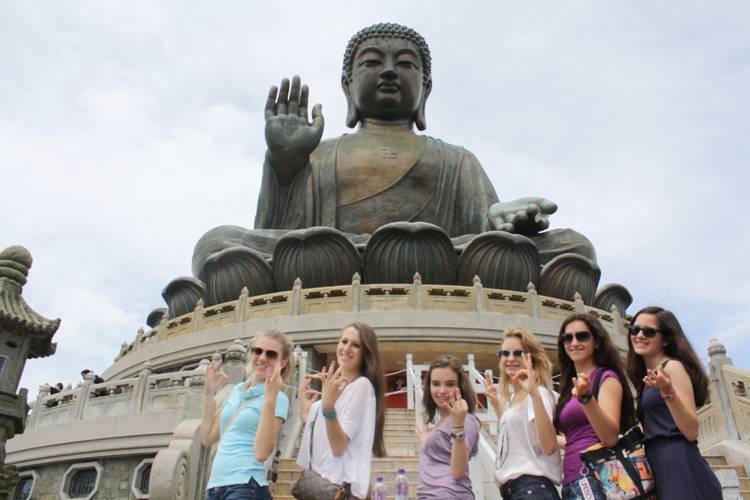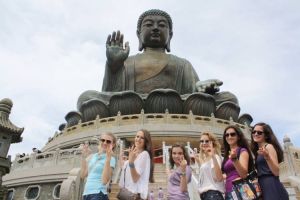 Ni hao, Parents!
Twenty-five days. Apparently, that's the amount of time it takes to become a family. Cliché? We don't care. As our trip came to an end in Hong Kong, there was one of those out-of-body experiences. Before us, we saw a group of seventeen teenagers. The same ones we had seen twenty-five days before, rolling their huge bags through customs in Beijing. Or were they? Looking more closely, we saw people who had formed new friendships and memories. People who had left their comfort zones to find an exciting world on the other side. We could see students with a new understanding of another culture along with a new appreciation for what we have at home. We saw the same kids we had met nearly a month before, but suddenly we thought of them as adults and components of our little family.
While we had previously seen a collection of uncertain strangers, we were now familiar with each individuality: the compassionate one, the quiet one, the kind one, the hilarious one, the timid one, the bold one, the surprising one. Each trip member had come to be such an essential piece of our puzzle, and only at the end were we able to see it as a whole. Only when it was over could we really understand that even though our group was unique and short-lived, it was truly meaningful to each of us.
Over the past month, this group has united in the most unexpected ways. We encouraged each other to overcome fears: of heights, of new foods, of thriving away from home. We shared laughter that we will never quite be able to translate into a worthy story for someone at home: when the group of Chinese people mistakenly boarded our bus only to discover a bunch of Americans staring blankly back; when our tour guide Jing painstakingly attempted to tell us a joke but couldn't quite figure out how to say the words in English; the hilarious ways we lost our rice paddy hats, one by one, in interesting ways that will forever lead us to inside jokes.
Our itinerary provided the perfect balance of city excursions, outdoor adventures, language, and education. Learning turned out to provide the foundation of our summer, whether we were learning about Chinese history, economics, or the government. We also learned that for a lot of people, life over here really isn't all that different than ours back home. For others, a typical day might involve killing their own dinner. Mostly, I think we learned that we have a limitless capacity to explore another world and get to know ourselves a little better as we do it. Even though our upbringings and comfortable lifestyles elicit an undeniable gratitude for what awaited us at home, I think we all walked away with at least an ounce of envy for the guy who wants nothing more than to join his buddies at the end of the day for a friendly game of mahjongg in the town park.
Perhaps the thing that really defines our summer is culture shock. Culture shock results from an incongruity of expectations and reality, and those who thrived under our unfamiliar conditions are the people who will experience a lifelong impact. Undoubtedly, we had to acclimate to toilets, humidity, mystery meat, communication barriers, and all sorts of lifestyle changes. We took those changes in stride and challenged each other to make light of unsettling traditions. Now we must face yet another form of culture shock. Surely, some of us awoke today with the expectation of adventure, laughter, and companionship. After our past month, how could we not? So now we must endure this new shock of being apart.
As for our memories, we each just added a stockpile that we will look back on for years to come. I have no doubt that each of us will try to relay to our friends and families the things we experienced together. Scaling up rocky mountains and crawling through muddy caves. Teaching English and learning Mandarin. Painstakingly climbing the steps of the ancient Great Wall and blasting up the elevator of one of the most modern buildings in the world.
Come to think of it, some of us will probably return to China. But one thing is for sure: we will never experience that country in the same way again. Should we feel saddened that our time together is entirely behind us? Maybe. But maybe we should look upon our days and simply smile that we got to know each other in the first place. That's what we intend to do.
Until we meet again,
The China: Ancient Empires to Modern Wonder Staff
Message from Jami:
So I'm known for claiming that the wonders of Westcoast Connection / 360° Student Travel come not from the travels but from the people with whom we travel. After this summer, I could not more proudly stand by that statement. I am so thankful to have spent a month with bright, compassionate, spirited young adults. For the first time since being a trip member myself, I truly felt more like a friend to everyone rather than some old person telling them what to do. Parents, thanks for sharing your amazing kids to spend the summer with, and I look forward to the time I get to see them again. I miss them already and thank them for an outstanding summer.
Jami
Message from Brad:
Sitting here writing the final scribe with Jami has never been so easy…and yet so difficult at the same time. I'm filled with stories, memories and happiness from the summer spent with your children, a million words that I want to share, in a letter of just one page. But when I try and think of a final close off you parents about my experience with your children, I'm speechless. There is no way to really give justice to the true pleasure it was to have spent 25 days with such great young adults. At some point or another I shared a unique experience with each of your children, a moment that will forever be ours and in some way…will never be forgotten. I wish to offer a sense of gratitude to you, the parents. Your influence in the upbringing of such wonderful young adults has made this an incredibly rewarding experience for me. I thank you for sharing your children with us this summer, and in return hope we've somehow showed them a great time in China. This will forever be a country that will be blessed with the wonderful memories of your children, and for that…I thank you.
The Westcoast Blogger