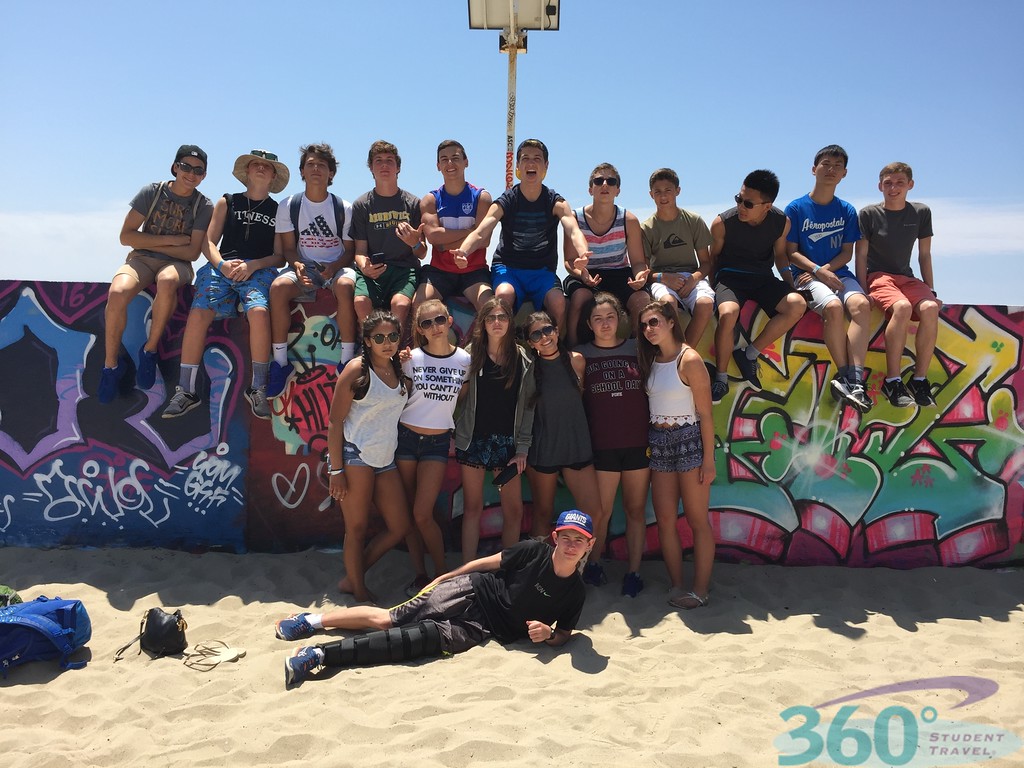 Get ready Los Angeles, 42 energetic teenagers are about to hit the town! Venice Beach had us in awe with all of the colourful artwork and positive vibes all around. The trip members got the chance to check out some of the little beach shops and walk around this world famous spot. Some of us found some pretty unique apparel that will always remind us of our time in California. Following our Venice Beach excursion, we settled into our dorms at UCLA and some of us went down to the gym for a quick workout and some of us went for a quick dip in the pool! That evening, it was time to hit the Hollywood Highlands! The hustle and bustle of Hollywood kept everyone on their toes with many encounters with very distinctive characters on the strip. The excitement kept us going all night long especially after a delicious stop at Diddy Riese, known for their mouth-watering cookie ice cream sandwiches.
The following morning, we explored the UCLA bookstore where some Trip Members purchased apparel for their dream future college. Then it was time to head off to where all the action happens; Universal Studios! We embodied our inner wizards with the new virtual Harry Potter ride which simulates you flying through Hogwarts in an epic chase scene identical to the movies. Not to mention the King Kong ride which blew everyone's minds and the walk through the "Walking Dead" haunted house which had all of us screaming out of true terror and holding onto each other for dear life. It was epic. The most exciting part throughout the day at Universal was the opportunity to crack the code to get line bypass and get on every ride faster. Our Trip Members managed to figure out that the password was "Massachusetts" because that is where one of the rivalry schools from the goblet of fire was originated. The water world was absolutely action packed and left us soaking wet… although we DID choose to sit in the "splash zone" section… Before our dinner at the Hard Rock Café, we took up all the space in the open area on City Walk to play some fun camp games. We had a whole audience watching us because we were all THAT entertaining and having that much fun! The night ended with a funky dance party outside of the Hard Rock before we headed back to UCLA for a well needed rest after a long and exciting day!!! We spent an educational morning at the Museum of Tolerance learning about the prejudice and lack of tolerance between different, races, religions, sexual orientations that still exist in our country today. The Trip Members asked a lot of extremely insightful questions and we all learned so much more about one another after experiencing something a bit more different as a group than what we have been used to.
We spent lunch at the Farmer's Market and then had the opportunity to shop on Rodeo Dr. before heading to the famous Hollywood Improv. When there are 42 teenagers taking up the whole first level of an improv club, there is no doubt they will be picked on… and we were right! The jokes were nonstop and the Trip Members just could not stop laughing! My cheeks still hurt from smiling so much. The talent up on that stage was truly unmatchable and as we went on a Friday night, we lucked out with an amazing line up. We all definitely went to bed happy as can be from the best medicine out there! We started off the day with some community service at the LA food bank. We sorted through tons and tons of oranges and plums which would go to help feed low income families and those in need. The Trip Members worked really hard and exhibited excellent team work; we were really proud! Now it was time to celebrate at the magical place of Disneyland. It seemed like the Matterhorn Bobsleds and the Buzzlightyear ride were the biggest hits! The Trip Members loved competing for the highest score on the Buzzlightyear ride and that friendly competition definitely got their juices flowing for the rest of the day. To end off the most magical experience, we were all treated with an incredible 30 minute firework show which literally lit up our world! Definitely a day we will never forget and memories that will last a lifetime!
Things got wild when we visited the San Diego Zoo today. We saw gorillas, giraffe, koalas, pandas, many species of birds and much more! We ended off our night with an exciting game of laser tag where Frans and Trip Leader, Eliel stole the show coming in with the most points!
We can't believe that tomorrow is the last day of Trip 21A. We have grown together as a family who looks out for one another, appreciates and supports each other and most of all, cares about one another. It has been incredible to watch the transformations within our Trip Members and the friendships built in these mere 14 days, along with all of our inside jokes together as a trip. We will all miss every single person of our group of 47. Every individual has been an integral part of our unit and it just wouldn't be the same without each and every one. We hope you all enjoy the rest of your summer, have a fantastic new school year and cherish these memories for a lifetime!
The Final Farewell,
The Westcoast Blogger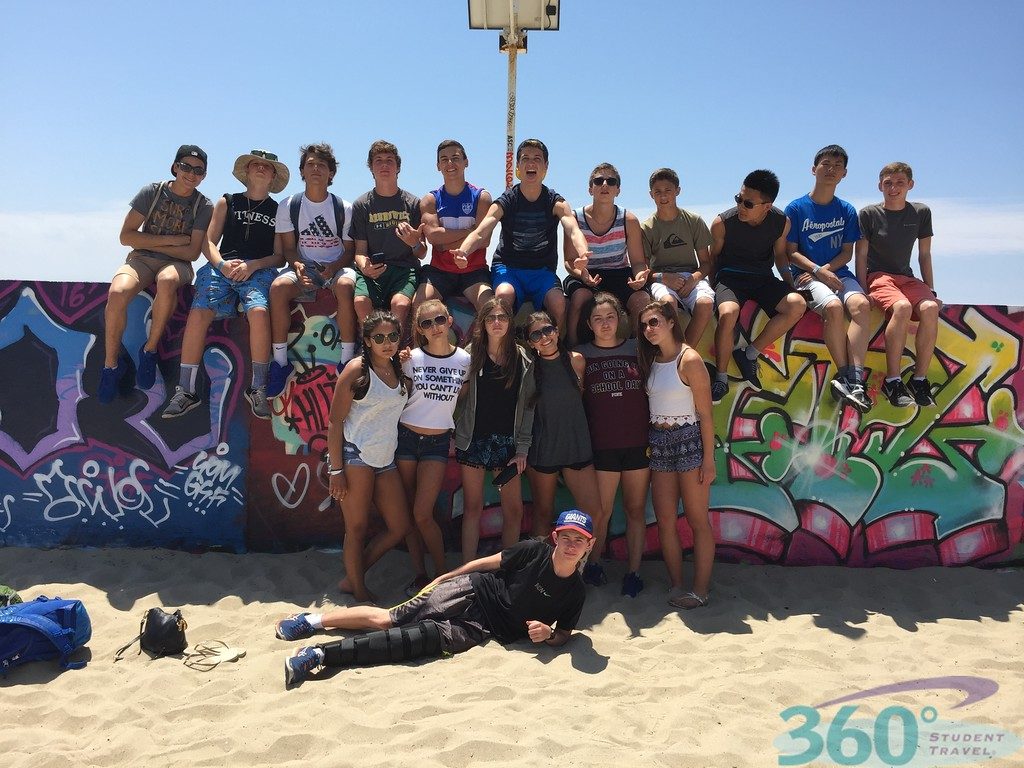 If you want to be part of an experience like this, travel with us in our 14-day summer program for high school students in California, from San Francisco to San Diego.