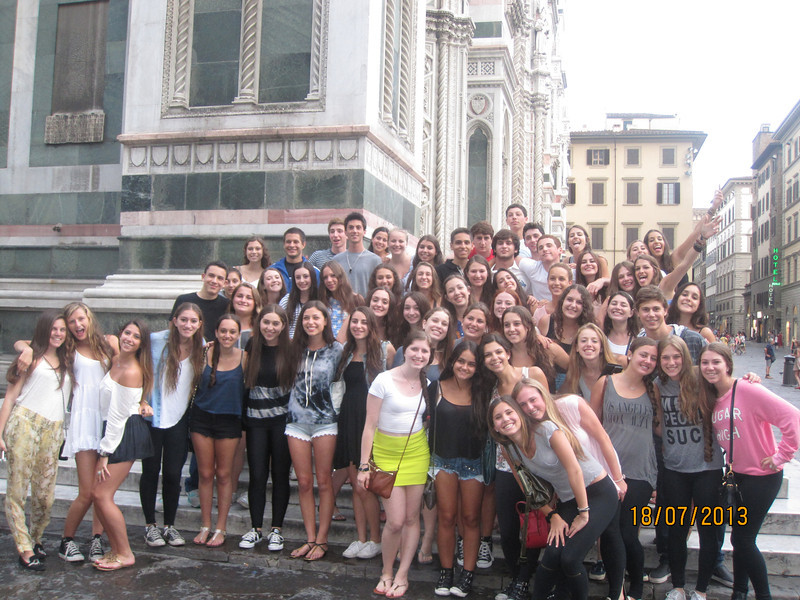 Ciao! Can't believe it's already Friday; our first week has been a blast! All of the students in the Community Service elective were incredible mentors and playmates on Tuesday, when they got to explore the Museo de Storia Naturale (Museum of Natural History) with local Italian children between the ages of 4 and 11, but we have to give shout outs to a couple of our students in particular: Jenn, who managed to keep up with Grady, by far the most energetic of the bunch, and Alex B., who invented some creative games using a hat to put a huge smile on 4-year old Fulco's face! Meanwhile, Jesse B. and Isabel were among the Art History folks who spent class hiking up a scenic vista to get the best view of Florence, and viewing several classic works along the way. Last, Samantha L. and Hayley checked out the Mercato Centrale–one of Florence's largest markets–and tried some dried apricots and fresh mango as part of their Food, Culture, and Society class.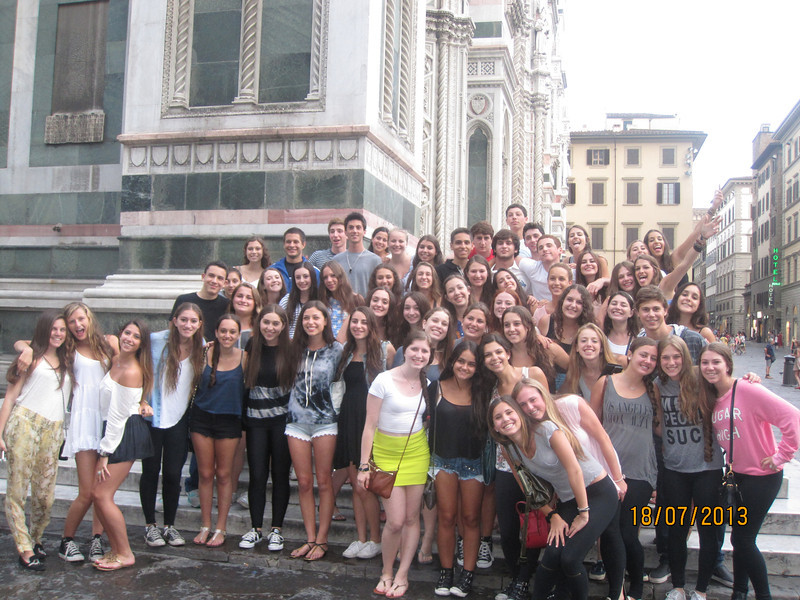 Outside of the classroom, we're definitely starting to get our bearings better around the city. Sarah T. and Nicole, among others, joined Program Leader Max on an optional guided tour during student's choice time around the Ponte Vecchio, one of Florence's most historic and picturesque bridges. Adam and Alex L. were part of an exciting group dinner Wednesday night, during which their charismatic waiter Claudio treated the crew to a tasting of the John Travolta special pasta sauce (named this after the legendary actor literally licked his plate clean at the restaurant because he loved the sauce so much), a sample of the restaurant's olive oil (ranked first in all of Italy), and a round of tiramisu for dessert–all on the house! Morgan and Rebecca discovered the best dark chocolate gelato (so far) in the city, at a small gelateria called Festival del Gelato, just a few minutes from our residences. And, while the final result wasn't as we hoped, credit goes to Samantha R., Zach F., and several others who stayed glued to an outdoor TV by the Duomo watching the US-Belgium World Cup match Tuesday night, representing America loudly and proudly throughout!
Lots more fun will be coming our way this weekend, with trips to the historic city of Siena on Saturday and gorgeous beach side villages of Cinque Terra on Sunday. But for now, arrivederce!
The Westcoast Blogger