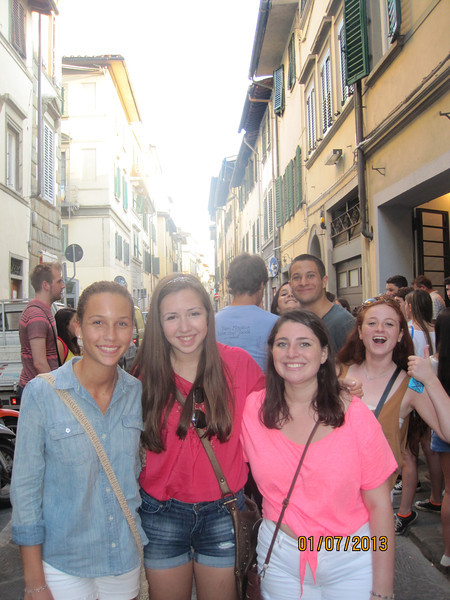 Buongiornio e benvenuti!
Hello and welcome to 360 Student Travel's 2013 Pre-college Enrichment Florence program blog! It's been a wonderful few days here in sunny Tuscany. We've only been here a few days, but it already feels like home!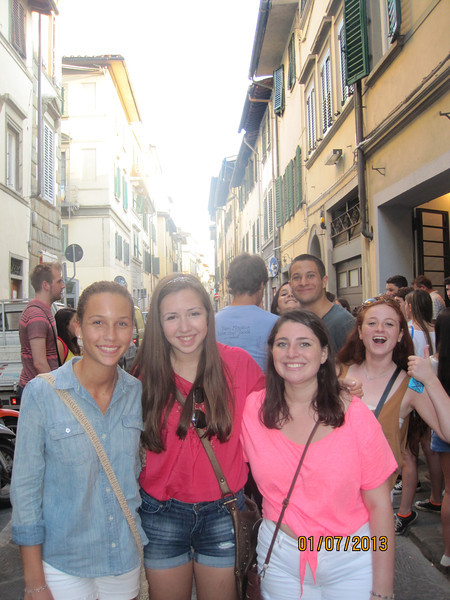 On Sunday evening, we began orientation to our beautiful University facilities and went out for our first group dinner, complete with four different choices of pasta, all of which were delicious!
Then on Monday, we hit the ground running with a full day of classes. Even in the first two days, students have learned a lot and begun to experience the wonders of Florence, Italy.
For example, in the morning Italian language class, Alexandra R, Amanda R, Emily H, Sofia, Ben, and Marcus have already learned basic greetings, numbers, pronouns, and even verb conjugations. They paired off for conversation practice in class and have started to apply their new skills on walks through Florence. And it's not just language students who are immersing themselves in the culture: Grace, for instance, changed all her phone settings to Italian!
On the first day of Art History, students took advantage of the setting by climbing a hill to the historic San Miniato al Monte, where they were treated to a stunning view of Florence.
And in community service elective in the afternoon, students are getting up close and personal with local kids and breaking language barriers through song! In a local elementary school, students sang classic children's songs like "Itsy Bitsy Spider",  "If You're Happy and You Know It", and "London Bridge" to young Italian kids and they'd sing back in Italian!
More updates to come soon about activities from other classes!
On the extracurricular end, we capped off a round of fun icebreaker activities with an exciting game of Meet the Staff, in which students broke off into teams and did their best to guess which program leaders matched various interesting facts (who knew that one leader likes ballroom dancing and another two play rugby?). Congratulations to Team Gelato for knowing the most about the staff!
And speaking of gelato, Tuesday night's Gelato Crawl was a blast, as we hit up one, two, or (for the truly hardcore gelato fans) even three of Florence's best gelaterias in one night. There's nothing like bonding over late night gelato(s)!
Now that we've settled in, even more fun times will surely commence, so stay tuned! Ciao for now!
The Westcoast Blogger