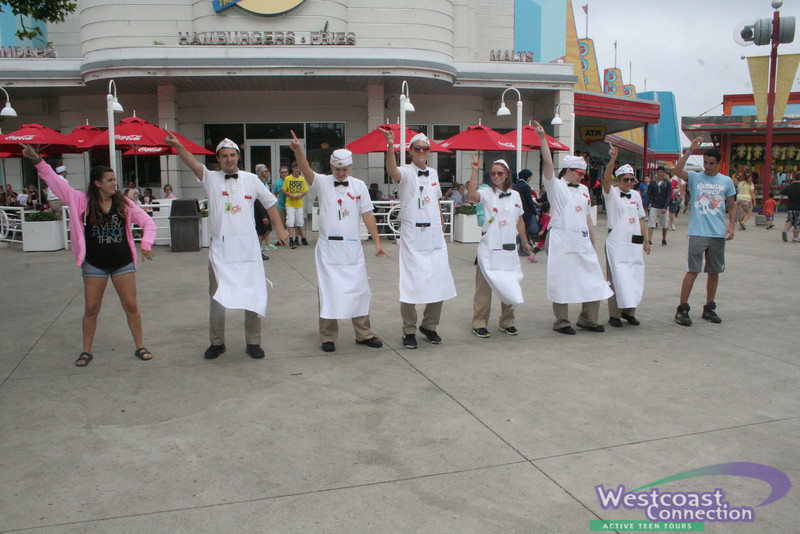 Good afternoon!
After an incredible two days in Niagara Falls, we headed to Cleveland, Ohio. Our stay in Niagara Falls began at the KOA Campground where many trip members pitched tents for the first time! We then traveled to the magnificent Falls and explored the lit-up town of Clifton Hills.
Our next day in Niagara Falls was one for the books. We began the day by viewing Niagara Falls on the Maid of the Mist boat ride. We all were stunned by the view of this incredible landmark as we were all dressed up in the famous blue ponchos. The good times kept on rolling as we went jet-boating through Niagara on the Lake.  It was an awesome experience to go 60 mph through the rapids and whirlpools. Julia S and Zach came prepared with their go-pro cameras and caught our whole ride!
Following our Italian feast at the campsite, the trip members participated in The Quest.  Our trip split into five teams and competed in various competitions such as taking funny "selfies", making a human pyramid, finding various campsite objects, and a 30 second choreographed dance with their team. We all shared laughs and had a blast. Congrats to the yellow team – Jacob, Lainie, Matt Z, Alec, Sydney L, and Julia S for being named the Quest Champions! We ended the night perfectly by making tasty s'mores over a bonfire.
After an amazing visit to Niagara falls, we headed off to Cleveland for some more fun!  Needless to say, we had many unforgettable memories in Cleveland, Ohio to look back on as we move on to our next adventure in Ann Arbor, Michigan. Cleveland allowed us to experience a great mixture of the city and camping lifestyle. Before arriving at our KOA campsite, we stopped at the Rock n' Roll Hall of Fame in downtown Cleveland. Located right next to the Cleveland Browns' stadium, trip members had the opportunity to explore six awesome floors full of vintage music memorabilia. Ben loved the entire floor dedicated to the Rolling Stones, where Mike's personal favorite was the large Beatles collection. Matt A's day wasn't complete without finding the Tom Petty section! Everyone also loved seeing the different outfits from many of today's big stars such as Lady GaGa, Bruno Mars, and Katy Perry.  After this incredible museum, we headed to our campsite. We all came together to set up the tents – everyone seemed to be experts after our first camping experience in Niagara Falls! After a delicious taco dinner, we bonded at night with a great Fears and Goals program in which everyone anonymously expressed their trip fears and wrote down their own goals for this 40 day experience. The staff collected the goals to hand back on the last day. We are all looking forward to seeing if their goals were reached. Afterward, we had a special birthday in the group – David T turned 15! The bus was decorated with balloons and streamers and we celebrated at night with some tasty birthday cake.
Our second day in Ohio kicked off with a delicious pancake breakfast. Shout out to Sabrina and Sydney L who cooked up a storm! We spent the day at the "Roller Coaster Capital of the World" also known as Cedar Point! We all had the time of our lives running around playing carnival games, riding roller coasters, and taking the skyride across the entire amusement park! Many trip members aimed to get on as   many rides as possible! Bailey, Eric and Ross flew all the way 140 feet in the air on the MaxAir ride. Sydney D, Julia G, Rebecca, Matt Z, and Jon spent the day together and accomplished their goal of riding all the extreme rides.  The carnival games were just as popular as the rides! David T showed off his basketball skills and won two gigantic life-size bananas. None of us could stop laughing when Ethan, Jared and many other trip members joined in with choreographed dances of the Johnny Rockets waitresses. At the end of the day, all of the girls ran together across the amusement park for one final ride on the Iron Dragon. For the second day in a row, there was a birthday in the group. Lily turned 14! We had another birthday cake and broke open the piñata along with David T.  We ended this perfect day with a chocolate fondue spread in which we dipped bananas, Oreos, and strawberries into melted chocolate while enjoying a campfire.
We had an unbelievable time in Cleveland and we can't wait to see what Ann Arbor has in store for us.  Make sure you see our photos online. Shoutout to Jared for helping us out by taking pics!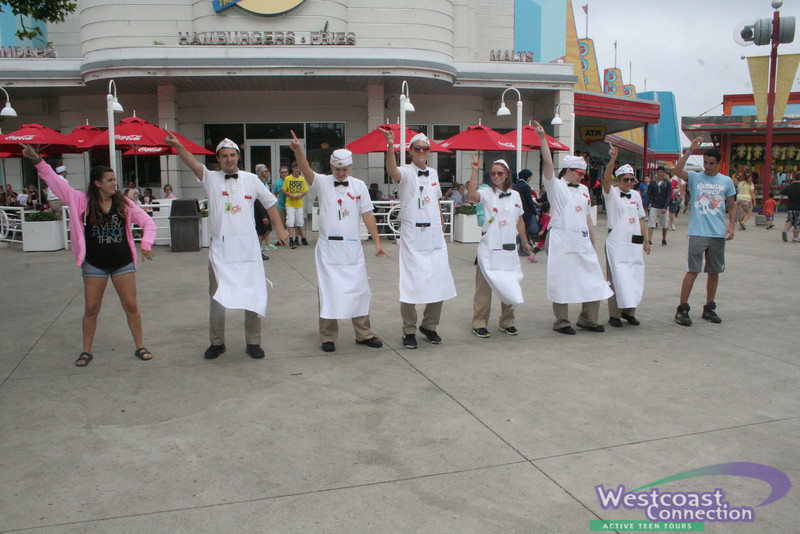 Until next time,
Lauren, Larissa, Phil, Jessica, Ryan