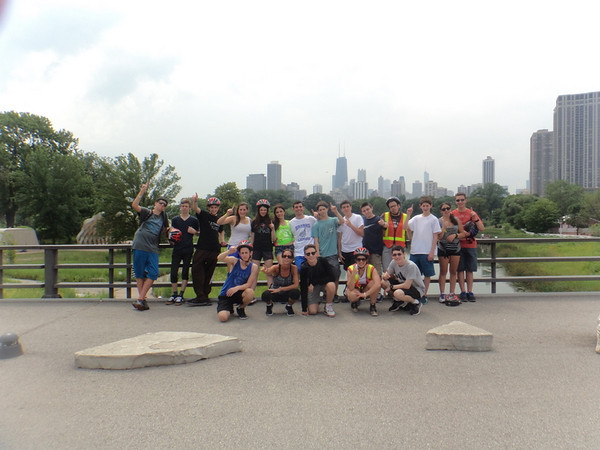 US Explorer hit the road again heading to Minneapolis, Minnesota, where we would meet James, our campsite manager, and start cooking dinner. For the evening program we played our own game of Improv! Tom had a party and invited a few friends, Matt Bri, Noah, and Jess. Then we played another game called the park bench and Ian, Nadav, and Matt Berk. were great sports!
Minneapolis is famous for two things: the Waterpark of America and the Mall of America. The waterpark is an indoor waterpark, with rides going outside of the building. These rides were super fun. Jenn, Jenna, Erika, Julia and Cat floated around in the lazy river. Austin and Reed took a break from the rides and joined them. Laurel, Emma C, and Maxine went round and around on the family ride, you could hear them yelling from down below. For those who felt more daring, there was a ride called the Low Rider. The Low Rider is a beginner level ride of surfing. Nicole was super excited to jump onto the surfboard. Jared B had his work cut out for him on the waves. Most of the guys went full force and tested out their spins and turns.
After the waterpark we spent some time at the huge Mall of America. Matt Berk. and Ryan shopped at Urban outfitters purchasing matching socks, and a Step Brother's portrait t-shirt (Check out the pictures to see). Some girls bought passes for the amusement park in the mall. Cedar point didn't seem to be enough of a thrill that they rode every ride!
Dinner was at the Rainforest Café. Samantha, Nicole, Jesse, and Alex also made a Build a Bear named Lolita who joined us for dinner.
Until next time, US Explorer.