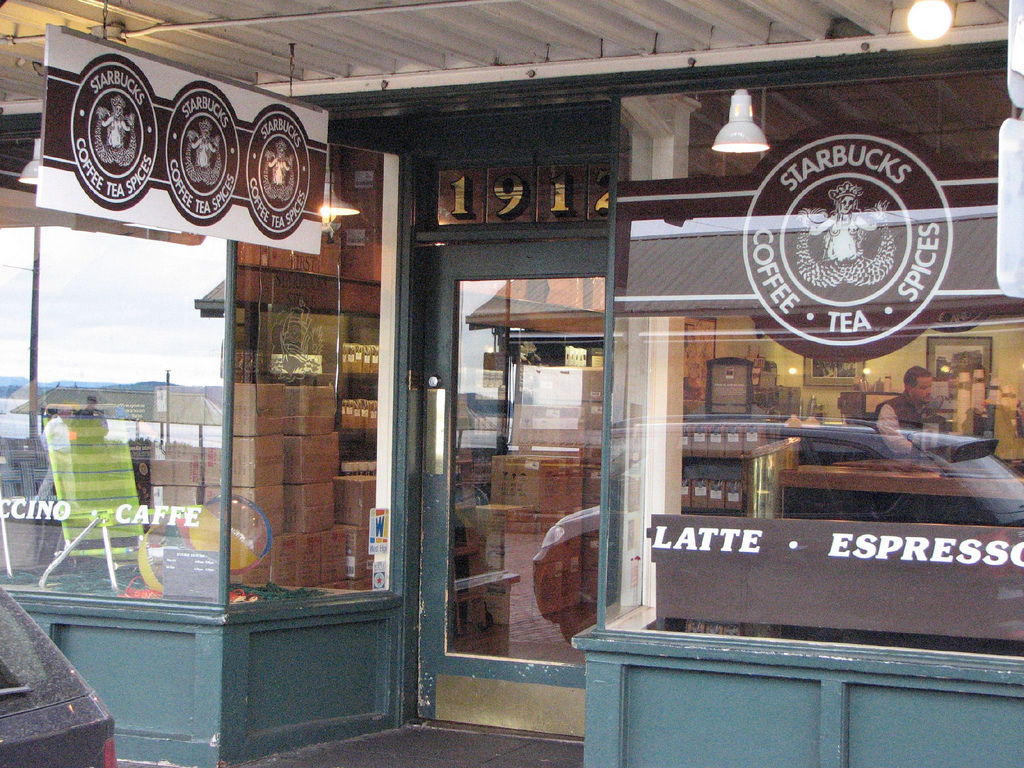 When I think of Seattle, I think about 3 things:
1 – Starbucks
2 – The Space Needle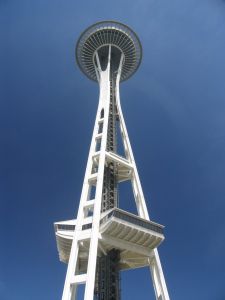 and … 3 – the Experience Music Project.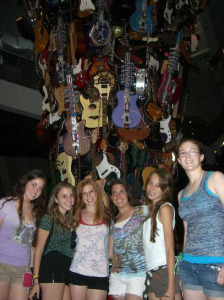 Now, Travel + Leisure magazine just voted the Experience Music Project one of the top 15 ugliest buildings in the world. I happen to think the modern architecture is really cool but we'll save that debate for another day.
The EMP is without a doubt one of my favorite attractions in the Pacific Northwest. The museum contains mostly rock and roll mementos and interactive displays. Two of the best exhibits are Sound Lab and On Stage. On Stage simulates playing for a packed stadium. Everybody in the group grabs an instrument and a microphone. The music starts playing and your band starts their once-in-a-lifetime performance. With the crowd yelling and screaming around you, you feel like a superstar.  Hopefully you're not camera shy as the whole spectacle is videotaped and played for everyone outside.
One of the permanent exhibits is the Northwest Passage (hey, we have a trip with that name!) that highlights famous artists from the area including Bing Crosby, The Kingsmen, Heart, The Presidents of the United States, Sir Mix-a-Lot, Nirvana and Pearl Jam.
To read the Travel + Leisure Article and see the world's 14 ugliest buildings, click here.
To see the EMP yourself, join us on our Northwestern Odyssey, American Voyageur or Northwest Passage.
And, because I'm a little bit of an architecture nerd, here are some facts from the EMP website.
If you made a typical steel guitar "E" (first) string from the steel in EMP, it would be 1.6 million miles long — enough to circle the Earth 65 times. If you made it into the lightest banjo string, you could stretch it 1/4 of the way to the planet Venus. Twang!
A fusion of textures and myriad of colors, the museum structure symbolizes the energy and fluidity of music. The exterior consists of stainless steel and painted aluminum shingles, each individually cut and shaped. The stainless steel has three finishes: mirrored purple, lightly brushed silver, and bead-blasted gold. The red and blue sections are painted aluminum. Each finish takes on an exciting and unique shade when viewed from different angles around the building. The red will fade with time, altering the appearance of the building's exterior and reflecting how music is ever changing. There are over 3,000 panels covering the exterior skin of EMP, each panel holding about seven shingles. Each shingle is a unique shape and size, cut and bent to fit exactly in its designed location. A total of 21,000 shingles cover the EMP exterior.
The Westcoast Blogger