Like always, the weekend is sure to be full of fun activities and this weekend was no exception. Program members attended class in the morning on Friday with French taking an excursion to the Redpath Natural History Museum in the heart of the McGill campus. Following all major classes, PCE Montreal headed to Super Aqua Club – a waterpark a short bus ride away from the city centre. Luckily, our French phrase of the day prepared us to say "We're going to a waterpark" (Nous allons au parc aquatique). Once at Super Aqua Club, we had the afternoon to hit the water slides (including one which went right into the lake!), enjoy the wave pool, or even swim at the attached beach and play water volleyball. A trip favorite was 'La Tornade', a slide for groups of four which starts higher than a seven story building! Having our fill of the 'parc aquatique', it was time to head to Saint-Sauveur, a quaint winter ski village and summer playground nestled in the Laurentian Mountains just north of Montreal. We had some time to browse the shops and practice our French skills by ordering dinner in French!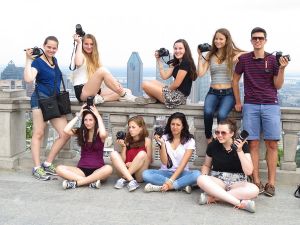 On Saturday, we were off for a bike ride along the beautiful Lachine canal, travelling all the way out on the peninsula for an excellent view. Then we headed over to the Atwater Market, an indoor and outdoor farmer's market, with tantalizing smells of fresh baked bread, in season Quebec grown strawberries and homemade pizzas and pies! We were able to enjoy a lunch of the freshest ingredients possible; some even deciding to make their own lunch from the produce available. As it was a warm day, we were happy to then have the opportunity to go somewhere cool: ice skating! We did so in the indoor rink on the main floor of Atrium 1000, Montreal and the province of Quebec's tallest building! What an experience that was!  Next, we had some free time to explore the sidewalk sale festival occurring in downtown Montreal. To close off the evening, students were in for an after dinner surprise. It was the beginning of Olympics, and program members had the evening to work in 4 teams to create their all-important name and cheers for the next day. The captains were Adam and Mercedes for team blue, Giacomo and Olivia for team red, Jake F. and Vanessa L. for green, and Martin C. and Amanda for team white. To close the start of Olympics, the captains then got silly in a game of "Make Me Laugh" with a whipped cream penalty.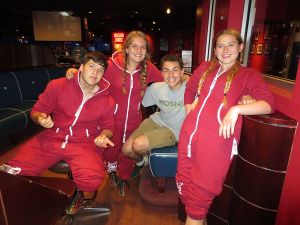 Sunday was a day of friendly competitions, with members showing team spirit by dressing up and cheering for their teams. The competitions were held in Mont-Royal Park near the Tam-Tams, a weekly unofficial Montreal festival where drum circles occur and interesting souvenirs can be found. Some of the challenges included classics such as the egg and spoon race, relays, and a special version of capture the flag. As it was a beautiful day out some also utilized their afternoon free time to play 'CrashBall', otherwise known as Bubble Soccer. Program members who played had 20 minutes to wear a bubble suit and play soccer against one another. And boy did they look silly in those! It was like wearing a clear beach ball that covers all but the bottoms of your legs and running around, and sometimes falling and rolling or bouncing, in order to maneuver to the net. To determine the winning team for Olympics, the captains had to make a sacrifice for their team and be the sole contenders in a final 'sweet' event. Congratulations White Team on your win and thanks for your hard work! Although White was off to a slow start after the first night, they managed to reverse the outcome and surprise us all with the win! Following a brief intermission, we all wore fake felt mustaches and were off to the Ethnic Show at Montreal's world-famous Just For Laughs comedy festival. We laughed so much, especially from the jokes of the host Alonzo Bodden and comedians Ahmed Ahmed and Gina Yashere. Following the show, many of us even got our picture taken with Ahmed Ahmed who then posted our group photo with him on his personal Instagram account #nbd!
Stay #toujoursfrais
The Westcoast Blogger
Be part of this pre college enrichment summer program: experience an academic life with the course of your choice in our 21-day trip to Montreal or extend it to a 28-day tour that includes Boston.