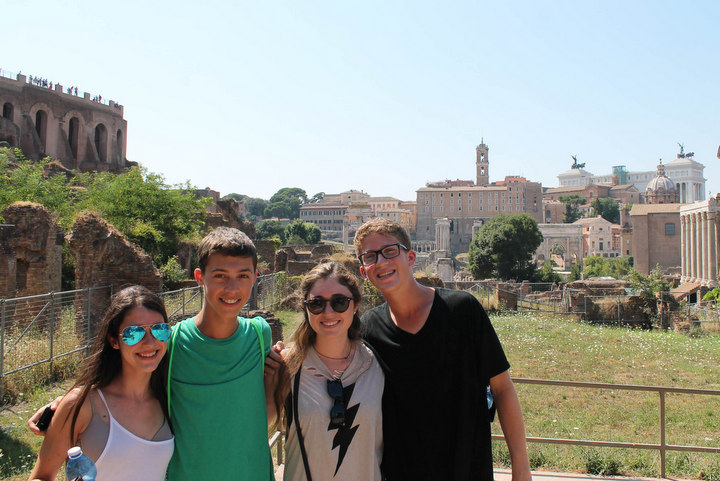 We have entered the last legs of our European Experience! Arriving in Venice, we hopped on a vaporetto to mainland Venice just as the sun was setting. We ate our first Italian meal as one big trip family and introduced our eager stomachs to fresh pasta, and deliciously thin crusted pizza. The following day, we headed to the Murano Glass Factory to witness the talents of Venetian glass blowers—judging by the delighted faces and "oohs," our trip members were rightly impressed. The rest of the day was spent exploring the never-ending canals, refreshing with a scoop or two of gelato and visting the Rialto Bridge.
Our time in Venice came to a close with evening gondola rides. Trip members were able to experience a romantic ride and were serenaded by gondoliers as they passed under Venice's various bridges. After a busy time in Venice, trip members were treated to two relaxing days on the beach in Rimini. Situated off the Adriatic Sea, Rimini is the perfect location to take it easy, swim in the refreshing water and hang out with amazing friends. Those two days were just what we needed to be prepared to head to our next big city – Roma!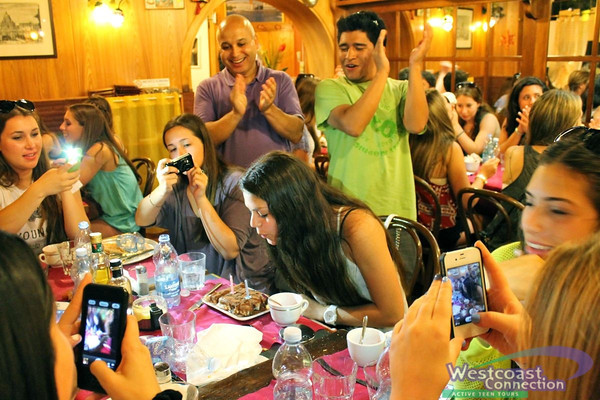 Ah, the Eternal City! We arrived safely in Rome to glorious sunshine and the enchanting mix of ancient and modern. Some trip members commented on how surreal it is to be standing next to buildings that have survived thousands of years and multi civilizations. There's nothing quite like Rome to instil a sense of awe and gratitude for the legacy that the great Classic philosophers, emperors and politicians left us. After settling into our new digs for the next few nights, we set out to Piazza Navona, stopping at the Pantheon on the way.
The Pantheon (meaning "all gods") was first built during the reign of Augustus before being re-built by 128 CE. The temple dedicated to all the gods of pagan Rome and is one of the best preserved Ancient Roman buildings. Even after two thousand years, it has the world's largest unreinforced concrete dome. Weaving our way through Roman streets, we arrived at our dinner location, Piazza Navona. The Piazza houses the beautiful fountain of Neptune and is a bustling square at night, with street performers and art vendors galore.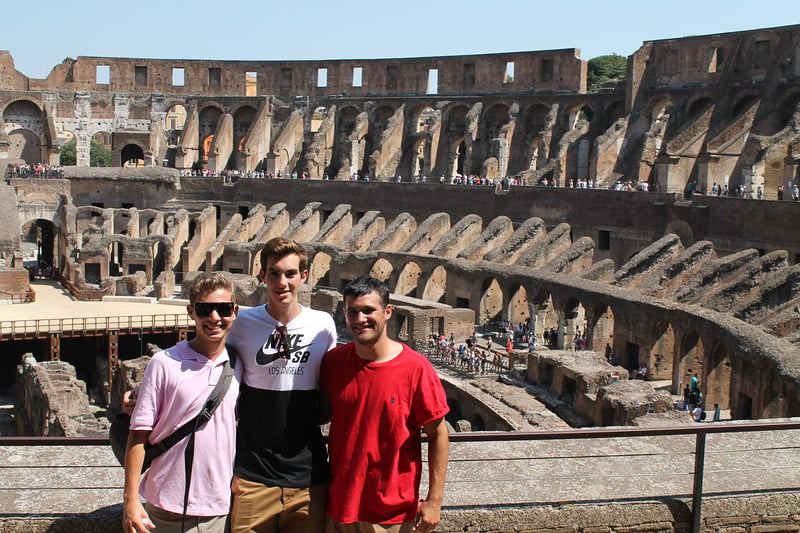 Our second day in Roma was spent meandering across town, starting with the famous Spanish Steps. As we walked down the steps, trip members could spot the house of English poet John Keats who lived and died in the orange house on the right. It's not too hard to imagine the likes of Keats and Shelley being inspired by this bustling piazza. A short walk later, we came face-to-face with the Trevi Fountain. Although there isn't currently water in the fountain, trip members were able to have their "Lizzie McGuire" moment (as some called it) anyway and threw a coin or two with the hope of returning to Rome one day. Making our way to Campo de Fiori, we stopped for lunch, a little shopping and to people-watch in the square – a typical European afternoon!
The last stop before dinner was Piazza del Popolo. In ancient Rome, the piazza marked the gateway into the walls of Rome and was the first site for travelers upon their arrival. Interestingly, the piazza was the starting point of the road that led to what is modern-day Rimini! What a fun connection as we just left that charming beach town. After dinner, trip members had a chance to explore the Trasteverearea near the Tiber River and some took the opportunity to buy accessories for the next night's Roman toga party.
Of course, a visit to Rome is not complete without a tour of the Vatican Museums, St. Peter's Basilica and the Coliseum! Our wonderful guides Alessandra and Claudia dove right into the history of the Vatican and introduced the group to some of the world's most beautiful art. As expected, our trip members were stunned by Michelangelo's most arduous work in the Sistine Chapel. Entering the Chapel, we all tried to take in the floor to ceiling masterpiece. As one trip member sighed, "I wish I could stay here forever." But alas, we had to tear ourselves away to enter St. Peter's Basilica. The biggest basilica in the world, St. Peter's is truly an outstanding architectural wonder. From La Pieta, to the tomb of St. Peter and the recently canonized Pope John Paul II, trip members were busy trying to take it all in.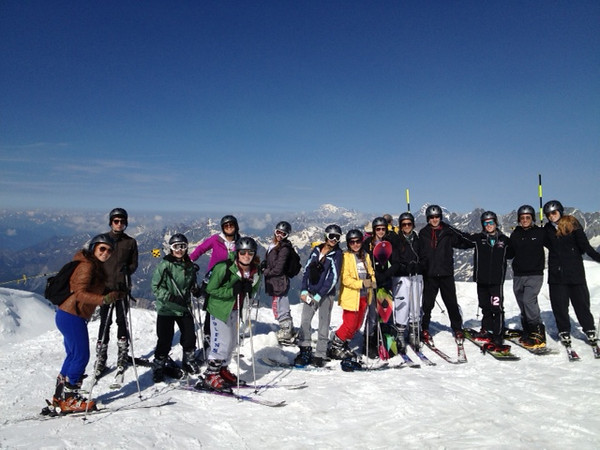 Our last stop for the day was the coliseum. Entering the ancient stadium, you could almost hear the roars and cheers as gladiators duked it out for the entertainment of 70 000 Roman spectators! Our guide Claudia explained how the Emperor would choose which gladiator would survive each match. As we walked around the stadium, a few of our trip members tried to imagine what it would be like to be a gladiator and to have your fate chosen for you. It's safe to say, our trip members were especially appreciative and grateful that our spectator sports have evolved to football and soccer!
That night we concluded and celebrated the end of our time in Rome at a Roman toga party. We truly dined like royalty, were entertained with dancing and singing and even laughed until we cried at the antics of one of the staff. Returning to the hotel, we bid farewell to our 20-day trip members with speeches, a recap of our most cherished memories thus far and sent them off with last wills and testaments. Dani, Dylan, Grant, Beatrice, Sammi K., Caroline, Alessandra and Emily G., you will be missed!
Veni, vidi, vici indeed! Our trip came, saw and conquered as much of Rome as possible in three days. Without a doubt, we all came to fully appreciate and understand the old saying "Rome wasn't built in a day". Leaving Roman ruins behind, we embark on our next three-day stopover on the beautiful Amalfi coast. We're truly looking forward to days spent on blue, blue water exploring Capri's grottos, and lounging on the beach in Positano.
Arrividerci Rome! It's been a slice…or two or three!
Until then,
The Westcoast Blogger
Have we piqued your interest? Explore our 20-day and 28-day European teen tours and start planning your own adventure with Westcoast Connection. It will be the travel experience of a lifetime.
Save