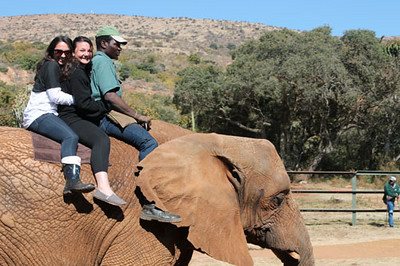 Sawbona from St. Lucia!
Thursday morning, we began our last day in Kruger National Park with a visit to Jessica the Hippo. After a quick briefing on her upbringing, we each took turns petting her nose to have her open her mouth wide and feed her freshly sliced sweet potatoes. Jessica then pulled herself to the dock, giving several trip members the chance to bottle-feed her Rooibos sweet tea; Alexa even got to kiss Jessica on the nose!
After an exciting visit with Jessica, we prepared for our evening safari at a game range close to our hotel. Almost immediately, we were greeted by several buffalo that were grazing and chowing down on hay. The Jeeps came to a halt to allow trip members the opportunity to catch a glimpse of an eagle nested high in the tree. While some trip members tried to get the perfect picture, Carly showed off her spotting skills by detecting a cheetah moving through the trees. After stopping to admire the sunset and illuminating the torches (South African for flashlights) to guide our way, we moved onward to see warthogs emerging from their holes and two white rhinos on opposite sides of the pathway. As we headed back towards the entrance, we passed more rhinos that froze amongst the trees as a means of defense.
On Friday, we began our journey back to Johannesburg with a sing-a-long to our morning song "I'm on Top of the World." After a pit stop for a hike up to God's Window that surrounded us with beautiful views, we continued on our way. In the evening, we bid farewell to Rebecca and Vanessa by presenting them with paper plate awards highlighting several inside jokes to commemorate their thirteen-day trip.
Saturday was an exciting day for us as we visited both The Elephant Sanctuary and Soccer City. Upon arriving at The Elephant Sanctuary, we could hear the trumpeting of the elephants. We met our guide, Sam, who escorted us to a larger, male elephant named Amarula whom we got to feed. Each trip member got the opportunity to place food into the elephant's trunk and watch him eat. We then moved on to two other elephants that performed multiple tricks before we were allowed to pet different parts including the trunk, ears, elbows, belly, and foot. One elephant even gave kisses by placing its trunk on our faces, leaving a muddy mark; Randy got an extra special elephant kiss right on his mouth! After Sam delivered a brief educational session on elephant anatomy, trip members walked the elephants around and finally had the chance to ride. Eric and Julia were the first to ride and were surprised when the elephant stopped to make a deposit; the entire group had a good laugh at the sight.
We concluded our time in Johannesburg with a visit to Soccer City, one of the stadiums at which the World Cup 2010 was hosted. After entering through the VIP entrance and touring the locker room, we were allowed onto the turf portion of the field and posed for pictures. Alyssa even got some pictures wearing the South Africa soccer jersey that we brought along! Our experience got many members psyched up for the final World Cup game, which a group of members watched as an evening activity after arriving in St. Lucia.
Since arriving in St. Lucia, we have been actively working on our second service project to build a house for a local gogo (grandmother) that is currently living in a shack covered by a tarp. We got the opportunity to meet the gogo after our first day of digging foundation. Sydney quickly got the hang of the process and proceeded to dig out the trench with assistance from Ruby R. and Ruby D. Though building a house from bottom up has been quite the labor-intensive process, it is a rewarding experience and we are learning new skills each day!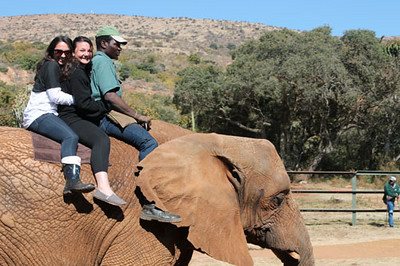 The Westcoast Blogger
Check out our 13-day and 25-day trips for a unique student travel to South Africa with wildlife, scenic landscapes, and cultural experience.