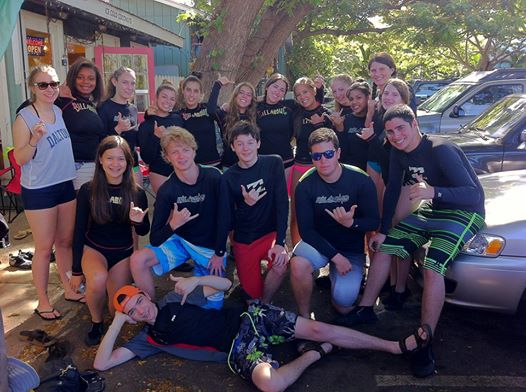 We are in our second destination: Maui! Everyone is super excited to be in a new environment; we are learning that each island is quite different and unique. This past week has been fun-filled with Habitat for Humanity, beaching, site seeing, and cape passing. Our superheroes this week have been Amanda, Emily, Veronica, Ashley, Tracy, and Andrew S. While all of our trip members are shining stars, we want our superheroes to be recognized for their outstanding kindness, helpfulness, and positivity.
Here is a little recap for "ya'll"! Monday we started off our week with a relaxing day of brunch, beach and and ice-skating. For brunch we went to a neighborhood favorite the "Wailana Coffee House" and enjoyed some local cuisine. Michael, Amanda, Chris, and Andrew S. were determined to win a stuffed animal from a crane game. Their efforts succeeded and they won! Later on in the day our group went ice skating in the only ice – skating rink in all of Hawaii. We glided and twirled on the ice like pros!
After a few days away from volunteer work, we were all looking forward to back-to-back work days with Habitat for Humanity. The group spent the day at Habitat for Humanity's ReStore (their resale store) and helped in organizing furniture, cleaning and creating signs, and sorting t-shirts for Habitat for Humanity's upcoming build-a-thon. Trip members Taya, Emily, Ariel, Veronica, Tracy, Amanda, Ashley, Stephanie, Samantha, and Juliana definitely took the meaning of "whistle while you work" seriously and started a sing-a-long. Our group was also lucky enough to be able to participate in building a house for Habitat for Humanity. Once we arrived at the build site we put on our hard-hats and got to work! We first took out our gardening tools to dig holes and find pipelines for the house. Emily, Veronica, Holden, and Michael had to dig in a few different spots but they were ecstatic when they found their pipeline. Inside the houses Andrew C. was busy nailing and drilling drywall into place. At lunchtime, the home-owners stopped by for a visit with their whole family. All the trip members were very happy when the home-owners arrived; all of their "dreamsicles" had come true. In the afternoon, we all worked together in painting the outside of the house. While this may seem like a big task our trip members worked hard to make it happen! Aisling, Holden, Tara, and Emily painted the side of the house while Juliana and Chris worked to reach the higher spots on the side of the house. Tulani, Taya, and Tracy also spent time working hard on the back of the house. The trip members were very happy to see their finished work at the end of the day – they painted the whole house!
Our trip members spent their last day in Waikiki exploring the area and visiting the local beach. At dinner Thursday night our superhero of the day Veronica got a surprise treat when the group surprised her with a round of happy birthday at dinner. Buca di Beppo surprised Veronica even more when they started playing the chicken dance and gave her a faux beak and tongs as chicken wings! It was hysterical.
And then we jetted off to Maui! Upon arrival at the hotel we checked in and then relaxed by the pool before dinner at a local favorite called the Paia Fish Market. Everyone agreed that it was one of the best meals yet.
Friday was our first full day in Maui and we rose early to begin our second surfing adventure! The whole group got in the water together and cheered each other on while surfing. Stephanie, Ashley, Emily, Tracy, and Holden were just some of the surfing pros we have in our group who were able to stand up on their board! After surfing we went swimming in the hotel pool and relaxed from our big adventure. Michael and Amanda (with Chris judging) began doing pool races. Things got super competitive quickly and then Juliana and Andrew C. joined in on the racing as well!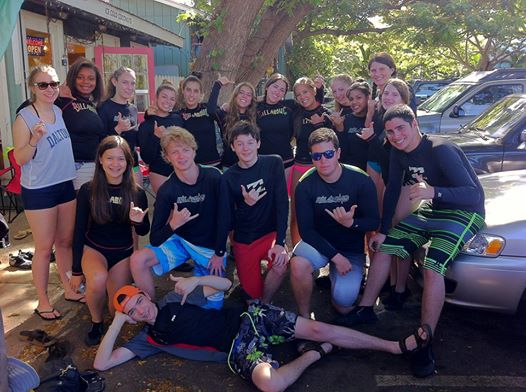 Our time in Maui so far has been super fun! We are looking forward to our next few days of snorkelling, ice – skating, and starting our next community service project!
Talk to you soon!
The Westcoast Blogger