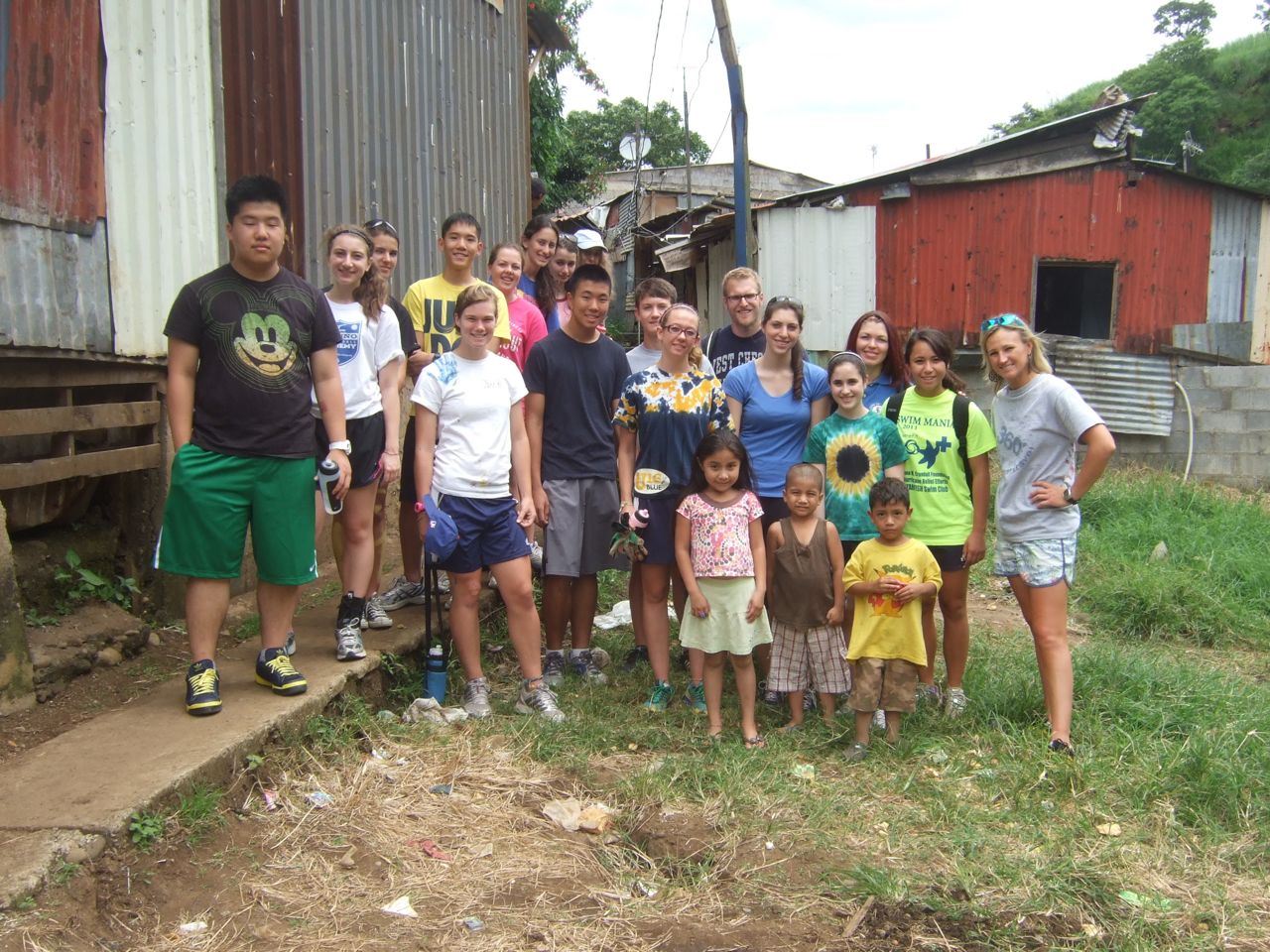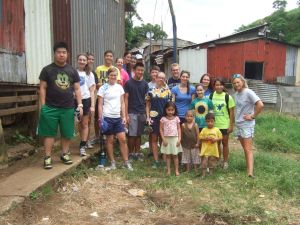 Greetings Friends and Family,
We last left off on the afternoon of Wednesday, July 4, when the trip members were about to head to a local restaurant to help prepare their very own Costa Rican – or "tico" – meal. Everyone has a role in completing a delicious meal for us to enjoy, featuring rice, beans, fried plantains, chicken, and salad; it may not have been the typical 4th of July meal, but now all the trip members know how to prepare fried plantains for your future holiday celebrations!
Thursday, July 5, was a very exciting day, as it was our very first day of community service. The day began with the group splitting up to tackle two projects simultaneously. Caneel, Marissa, Lauren, Austin, Leslie, and Sam teamed together on the sidewalks of the road way entering the village of La Carpio. The goal: to help transform a dusty and rundown road to one of beauty by picking up trash, sweeping, and painting the light posts and sidewalks. Ilana, Brittany, Jay, Brandon, Taylor, Aria, Cassidy, Tamara, and Ashley all stayed at La fundación humanitaria – our non-profit service partner – to play with children who otherwise would not receive ample daily stimulus without the organization's existence. The group switched roles halfway through the day to spread their abilities; their positive and determined attitudes were unwavering. None of us wanted to leave by the end of the day. After a homemade lunch by the non-profit's volunteers, we headed to the CPI language school for another afternoon of instruction. Marissa, Tamara, Sam, and Leslie worked on their irregular preterite verb conjugations; Brandon, Caneel, Taylor, and Jay played "Taboo" with Spanish verbs; Ilana, Austin, Ashley, and Aria played Jenga that incorporated creating original sentences with key vocabulary words; and Cassidy, Lauren, and Brittany tested themselves by identifying a color, a fruit, an animal, a country, and a name per each letter of the alphabet to expand their vocabulary. Upon arriving back to the hotel after the language institute and dinner, the boys and girls hit the pool, hot tub, and sauna for a night of well-deserved relaxation from their several days of very hard work.
Friday marked our last day here in the San José suburbs. The day saw the trip members tackling the same two projects as the previous day: helping to take care of local children at the day care and working on the beautification of La Carpio's sidewalks. At about midday, the group stopped to take a walking tour of the town. Even though it is stricken by poverty, the trip members saw many families living contently with what little they have, children running and playing in the streets, and a sense of town pride and unity. This walking tour helped to show the group how important and necessary their diligent and self-less work was. We were all able to leave La Carpio very proud of our sincere efforts. After another day of small-group instruction at the CPI, we all headed to karaoke night at a local restaurant, where we were able to show off our talents amongst one another. Many solo and group acts culminated in a final rendition of the hit 80s Journey song "Don't Stop Believing", wherein all trip members' voices resonated throughout the restaurant; they truly stole the stage!
We will keep touch in our travels, and we hope that you are enjoying seeing our pictures!
Sending our best from Costa Rica,
The Westcoast Blogger
¡Pura vida! ¡Saludos!