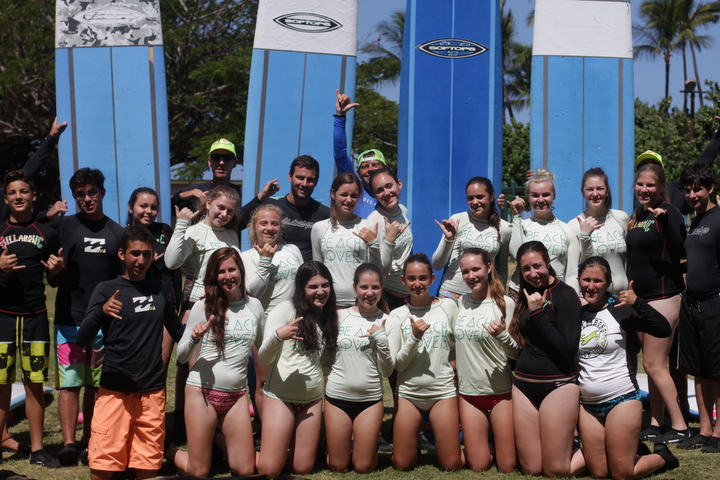 The idea of "community service" with teenagers is an intricate business. While many of their peers are lounging by a pool, playing video games, or sleeping and dreaming of the best Kik message ever, we are talking about the idea of work to our kids. What? In Hawaii? Work?
The work, we told the kids, would be hard — probably the hardest work we would do. We'd be working in the rainforest of Hawaii, cleaning up a nature preserve that hadn't been touched in years. The work, we promised, would be difficult, but very much worth it. With this message in hand, we traveled away from tourists and into the heart of Maui.
We were met at our hotel by Nature Jay, aka J-Bird, who has run Eco Maui for over twenty years. Nature Jay ran us through the itinerary of our day, as outlined above, and we piled into our cars and headed out. We arrived at a privately owned nature preserve in Hawaii, which ranges over 40 acres of land. The land is privately owned but open to the public for observation and exploration.
Nature Jay explained to us that there'd be two types of service we'd be undergoing — surveying and excavation. We began our service by going to Twin Falls, two waterfalls right near the entrance of the preserve. This was the "surveying" part of our service — checking out the waterfall, making sure it was operational. Just to make sure, we headed into the water and posed for some pictures under the falls — because someone has to make sure that tourists can act like tourists, right?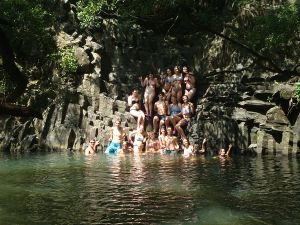 After our surveying, the hard work began. We began working on the Nature Center, which had been created years ago but had been long overrun by inactivity and plant life. It was time for some excavation.
Our kids dove headfirst into the work. Armed with nothing more than construction gloves, water bottles, sunscreen and a lot of heart, amazing things started happening. Our trip members were working in teams of two to move heavy plants. They were working in teams of up to 10 (!) to pull up old plastic tarps that had been stapled in and covered in plant growth. They were moving bricks, digging holes, and sweeping away debris like they'd been doing it for years.
We worked on the site for two "hours of power" before Nature Jay took us to a private spring which overlooked a beautiful waterfall. It was time to cool off, take more pictures, and make sure that the tourists were being accommodated.
The work continued on Day Seven, as we still had work to do at the Nature Preserve. We knew that we needed to finish, otherwise we wouldn't leave the Nature Preserve with enough time to open up on schedule. Before we got back to work, though, we needed to survey some more waterfalls. Actually, a lot of waterfalls. Five to be exact. Spending time observing, appreciating, and cooling off in these waterfalls was the perfect break before we got into our work.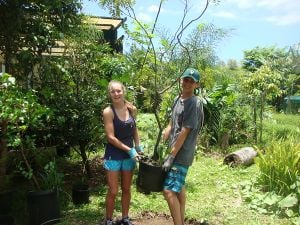 As we finished up on the work we started on the previous day, we began retrieving chairs from a nearby shed. Why? Our guide, Nature Jay, told us that the culmination of our hard work would be a bonfire using the space we had worked so hard to clean up the previous day.
Now, I've been trying to update this blog with pictures to show you all what I've been writing about but I'm purposely leaving any and all pictures out of this section because there is no possible way a picture could capture the beauty of being out in the middle of a Hawaiian forest, with only a campfire and the bright stars as illumination for our night. At the bonfire, we all enjoyed s'mores and sodas before our reflection activity — pick a song that describes what this trip has represented to you so far.
We spent the Fourth of July relaxing and maximizing our time as best as any Hawaiian could — brunching, beaching, and fireworks. The fireworks were especially beautiful, set over the water in the nearby town of Lahaina.
On the Fifth of July, we spent the day getting organized and then taking a short flight into Honolulu, our second and final destination on our service trip. Once in Honolulu we checked into the hotel, and checked out a local beach before settling in and gearing up to work at another Boys & Girls Club, this time on Oahu.
It's crazy to think about already being halfway done with this amazing trip. As promised in the original post of this blog, the work has been rewarding (to say the least) and the experiences have been unforgettable. We are so excited to be in Oahu and continue working hard, playing hard, and living the aloha way.
Mahalo for reading and aloha 'oe!
The Westcoast Blogger