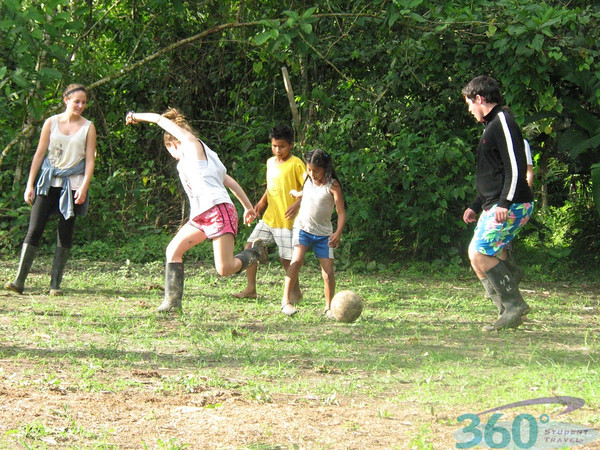 Hola familias!
We have arrived in Ecuador and have made so many great memories already! We had a short and delicious first evening in the capital city of Quito by going out to eat in "the square" near our hotel.  After a well-deserved good night sleep, we were off to Mitad Del Mundo (Middle of the World) which is the exact location of the equator.  We participated in a ton of experiments teaching us about the wacky physics of the equator. Sammy and Gabby gave it their all balancing an egg on the head of a nail and Michali and Danny stumbled while walking the equator like a tight rope. Both of these happened because of the ways that the magnetic poles at the equator. Also, families beware; all trip members have learned how the ancient Ecuadorians shrunk heads!
We traveled from Mitad Del Mundo to the top of the nearby active volcano named Pululahua!!! Granted, the last time this volcano erupted was about 125,000 years ago. One thing we have all learned about Ecuador in July is that the temperature could feel about 20 degrees different just after a short bus ride up or down a mountain. This was definitely a time when we experienced this. After being nice and toasty at the equator we all had to put on another layer for this short hike. After the gorgeous view from the top of the volcano we headed to historic Quito and went to a couple beautiful overlooks where Matt flexed his great photography muscle by capturing epic shots of the city, most of which was built around the 1600s when Spain still controlled Ecuador. While exploring the city itself, we were able to tour two churches built during the Spanish influence on the city and got to look around the Presidential Palace, unfortunately President Correa wasn't home.
The next morning brought on our first community service experience in Ecuador at Fundacion Alinabi. "It is for sure the biggest highlight of the trip so far! I absolutely loved helping the lives of each child!" proclaimed Leslie on the bus ride back to Hotel Embassy. During our service on the first day Anthony, Michali, Sammy, and Remy helped scrape one of the orphanage's houses, in the preparation for painting in the next few days. While they were painting, Gabby, Danny, Matt, and Leslie were in the kitchen busily baking food for the children. I am sure once the trip members return home they would love to help paint and bake cookies since they did such a good job at the orphanage!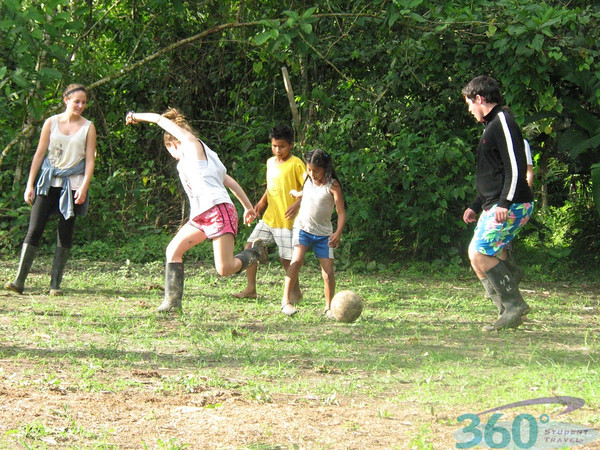 After lunch, we all had a chance to play with the kids. While Leslie, Remy, and Gabby were playing on the playground with the children, Sammy, Danny, Anthony, Matt, and Michali organized a great game of soccer with the kids. Though we North Americans gave it our all, I'm afraid our new friends at the orphanage handled us pretty easily. After the final goal was scored we played a thrilling game of Pato, Pato, Ganso… as you might know as Duck, Duck, Goose. The rules were slightly different than we were used to and everyone had a great time, the children's screams of excitement won't be forgotten by any of us any time soon.
Es un hermoso día para estar en Ecuador (It's a beautiful day to be in Ecuador). We have done so much over the last few days it is hard to believe that it has been just that… a few days. Two days ago we visited a native Ecuadorian village and got to learn a ton about their culture. Along with the delicious soups, beans, rice, and chicken, we had the chance to chow down on some Qui. For you rodent loving folks, you might know it better as Guinea Pig. Remy, Leslie, Matt, Anthony, Gabby, Sammy, and Danny all gave it a try… and well, I don't think you need to replace the turkey on thanksgiving. Everyone's review was that it was pretty decent but also nothing special.
After we finished up with lunch it was onto the dance floor! A local band and a group of native dancers taught us a couple of traditional dances. Everybody participated and had a great time! I hope that the DJs at prom next year have a lot of traditional Ecuadorian music. Once we returned to Quito that night we had a movie and guacamole party. Anthony was the executive chef with Leslie and Matt as the Sous chefs who made the guacamole. It was a great way to wind down and hang out after a super active day.
The next day was a bitter sweet one for us. It was our last day at the Fundacion Alinabi orphanage. It was very exhilarating to see all of the jobs that we had accomplished in our time there. Whether it was baking goods for the children or the painting, hoeing, and weeding we had done around the grounds. The hardest part about leaving was for sure saying goodbye to the young friends we had made. It is funny how intimidating a language barrier can be at times, but in other times a bond grows so strong even though you can't have a fluid conversation with each other.
During our last day there Michali, Anthony, Sammy, and Danny organized and played a huge soccer game with the children while Leslie, Gabby, Matt, and Remy played with the kids on the playground. When it was finally time to say goodbye, we said our thank yous and gave our hugs and boarded the bus to our next adventure. In this case, our next adventure was taking the Teleferico Cable Car to the top of Cruz Luma, which ends its climb over 4,000 meters above sea level! The wind was chilly and the view was exceptional. We could see nearly all of Quito, a city of about 2 million. We knew that we had a fun filled day ahead of us so after dinner we packed up and got ready to travel to our next city, Latacunga.
Latacunga is a city of less than 200,000 thousand people, is near the base of Cotopaxi Volcano, and is home to our next community service project in the senior living home. This was a one day community service project and was split into two parts. During the first half of the day Danny, Matt, Anthony, and Michali shined the senior citizens' shoes. While the boys were shining, Sammy, Gabby, Remy, and Leslie made bracelets and necklaces for the seniors. The seniors at the home were ecstatic about getting their shoes shined and about getting some new jewelry. After we came back from lunch our service included putting on a show for the seniors in their entertainment room. We found an old Bolivian folk tale and acted it out. Leslie was the Armadillo, Matt, Danny, and Michali were frogs, Gabby and Anthony were crickets, and Remy and Sammy were canaries. The show went off without a hitch and the seniors enjoyed it. I think we have some future Tony award winners in our midst. After the show was over we played some music on the stereo and danced with the seniors. The dance floor was packed! When our service ended for the day, the rest of the evening was dedicated to getting to our new hotel, settling in, and having Danny, Sammy, and Matt dominate the rest of the group in a game of team trivia.
We have days packed full of fun, adventure, and service in front of us. Along with all of the funny things that happen on the way, we can't wait to share all of our adventures with you. Until next time!
The Westcoast Blogger