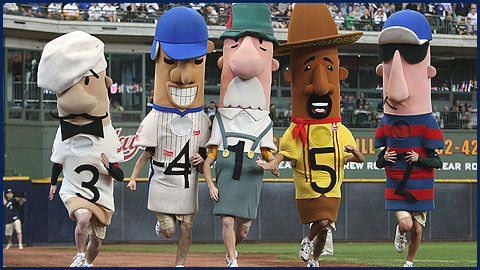 Have you heard of the game running bases? Have you ever heard of five sausages running bases?
At a Brewer's game in Milwaukee's Miller Park, you can see five sausages running around the bases in between innings.
The Klement's Racing Sausages first appeared in the early 90's as an animated race shown on the scoreboard. It was one of the best and most famous scoreboard races in baseball history. The Brewers decided to make it even better by the costumed real-life sausages!
There are five Klement's Racing Sausages: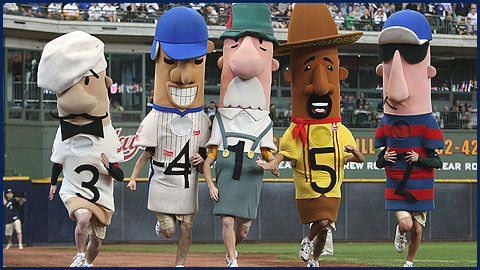 Brett Wurst – a bratwurst, wears a green Austro-Bavarian lederhosen
Stosh – a Polish sausage, wears dark sunglasses and a blue and red rugby shirt
Guido – an Italian sausage, wears a chef's outfit
Frankie Furter – a hot dog, wears a baseball uniform
Cinco – a chorizo, wears a sombrero.
You see see the full bios here.
The actual Klement's Racing Sausages emerge from the left field corner and sprint toward home plate aided by the applause of an enthusiastic crowd. The costumes make the sausages look like they're wobbling down the field, but they're actually sprinting as fast as possible!
The success of the Klement's Racing Sausages has been unexpected. Tpoday, you can find sausage bubbleheads, t-shirts, dolls and pins. And for those wanting to be closer to the action, the 5K Sausage Race was developed.
What is it about these sausage mascots that we find so fascinating? Is it the funny costume? Maybe it's their tiny legs?
All we know is that they are a hit with the crowd, and a huge baseball ritual.
Want to experience them running for yourself? Join us on our Major League Madness – East & Midwest or Major League Madness – Combination program.
The Westcoast Blogger
P.S. – Want to race them yourself? You can do it here!