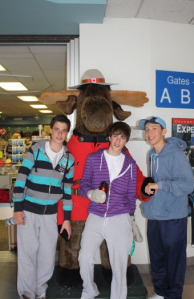 Our first update from the Adventurer!
The Westcoast Blogger
Hello Trip 24 parents!
We are now beginning our fourth day on the adventurer trip of a lifetime!  Since we arrived at the Calgary airport on Monday, everything has been running exceptionally smoothly and we have already begun creating a great, cohesive group.  These tour members are awesome!
Our first day at the University of Calgary was filled with high spirits and energy.  Our Laser Quest activity in the evening was a great success, especially for Daniel W. (AKA Tom Hanks – first place) and Matt G. (AKA Charmander – second place)!  Tuesday was an incredible, fun-filled day, starting off with "Zorbing" at the Olympic Park in Calgary.  In this activity, two people get strapped into the inside of a giant air-filled ball and roll down a hill. It looks a lot like the clear balls in which hamsters run, only about 100 times the size!
After lunch, our tour around the Olympic park included a gorgeous view of Calgary and the mountains on top of the ski jump tower (the tallest point in the city), a look at the location at which a Jamaican bobsled crashed in the 1988 Olympics, as well as a chance to score on the goalie in a hockey simulation – which Nolan, Sonya, Jordan S. did successfully! 
All of us thought the Trico Centre was great, with a slide popping out of the roof, an awesome Tarzan rope, and some huge waves.
We arrived at our first campsite on Tuesday evening and had a chance to appreciate the beautiful surroundings of mountains and forest. Mike (our site manager) had kindly prepped a fantastic steak, chicken, and salmon feast.  Our campfire at night appropriately complimented the chilly evening. 
By the time we all went white-water rafting on Wednesday morning, the temperature had risen and many of us even went swimming (with wet-suits of course).  One raft managed to throw their tour director, Simon, into the water.  Little did they know, many of them (Michael, Dylan K., Miriam, Zack, Ryan Gd, Jordan N., Andy, and Aaron) would soon join him alongside the raft, floating down the Kananaskis River.  I would definitely recommend that you check out the pictures of this incredible experience. 
Following rafting, Michelle C., Aaron, Nolan, Ryan Gd., Daniel G., Jill K., Lori, Jesse, Kyle M., Sonya, and Adam S. helped prepare a delicious lunch including fruit and pasta salads, which were a hit.
A necessary honorable mention: We all got to meet Eli (a friend of Company Founder Stan who has joined us on his scheduled visit for two days), who was part of a band from Toronto performing at the Calgary Stampede!  It was funny to see 52 kids chanting his name as he performed.  The Chuck-Wagon racing at the Stampede last night was very cool.  We actually managed to get almost an entire row on the stands to participate in the Wave!!  Alanna, Erin, Jill C. and Michelle had a lot of fun trying to beat Simon in predicting which carriage would win in each race. Before this event, all of the tour members had a chance to pick up dinner, to go on some rides, and to play some games.  Daniel R. actually won a stuffed Obama figure by playing a ball and basket game!  The food at the stampede was creative.  Last year, Brandon feasted on pizza on a stick.  This year, he managed to find deep-fried oreos. sound appetizing? 
We are presently on the bus in Banff, on our way to the Columbia Icefields, where we will stand on snow and ice in the summer!   The views are breathtaking in every single direction.
At this moment, we are playing a hilarious game called Speed Dating: Each tour member sits with someone different every two minutes and finds out something random about them.  In an effort to create group cohesion, we have everyone sitting in the left seat rotating throughout the bus.  Some of the current topics of discussion are what would you do with a million dollars, favorite Facebook application, what do you want to be when you grow up. Not only is it that the topics are funny, but the tour members are trying to talk as fast as they can and are coming up with awesome answers.  Lindsay P. and Jesse actually ended up discovering that they were cousins!  I love this.
It is amazing to see such an integrated group in so few days. I can only imagine how close everyone in this group will be after 6 weeks.  Can't wait to fill you all in on more news in a couple days!
Trip 24 Adventurer Team