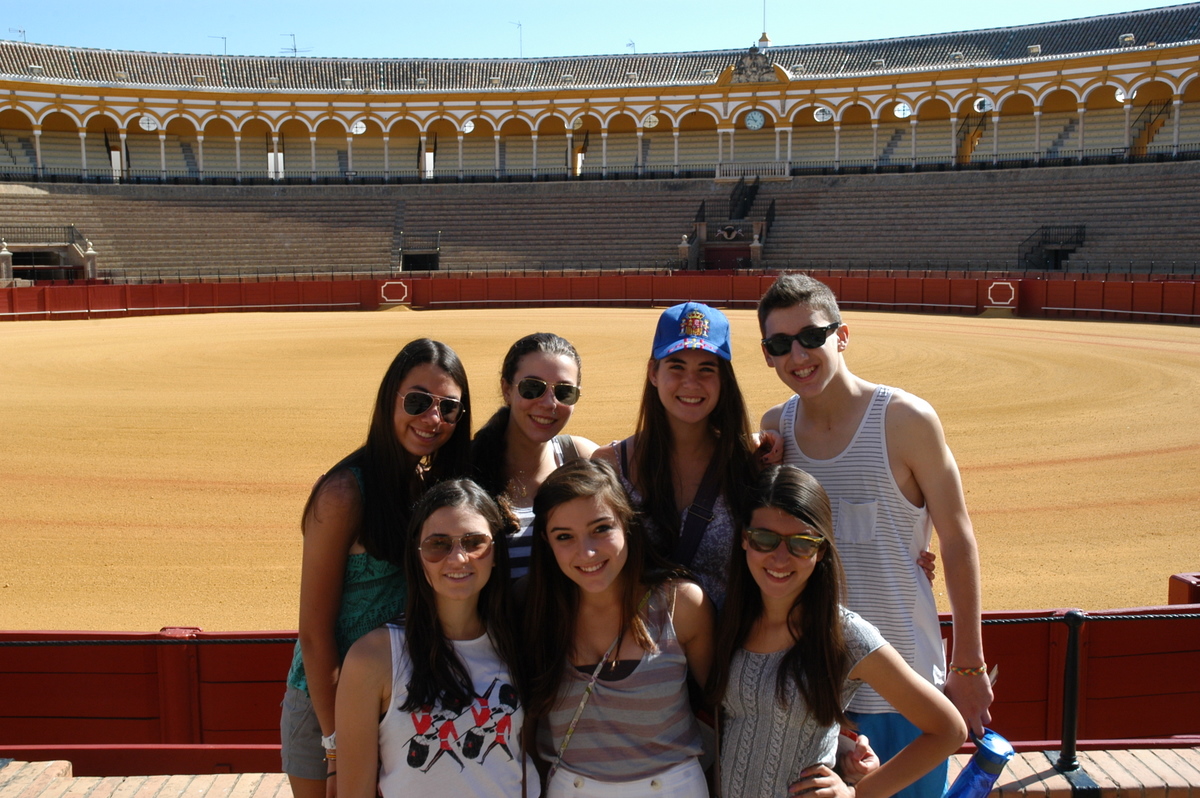 Familia and Amigos,
We have had an amazing exploration of Granada! This historic city has acted as the perfect transition between the quiet beach town of Marbella and the hustling and bustling Barcelona.
On our first day, we explored the Mercado de Artesania, where Katherine, Megan O. and Sarah C. purchased MC Hammer style pants adorned with elefantes. Sara W. and Amy ventured inside the famous catedral of Granada, taking in the white interior and stained glass windows. Most of the group enjoyed dinner in charming Plaza Bib Rambla, but staff member Andrew utilized his extensive knowledge of Granada and took Sarah C., Megan O. Alec B., Alec H., Michael, Lauren, Ethan, Josh and Spencer on a personalized walking tapas tour of Granada! Our group then headed to a flamenco show in an intimate cueva gitana, or gypsy cave. Katherine and Josh particularly enjoyed dancing with the bailarinas de flamenco. Katherine was so good that other people asked our staff if she was a part of the show! Que guay, no? After the engaging performance, we headed to the picturesque Mirador de San Nicholas to see the Alhambra lit up at night. I think the entire group would agree when I say the view is 'espectacular'.
Our second day provided us the opportunity to view one of the most unique gems of Spain, the Alhambra. Our group was floored by the incredible architecture and captivating history surrounding this landmark. Did you know that seven thousand people visit the Alhambra on a daily basis? The girls admired the extensive gardens and decorative fountains, while the boys debated the firing power of the cannons present on the outskirts of the site. Spencer, Lily, Courtney, and Lexie admired the view of the city from the palace, while Bryn and Sara W. focused on capturing the beauty of the Alhambra through their respective camera lenses.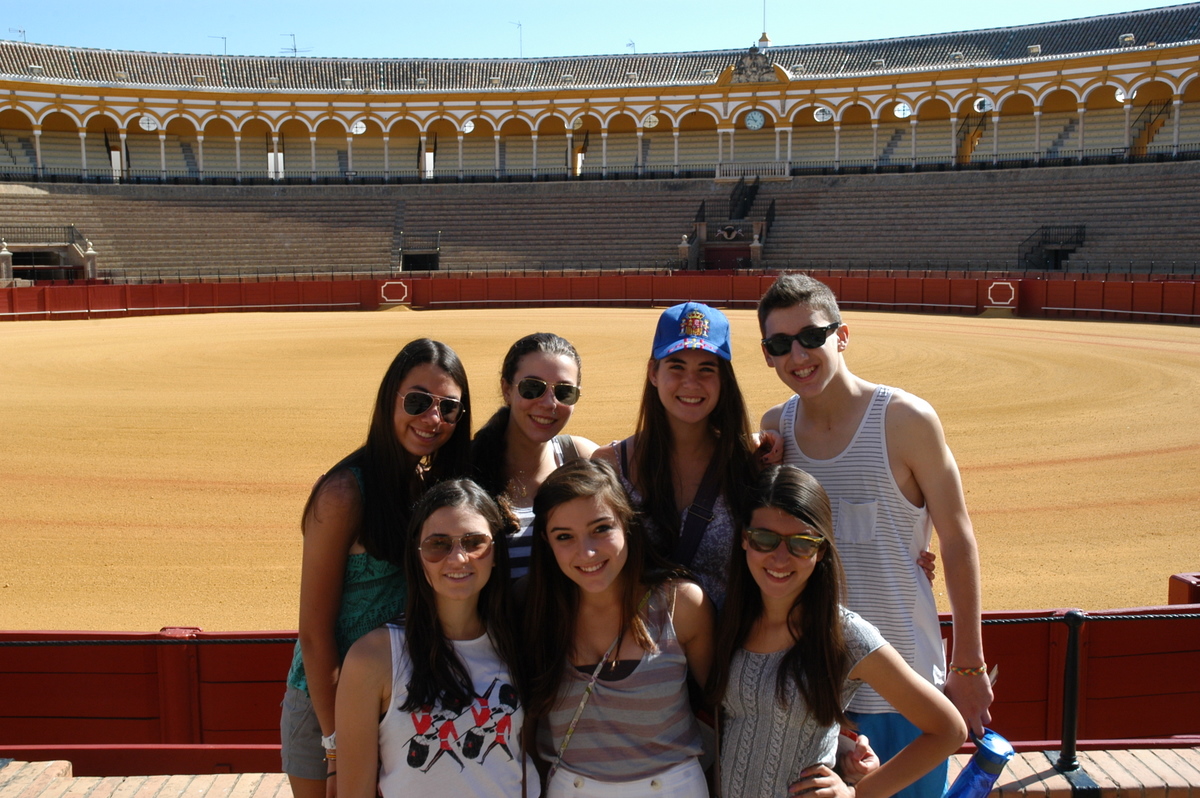 After grabbing lunch at Plaza Nueva, our group headed on a tour of the Albayzin, the old Jewish neighborhood ornamented with heavy Moorish influence. At the end of the tour, we stopped at another market, in which Carlisle applied her improving Spanish skills to bargain with the street vendors over jewellery. We ended the evening with an authentic Moroccan dinner, including pita, hummus, couscous, and other traditional Middle Eastern food. Katherine, Emily, Carlisle, Ethan, Courtney, Skyla and Josh were bubbling over with happiness at the opportunity to watch the Final de la Copa Mundial in Spain.
Ahora, vamos a Barcelona. Hasta luego!
Familia y amigos,
¡Lo hemos pasado muy bien en Granada!  La ciudad histórica ha sido la transición perfecta entre la playa de Marbella y la ciudad acelerada de Barcelona.
Para nuestro primer día, exploramos el Mercado de Artesania, donde Katherine, Megan O. Y Sarah C. Compraron pantalones al estilo MC Hammer con elefantes.  Sara W. Y Amy visitaron la catedral famosa de Granada, notando la interior blanca y las vitrales.  La mayoría del grupo disfrutó una cena en la Plaza Bib Rambla, pero monitor Andrew utilizó su conocimiento extenso de Granada y llevó a Sarah C., Megan O., Alec B., Alec H., Michael, Lauren, Ethan, Josh y Spencer en un tour personalizado de tapas de Granada.  Nuestro grupo fue al espectáculo de flamenco en una cueva gitana intima.  A Katherine y a Josh les gustó bailando con los bailarinas de flamenco.  Katherine bailó tan bien que los otros en la audiencia preguntaron a los monitores si era parte del espectáculo.  ¿Qué guay, no?  Después del show, fuimos al pintoresco Mirador de San Nicholas para ver la Alhambra de noche.  Creo que el grupo entero estaría de acuerdo con que la vista era espectacular.
Nuestro segundo día nos dio la oportunidad de ver uno de las cosas más únicas de España, la Alhambra.  Nuestro grupo fue impresionado por la arquitectura increíble y histórica de esta maravilla.  ¿Sabías que más de siete mil personas visitan la Alhambra cada día?  Las chicas admiraron los jardines y fuentes, mientras que los chicos discutieron la fuerza de los cañones.  Spencer, Lily, Courtney y Lexie apreciaron el paisaje de la ciudad del palacio, mientras que Bryn y Sara W se enfocaron en la belleza de la Alhambra por sus cameras respectivas.
Después de comer en la Plaza Nueva, hicimos un tour del Albayzin, el antiguo pueblo adornado con influencia de los Moros.  Al final del tour, paramos en otro mercado, en lo cual Carlisle usó su castellano para regatear con los vendedores para comprar joyas.  Terminamos la noche con una cena marroquí, incluyendo pita, hummus, cuscus y otra comida tradicional del Oriente Medio.  Katherine, Emily, Carlisle, Ethan, Courtney, Skyla y Josh gozaron de la oportunidad de ver el Final de la Copa Mundial en España.
Ahora, vamos a Barcelona. Hasta luego!
The Westcoast Blogger
Got yourself interested? Experience a 21-day or 28-day trip to Madrid, Barcelona and Costa del Sol and improve your language skills with our spanish programs for high school students.