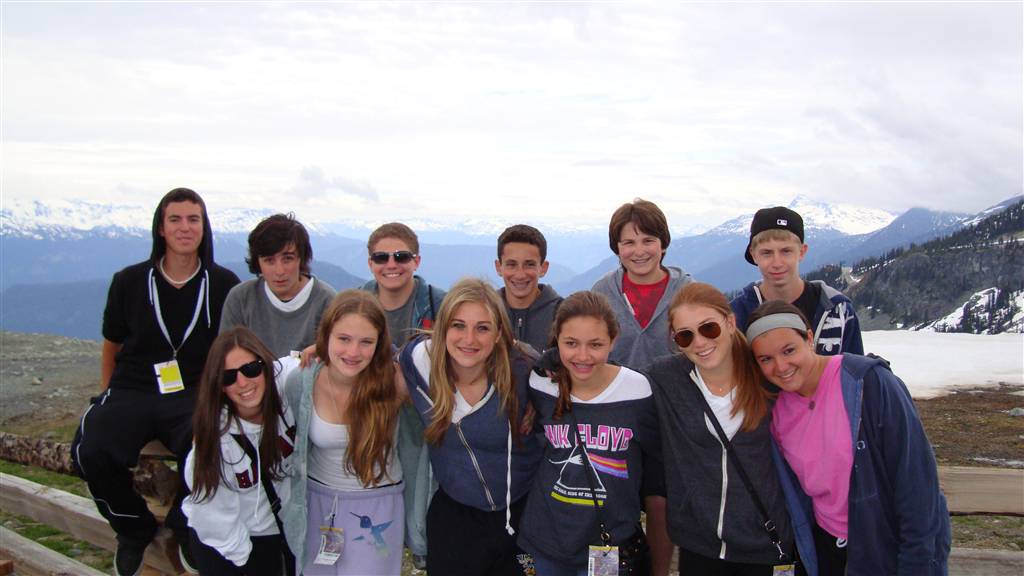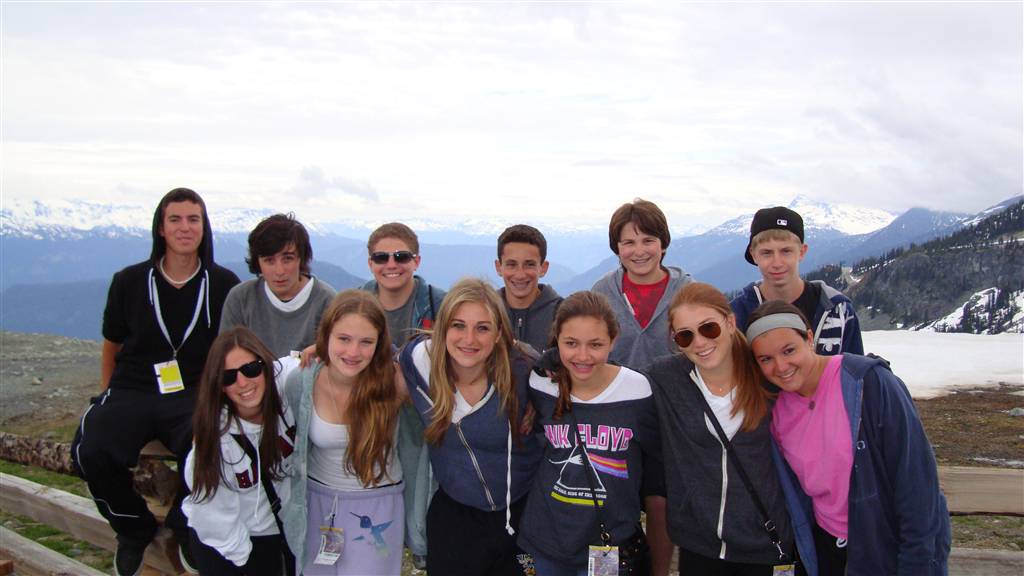 Greetings AmVoy #2 Parents!
Day 12 started with a breakfast at Starbucks and Tim Hortons before we hit the road to Whistler. The ride included our morning mix, our daily Real Men of Genius commercials, 18 Wheels on a Big Rig, and some other classic sing-alongs. On the way, we stopped in Hope, British Columbia. Jeremy and Noah did explore the Hope museum which included a 163 year old tree and some other cool artifacts. At this stop, Eden also introduced all the Americans to the joys of an Aero chocolate bar.
When we arrived at the condos in Whistler (which had beautiful views of the snow capped Whistler and Blackcomb mountains), we all had a bit of time to get settled and then headed to our final flash mob practice! Believe it or not, Matt L. was a star, dancing enthusiastically even though he swore dancing was not his thing! We spent some time exploring the village before we regrouped for our theatrical debut. We went to the most crowded area in town and asked one of the local restaurants to blast Party Rock Anthem over their outdoor speakers. Ronni and Sam D. kicked everything off dancing in a large crowd like crazy people! Slowly, everyone else joined in. David and Steven brought down the house with their amazing solo that kicked off when the song changes. It was definitely a success. Check out the video on our wall (and comment and like the video!) at http://www.youtube.com/watch?v=1bJUuhY7lY0 ! After we finished the mob, another group of teenagers challenged us to a dance off. Courtney and Emily K. started dancing (and singing) to our morning song (How Far We've Come by Matchbox 20). We then went back to the hotel and had cake in honor of Matt M.'s birthday (chocolate, his favorite!). We also watched our mob and realized that we look pretty sweet!
Day 13 was so much fun even though we were all thoroughly disappointed that we did not get to jam to the morning mix. But, it was a forgivable offense as we walked to town in order to get our lift tickets. The whole group went up Blackcomb Mountain. After the second chair lift, we divided into two groups: skiers and non-skiers.
Summer skiing was crazy. Jeff couldn't believe it was July and there was snow on the ground. Jordan was so excited to show off his skiing ability. Can you believe that Sam D. and Erika went skiing in halter tops?! The non-skiiers rode the Peak 2 Peak gondola to Whistler. They also rode to the 7th Heaven peak, where we learned a few facts from our bus driver, Jonny. Whistler Mountain is named after the marmut. The animal makes a loud whistling noise, hence the name Whistler. We also learned that the Peak 2 Peak Gondola, connecting Whistler and Blackcomb, breaks 3 world records. Earlier that morning, we also spotted 3 black bears from the chairlift and our driver Jonny told us that bears noses are 100 times more sensitive than humans. During the summer months, a bear's main goal is to fill up on food so that it is ready to hibernate come September. Finally, Jonny told us a fact that has nothing to do with skiing or Whistler. He was testing our knowledge and we found out that "screeched" is the longest one syllable world. Who knew you could learn so much in a 4.5 minute bus ride! At the top of 7th Heaven, Jacob and staff Jess made snowballs together. Grant also commented that it was his first time seeing snow.
Afterwards, the majority of the group went biking. Ethan thought that it was so much fun and easy while Joli enjoyed it because she though that it was so adventurous! When we were all back at the hotel, we had some down time to shower, change and just plain relax. Some of us enjoyed the hot tub, others played Categories. Although they did not get to finish, Jordan was by far the leader when the game finished! After a great lasagna dinner coupled with mozzerella, tomato, and basil salad, mixed vegetables, and warm cookies for dessert, we ended the night with an evening bonding activity. We threw a ball of yarn from person to person, everyone complimenting the person the yarn was thrown too. Some people shared something they admired or appreciated about the catcher. Everyone holds on to the yarn and a web is formed. By the end of the activity we realized how close we've all become in two weeks, how many experiences we've shared and how much more we have to grow. In the end, we all made bracelets that we hope to wear until the last day of our trip!
We are now back in the States and will update you soon.
Jared & the AmVoy #2 Team
The Westcoast Blogger