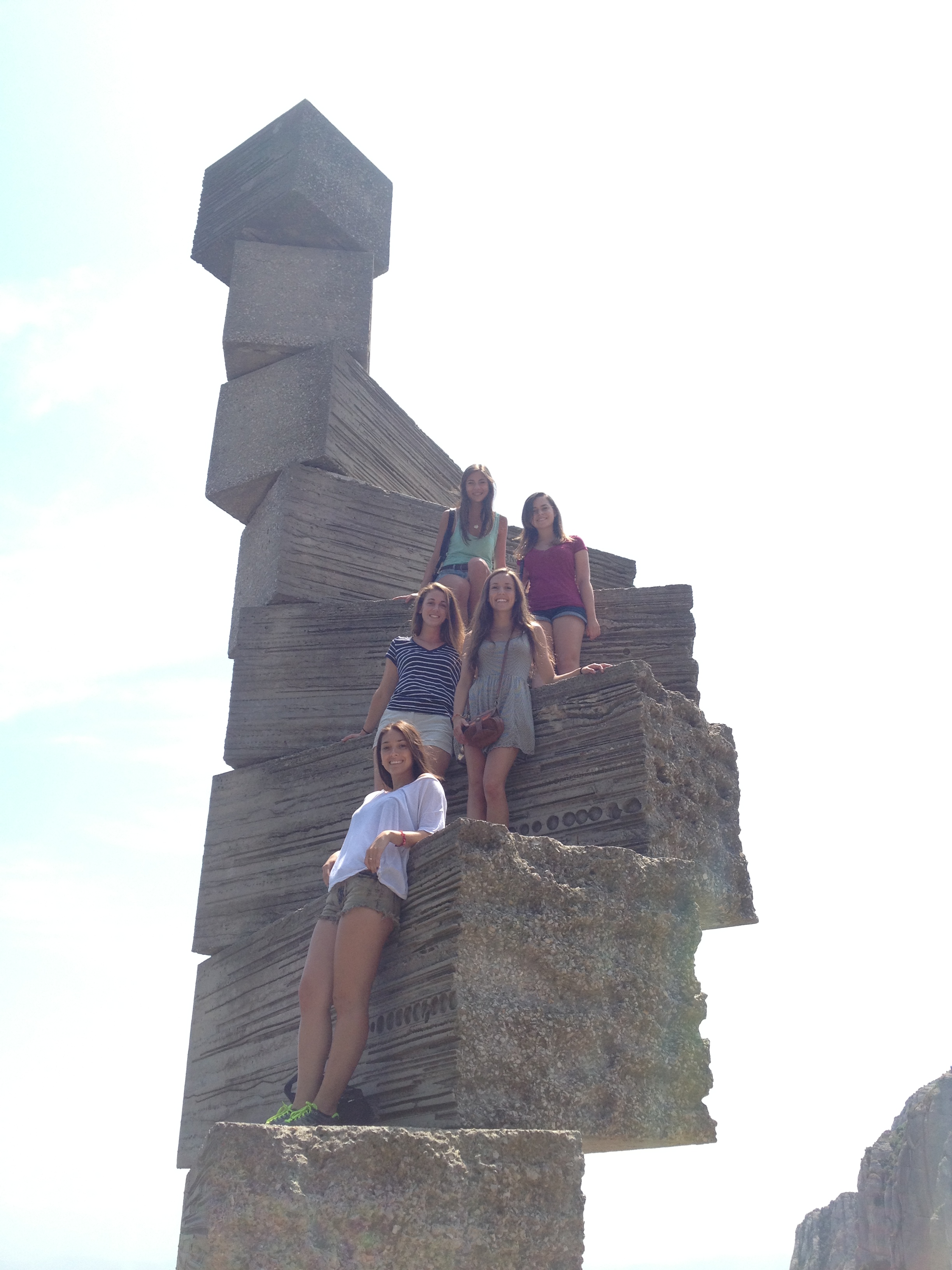 Queridos padres,
Dear parents,
El fin de nuestra aventura se acerca rápidamente. ¡Hemos acabado las clases y estamos de vacaciones! Ahora podemos relajarnos un poco más y disfrutar al máximo del tiempo que nos queda en esta hermosa ciudad.
The end of our adventure approaches fast. We're done school and we're on to the finale! We can now relax a little more and enjoy our time left in this beautiful city to the max.
Esta semana realizamos varias actividades culturales. Por ejemplo, vimos una película en español al principio de la semana, también fuimos al museo de Picasso en el Barrio Born, donde pudimos apreciar aún más el talento del artista, y visitamos La Pedrera, uno de los edificios más famosos de Gaudí en Barcelona. Ahí, los estudiantes disfrutaron de una linda vista sobre la ciudad en la azotea y se tomaron varias fotos entre amigos y con sus queridos monitores J
This past week we did various cultural activities. For example, we saw a movie in Spanish early in the week, we also went to the Picasso Museum in the Born district, where we could appreciate the artist's talent even more, and we visited La Pedrera, one of Gaudí's most famous buildings in Barcelona. There, the students enjoyed an amazing view over the city on the rooftop and took several pictures with friends.
Patrick y Zach experimentaron con figuras y reflejos utilizando sus cámaras fotográficas. Después de todo, el lugar es impresionante y no tiene nada que envidiarle a los mundos fantásticos de La Guerra de las Galaxias. Por dentro, fue como viajar en el tiempo, gracias a la decoración preservada de la antigua vivienda.
Patrick and Zach experimented with shapes and reflections using their cameras. After all, the place is nothing short of Star Wars' fantastic worlds. Inside, it was like time travelling, thanks to the old house's preserved decor.
¡El martes por la noche hicimos algo de deporte y jugamos Dodgeball! Nicole fue muy valiente al defender a su equipo siendo la última jugadora en ser descalificada en uno de los juegos. Todos nos divertimos y el espíritu de compañerismo y competencia pudo sentirse. En la final del torneo, los estudiantes compitieron con los monitores pero no pudimos mantenernos en pie por mucho tiempo ante la fuerza y eficacia del equipo ganador estudiantil. 
Tuesday night we did some exercise and we played Dodgeball! Nicole was very brave defending her team and being the last player standing in one of the games. We all had a lot of fun and we could feel that companionship and competition in the air. In the final match, the students competed against the staff but we could not hold very long facing the student team's efficiency and strength.
Agregando a nuestra dosis de cultura, hicimos un intercambio lingüístico en la escuela donde pudimos enseñarle inglés a estudiantes hispanohablantes mientras ellos nos enseñaban español. ¡Marc hasta guardó contacto con uno de los estudiantes!
Adding to our dose of culture, we did a language exchange at school where we taught some English to Spanish-speaking students while they taught us some Spanish. Marc even kept in touch with one of the students!
El jueves después de una elegante cena visitamos uno de los lugares más bellos e impresionantes de Barcelona: Montjuic. Había una fuente gigante con luces de colores ¡y a los estudiantes les encantó! A algunos no les importó mojarse un poco con el rocío refrescante de la fuente. ¡Maddie opinó que debíamos haber ido a ese lugar todas las noches!
Thursday, after an incredible dinner, we visited one of Barcelona's most beautiful and impressive sites: Montjuic. There was a giant fountain with colorful lights and the students loved it! Some didn't even mind getting sprayed a little by the water and the wind. In Maddie's opinion, we should go there every single night!
El día siguiente fuimos al gran estadio del Futbol Club Barcelona, y aprendimos sobre su historia y hazañas a través de las décadas. Corey G sirvió de guía a muchos gracias a su profundo conocimiento. Kayla estrenó su camiseta del FC Barcelona ese día. Fue una experiencia inolvidable para Sasha el salir al campo al son del rugido eufórico de la multitud, ¡al punto de sentir escalofríos!
The next day, we went to the great Futbol Club Barcelona stadium, and we learned about the team's history and achievements throughout the decades. Corey G was a great guide due to his extensive knowledge. Kayla wore her FC Barcelona t-shirt that day. It was an unforgettable experience for Sasha to go out into the field to the sound of the roaring crowd, so much so that he got the goosebumps!
¿Pero qué son vacaciones sin ir a la playa? Es por eso que el viernes por la noche cenamos cerca del mar y, por si fuera poco, ¡el sábado disfrutamos del sol y la playa todo el día! Cierra, Adam y otros se divirtieron jugando tenis de playa en la arena 
But what is a vacation without going to the beach? That's why Friday night we had dinner by the sea and, if that weren't enough, we enjoyed the sun and the beach all day Saturday! Cierra, Adam and others had fun playing beach tennis on the sand.
Finalmente, el domingo fuimos a Montserrat, al noroeste de Barcelona y ¡qué lugar tan impresionante! Es una montaña rocosa con curiosas formaciones serradas que albergan un antiguo monasterio y un lindo pueblo sereno. Aaron, Marc y Noah se tomaron fotos en un monumento cerca de la entrada. Las chicas no perdieron esta oportunidad y también se fotografiaron J Entre ellas Kelsey, Bruna, Brett, Amelia y Lindsey.
Finally, we went to Montserrat, northwest of Barcelona, and what an impressive place! It is a rocky mountain with interesting serrated formations that house an ancient monastery and a peaceful little town. Aaron, Marc and Noah took pictures on a monument near the entrance. The girls didn't miss that chance either and Kelsey, Bruna, Brett, Amelia and Lindsey took some great shots.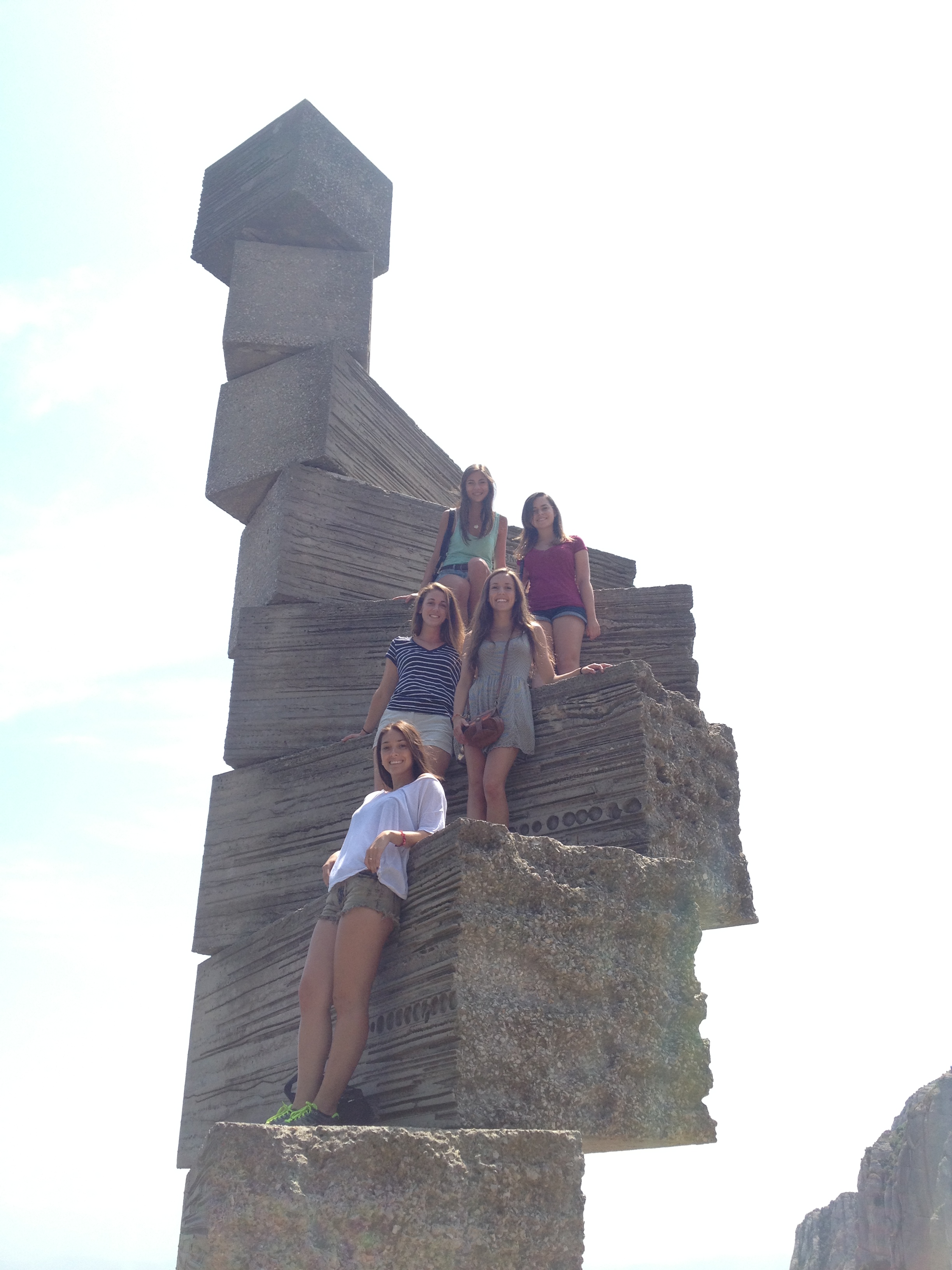 Mañana salimos a Sitges, iremos a la playa. Hemos escuchado muy buenas cosas y estamos muy ansiosos por conocer este lugar.
Tomorrow, we leave for Sitges where we will go to the beach for our finale!
Mientras tanto, el día de hoy los estudiantes tomaron la iniciativa de asistir a un torneo de polo acuático donde se enfrentarán los Estados Unidos y Croacia en el quinceavo campeonato de la Federación Internacional de Natación. Probablemente aun tendrán la oportunidad de conocer a los patrocinadores del equipo americano si se destacan lo suficiente apoyando a su equipo. Gracias Corey G por hacerlo posible y disfruten del torneo, Ross, Aaron, Marc, Sasha, Zach, Adam, Brett, Lindsey, Maddie, Noah y Patrick!
In the meantime, today the students took initiative and went to a water polo tournament where the United States will face Croatia in the 15th FINA World Championship. They may even get the chance to meet and greet the sponsors of the American team if they stand out from the crowd by cheering loud enough for their team Thanks Corey G for making this possible and enjoy the game, Ross, Aaron, Marc, Sasha, Zach, Adam, Brett, Lindsey, Maddie, Noah and Patrick!
Hasta pronto!
The Westcoast Blogger