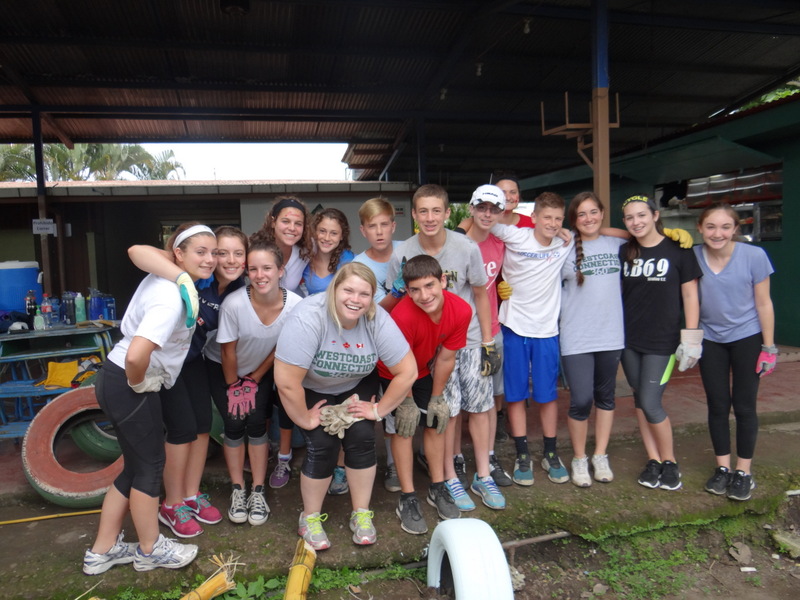 ¡Hola from Costa Rica!
The trip has only just begun and we have already had some amazing experiences! From day one, the trip members have bonded quite quickly and there are a lot of new friendships forming. After everyone arrived, we headed to our beautiful and authentic Costa Rican hotel. Quite soon after getting to the hotel, some of the trip members decided to take a dip in the pool which is surrounded by tropical plants. Day one was filled with getting to know each other and being introduced to Costa Rican food and culture.
Our adventure began immediately on day two when we went white rafting on rapids which were rated fourth best in the world. After getting all our safety gear on, we headed down the river which was absolutely stunning. We rafted the river in three boats with three funny and knowledgeable guides: Michael, Roberto, and Santiago. Sophie and Lauren impressed their raft with their "el capitan" skills as they led the rowing of their raft. As we are all trying new things, Charlotte, in particular, was stoked about rafting for the first time, while Tessa was a determined paddler in her raft, loving all of the excitement. All of the trip members were in awe of the rainforest and all of the waterfalls. Everyone really enjoyed going down the rapids and we all got absolutely soaked. Sydney, who had just been rafting two weeks ago, was really impressed by the rafting experience and had a great time! In the calm areas of the river, we were able to jump in the water and go for a swim. During our ride, we stopped to have lunch on the side of the river. Our lunch consisted of fresh burritos and other fresh Costa Rican foods. When we asked Brandon what he thought about his day he said: "The White Water rafting was great and an experience everyone should have in their lifetime."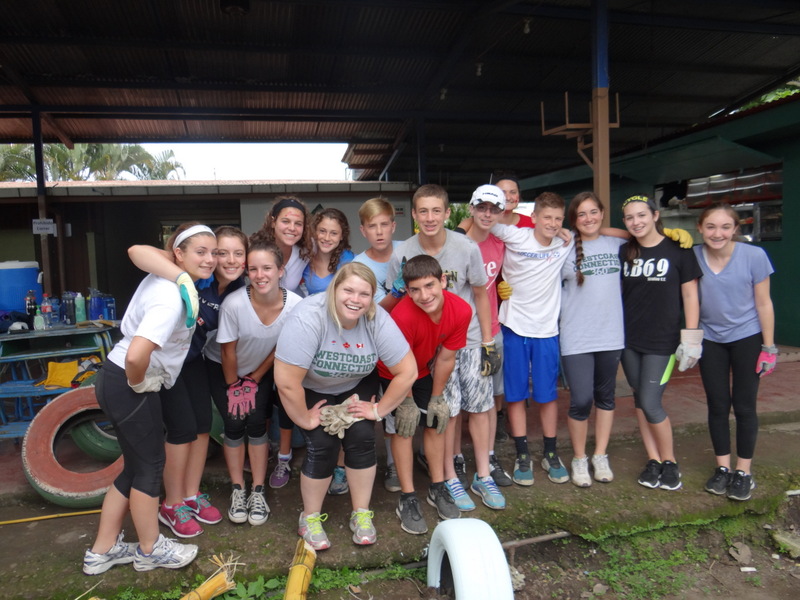 On the way back to the hotel, we listened to the World Cup game, Costa Rica vs Greece, on the radio and had the chance to catch the end at a local restaurant. Drew, David, Noah, Eric, Lauren and Sophie were dedicated fans and stayed for both of the over times and the shootouts. They even got to take part in some of the local victory celebrations. This is such an exciting and historical time to be in Costa Rica, as it is the fourth time they have been a part of the World Cup and no one would have ever guessed they would make it this far.
Day three marked our first day of community service. We are working at a school called Los Pinos for students who live in extreme poverty. Many of the school's students will eat only one meal a day which is provided to them by the school. Our job is to help a group of local moms clean up the school and make it a better learning environment for the students. We began by sanding and cleaning desks in the classrooms. Then our trip members were spilt into two groups. One group helped to clean out and take down old shelters. David became one with the crowbar and especially loved tearing down the sheds, giving it 100%. The other group helped to beautify the courtyard by using recycled tires. They placed the tires along the path and then painted them bright colors. McKenzie showed us all up with her pairing skills, as she was determined to make sure the tires were perfect. Lily was so excited to do the service and was always helping anywhere she could. As we reflected on the beginning of our incredible journey with community service, we were all impressed with Ellie's thoughtfulness and willingness to challenge herself. Already we were able to see a transformation at the school's campus and everyone is excited to keep working with the school this week.
                                      The Westcoast Blogger