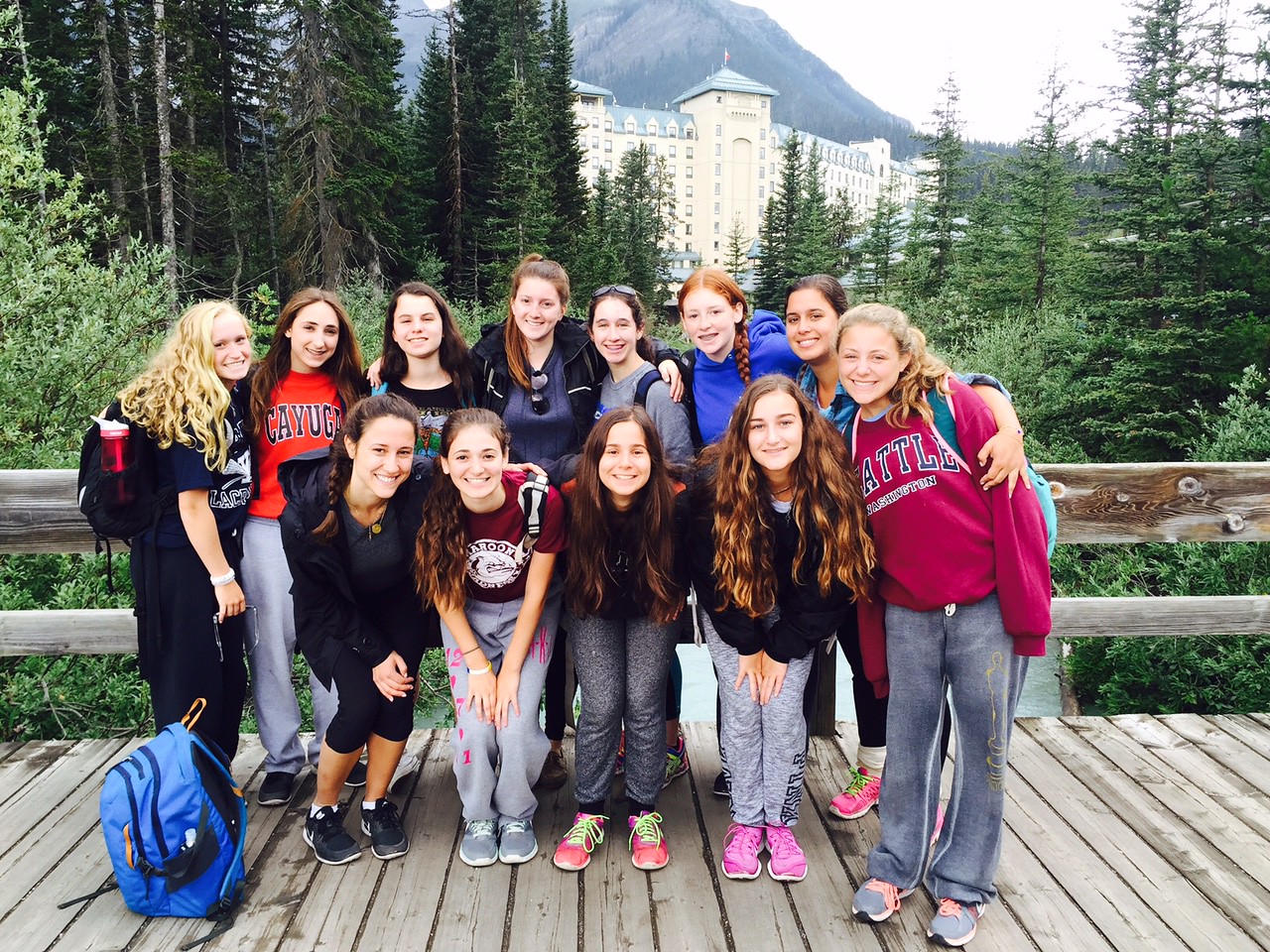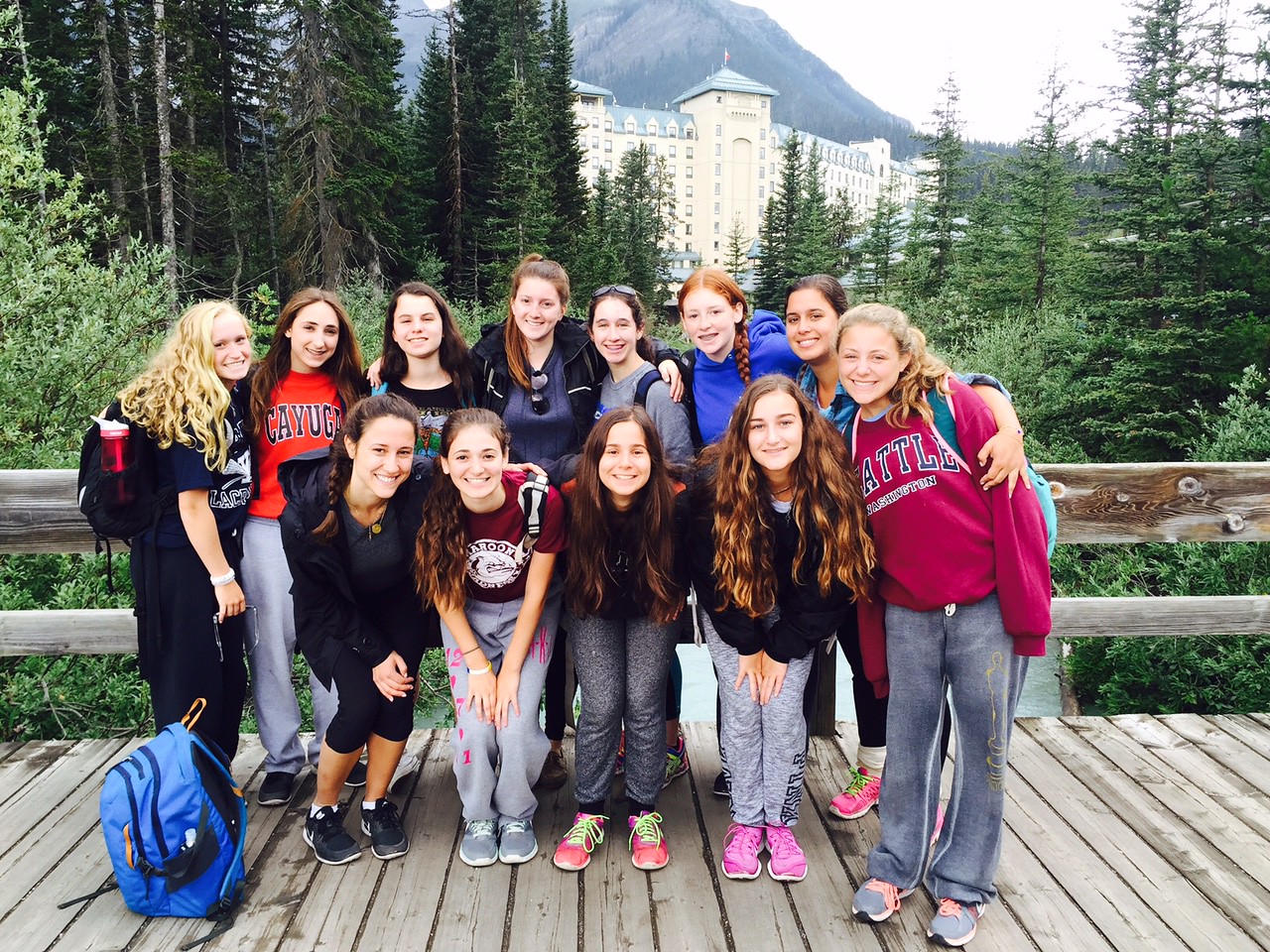 Greetings from Calgary!
The Northwestern Odyssey has had an eventful past couple of days. Our Trip Members enjoyed breakfast in the UBC Dining Hall and headed to Fun Fit Bootcamp at the UBC Gym. Cole B. and Ben H. showed off their knee-to-knee skills and teamwork in front of the group. The experience ended with a basketball game where Ben P. demonstrated his dunking skills. For lunch, our family explored Granville Island and ate like Vancouver locals. Afterwards, we headed to Kitsilano Beach where our Trip Leader Arielle led a Powerfit Flow Yoga Class for our trip members while overlooking the sparkling water of Kitsilano. That evening, while doing some laundry, we ventured to a nearby beach to watch the sun set over the water. Trip Members took incredible pictures and enjoyed each other's company and the astonishing Vancouver skyline. After returning to the dorms, our group played a few intense rounds of KENT (a card game) and mini-sticks.
The following morning we packed up the bus and headed to Summerland, a mountainous town on the shores of the Okanagan Lake. We quickly set up camp (we're becoming pros!) and afterwards Trip Members rallied each other on the tennis courts while others headed with Trip Leader, Emma, to the beach. They dipped their feet in the crystal water and watched the locals paddleboard. Our group cooked an awesome Italian dinner consisting of garlic bread, salad, two different types of pasta, and meatballs. We then headed back to the beach to play sports and hang out before going to bed in our tents.
We woke up to a delicious breakfast before going to a beach on the Okanagan Lake.  We were greeted by our watersport instructors for the day.  Trip Members had the opportunity to go waterskiing, wakeboarding and banana-boating. Harrison demonstrated his unbelievable wakeboarding abilities and wowed us as he skillfully cut across the wake. Johnny was passionate about banana-boating and flew through the air as he sat at the front for the ride.  We ate a delicious Greek-themed picnic on the beach before leaving to go tubing on a nearby river. Trip Members enjoyed laughing and talking on the river as they floating down in their individual tubes.  Many members of our group even linked their tubes together with rope so that they could stay united for the duration of the journey. We returned to the campsite delighted to find that a luau was waiting for us! Trip Members competed against each other in a watermelon eating competition to determine who could feast first. We greatly enjoyed beef/chicken kabobs, grilled vegetables, rice and each other's company. Later, we boarded the bus and headed to a nearby bowling alley where Evan blew our minds with a score of 184 (the highest in the group). We then sung happy birthday to Jason S. and surprised him with a cake!
The following day we woke up and took down our campsite with record-breaking speed. We then boarded our bus for our journey to Banff. During the ride, we sung along to the Lion King. We appreciated the feast that was waiting for us at our campsite upon our arrival: barbecued chicken, juicy steak and grilled salmon. During the evening, our Trip Leaders arranged a series of small competitions, called "Minute To Win It". Our Staff Groups battled against one another to eat donuts off of a string, locate Smarties in flour, and eat a hanging marshmallow while blindfolded. During the competitions, our group was in tears of laughter, ending our night on a contented note. We were happy to head off to bed and whisper in our tents in such a breathtaking environment.
Our Trip Members were pleased to wake up to a mouth-watering breakfast of homemade French toast and fresh fruit. We played Name That Tune (a group favorite) on our way to Lake Louise. Our group was in complete awe at the site of the turquoise water and jagged snow-capped mountains. Being present at one of the most frequently photographed landmarks in the world was an experience we'll never forget. We had the opportunity to take canoes out on the pristine water where we acquired an even better view of the lake. Next we had a picnic lunch and explored the renowned Fairmount hotel positioned directly adjacent to Lake Louise. We then returned to our campsite to shower before heading into Banff Village. Our Trip Members were presented with a task before dinner. They were each given a Popsicle stick and told that they needed to trade the stick for something of equal or greater value. Trip Members took the challenge seriously and weaved in and out of shops in the village in order to barter with stores. At the end of the night, Carly ended up with a hilarious poster of a squirrel, Evan acquired a Christmas ornament and Ben P. was given an old camera lens.
During our second day in Banff, we traveled to the Athabasca Glacier in Jasper National Park. Here we boarded a specialized bus that transported us up the icy slopes. When we arrived at the Colombia Ice Field, we walked around and explored the gorgeous region. Trip Members filled up their water bottles with the refreshing pure glacial water.  After capturing stunning pictures, we returned to the base of the glacier. We traveled on our bus to Payto Lake for a quick photo-op before heading back to our campsite. Our Trip Members helped to prepare a delicious stir-fry for dinner before traveling to the Upper Hot Springs Pool. We relaxed in the steaming water as we overlooked the famous mountains in Banff. After we returned to our campsite, we enjoyed s'mores before dozing off to bed.
We are having SO much fun! We are constantly amazed by the unwavering positivity and camaraderie of our group. We have truly become a family.  We will continue to keep you updated!
Until next time,
The Westcoast Blogger
Interested in our USA and Canada tours? Learn more about Westcoast Connection's Odyssey 17-day and 25-day itineraries.
Save
Save