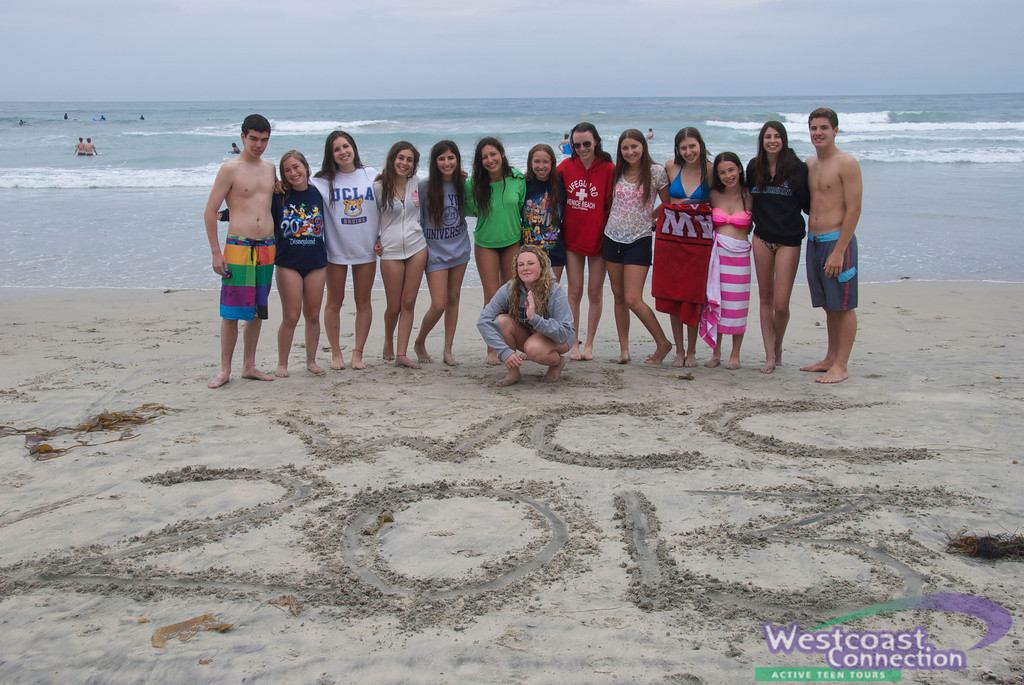 Greetings from Ultimate California!
We have had a great couple of days since our last check in. Lots of exciting adventures and cities have been experienced by our Ultimate California family! Here is a glimpse into our journey.
L.A. has come and gone and we sure felt the excitement of the city of the stars. Lots of our trip members wanted to try their talents on the improve stage but it was Jenna C. and Tori who left their hearts and souls on the Improv stage in LA as they literally played "heart and soul" on the piano in front of everyone!
Hanging out at LA's famous and unique ice cream shop "Diddy Riese", Stevie entertained us with her "Aguilerian" voice! Shayna, one of our counselors said "wow Stevie!"  She sure has some raspy skills right there! Colton showed us that water is his element regardless of its state. He impressed us with his amazing moves on the frozen water and skated circles around the rink without even breaking a sweat… Alright, alright, it didn't hurt that the arena was about 60 degrees (about 15 degrees Celsius for our Canadian friends). First time skater Rebecca was all smiles on the ice at the La Jolla ice rink near San Diego. She received some help from counselor Jared and the support of her friends! Way to go Rebecca! Sammy was unsure of how his skating would pan out, but he certainly got the hang of it quickly and showed us that even after his hiatus on the ice, he still enjoyed himself! Sammy said it himself "it was a lot fun going skating with my friends".  Jessica hasn't been skating in a few years and only remembers hating it. However, her WCC experience was fun and she definitely had a great time on the frozen water.
Laser tag saw our true competitors come out and was a lot of laughs. Lizzie earned top scores and definitely shows a lot of promise in all areas of defend and protect! Megan K., representing team yellow had a great time too. She said "I've played before but this time was the most intense". Nikki had fun at laser tag as well. She had strong 12th finish and said "it was fun targeting her friends" all in good fun of course! On our way back to the hotel we were treated to an impromptu  firework show on interstate 5! As we passed through the out skirts of San Diego, the sky lit up in a plethora of colors and the bus broke out into a rendition of "God Bless America".  A delayed 4th of July celebration but enjoyable nonetheless!  One of our Canadian friends, Megan T. enjoyed the delayed fireworks. Since she missed the Canada Day celebrations, catching another display of lights in the sky made her happy!
We had a great visit at the world's famous San Diego Zoo. Drew was weaving in and out of the crowds at the reptile exhibit in search of the coolest snakes and lizards. He really liked the Komodo dragon. He said "that was the coolest". Emily had fun at arctic zone of the zoo and she got to experience Ice Age in 4D. She said "the movie ice age was like everything else but in 4D, it really came alive". Our next day started off with surfing lessons, looking so very slick in our wetsuits! We were treated to a special surf lesson and got to play in the waves with the hopes of catching the rip curl and coasting all the way to shore. It's a lot harder than it looks but some of our trip members found their groove and caught some gnarly waves. Zach had some great successes as did Lindsay as she said "I got up 5 times!" Great job Lindsay. Jacqueline had fun surfing too. She overcame her fear of the ocean and now knows there
are no sharks where we surfed! Phew!!! Gabby had success as well and said "I would love to try surfing again". Gabby, we can't wait to see you hitting those waves in the future. Mandy had a great day catching the waves as well.  She said "I was scared to go in the ocean but I went in anyway and I had a great time". "It was the funnest thing I've ever done" said Eden. Woah, glad you had success in catching the waves and had a great time too.
In Las Vegas, the city of bright lights, we had a great adventure as we rode the elevator of the Stratosphere 109 stories above the Vegas strip. Sam H. said the rides at the top were really fun. Adam and Harry sat side by side on the ride known as "Insanity" and although they had fun, the most amusing thing for Adam was listening to all the other people on the ride scream as they spun around in circles 109 stories above ground. The screams he was giggling at were coming from none other than Tori! Although she was scared, she conquered her fear of heights and we are so proud of her! Well done Tori, next time, bungee jumping??? No, just kidding! Brandon and Jeremy sat together on the "Exscream". Brandon screamed in Jeremy's ear as the ride intentionally tipped over the edge of the Stratosphere. If you saw it, you'd scream too! Later that night, just in case we didn't have enough thrills 100s of feet in the air, Rachel and Paige sat side by side on the New York, New York roller coaster. Twisting and turning through the New York City facade in Las Vegas was a highlight for many especially Rachel and Paige. Gillian had a great time also and wasn't really that scared of the ride. Thrilling and chilling as it may be, these Westcoast Connection trip members sure can't get enough. We also had some trip members who opted for the arcade located in the Coney Island section of New York, New York. Todd was excited to try it out and he came back excited and entertained. New York native Sophie was impressed with the replica of New York in the hotel by the same name. She thought they did a good job making it look like the iconic city!  No trip to Las Vegas is complete without a visit to M&M World and Sophie W. had a fun time when she had her chance to visit it. She said "it was fantastic". Sugar rush to last at least until Arizona no doubt! Dori had fun at the Coca-Cola store and bought herself a cute pair of pajama shorts! As we left the famous city of lights, Jenna S. had a great time playing heads up. Romy enjoyed the game as well. Those 2 girls kept the front of the bus laughing and shouting out answers! The play back of the game on the iPhone gave everyone a good chuckle.
Stay tuned for our update on the next few days as we celebrate Jeremy's birthday. What surprises do we have in store for him? You will have to wait and see!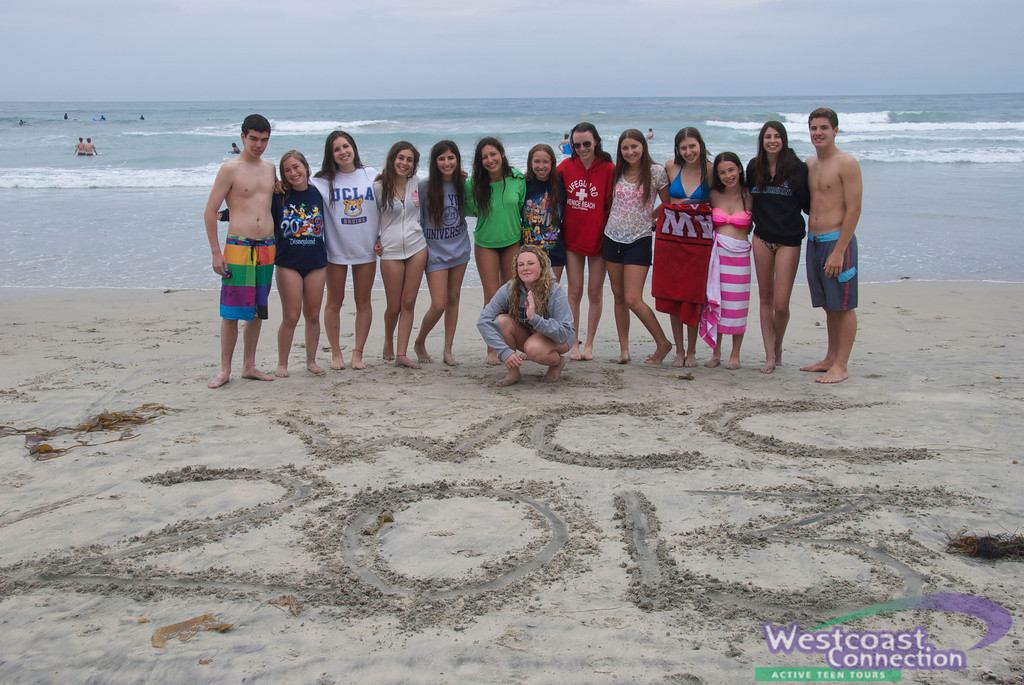 Until next time, wishing you all a great day from all of us in the Nevada desert.
Robyn and the Ultimate Staff Team
Got yourself interested? Join our 21-day ultimate west coast road trip and explore California and the canyon country with the leaders in student travel.