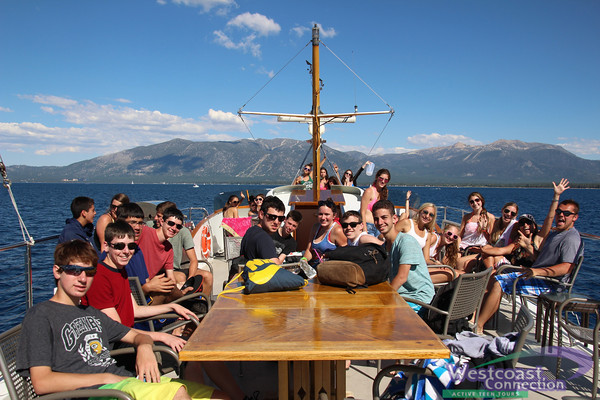 The Californian Extravaganza has started exploring the incredible state of California!  We traveled from Salt Lake City, across the state of Nevada, to the beautiful Lake Tahoe region.  We began our journey through California in Squaw Valley.  In the mood for a casual lunch, Jordan M, Jason, Kyle, Jeremy, Spencer M, and Daniel shared a 7 pound hamburger at a restaurant in the resort village.  Fuelled with plenty of protein, we tackled the Squaw Valley ropes course.  Leah refused to give up and climbed to the top of a challenging single rope ladder known as "The Firecracker."  Noah and Arianna joined Leah at the top.  Ashley and Sammy B enjoyed the zip-line and high ropes combo course, and bravely accomplished the high ladder walk that spanned 50 feet!
Carly, Lauren S, and Chloe soaked up some sun at the beach at Lake Tahoe.  Ryan impressed us all with his volleyball serve, while Spencer S, Jordan S, and Adam demonstrated the classic "bump, set, spike" routine.  Our BBQ on the beach was expertly prepared by Annabel and Jason who were chopping and grilling our "tropical" lunch.  In the water, Abbie and James were unbelievable water skiers.  They each only used one ski, going slalom style.  Michael caught some airtime wake-boarding while  Amy and Emily found tubing to be exhilarating.  Our day at the beach left us all relaxed and smiling.
After a morning of beach time and skiing, our afternoon cruise offered incredible views and a chance to see Lake Tahoe from a different perspective: right in the middle of it!  Andrew Cl. discussed his theories and predictions about the ending of the show "Breaking Bad".  His knowledge and insight about the show is quite impressive to say the least.
We enjoyed our time camping in Lake Tahoe, and we are now exploring the city by the bay (San Francisco) and look forward to updating you on our adventures in a few days.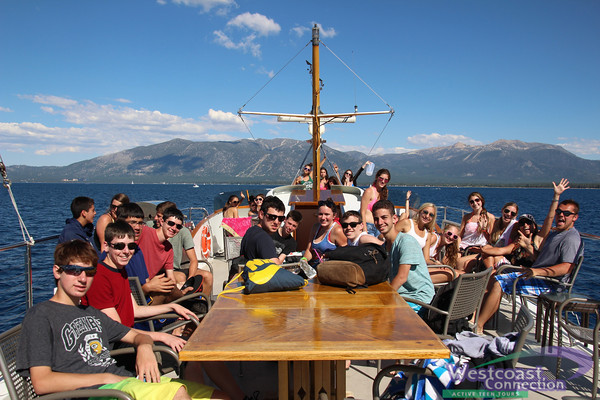 -The Westcoast Blogger